Want to learn the easy way to make money online for teenagers?
If you are asking this question then its either you are teenager or want to recommend some make money online tips for your friends etc..
Whichever it is, All i need is for you to make money.
You've come to the right place and I will personally share with you how I make Money Online as a teenager.
However you should note that am no longer a teenager. Am only sharing with you the exact money making methods that still work for teenagers, I used it too and they worked really great for me.
So without wasting much time let me go straight to the points.
But before then:
Do not be deceived that you can make money online doing nothing. Whoever tells you that only wants your money and nothing else.
In order to make money online as a teenager, you need to sell something.
and Hey;
I don't mean you have to sell some kinda huge products or so.
You're going to learn right now.
The Easy way to Make Money Online for Teenagers [that still Works Today]
You should follow below carefully to learn of my own ways: Way I make money Online.
1: Selling my Skills or Making Money with what I Love.
One of the best ways you can make money online [or Offline] is doing what you love.
You may be asking "How is this Possible?"
Yes, there are a whole lot of people online who needs to get things done as soon as possible and need your skills to enable them finish their task.
On sites like fiverr.com, you can sell those skills, put up that you can do one thing or the other you love and people hire to work and you get paid.
Very Simple.
If I have Graphics Design skills, I can sell them on a site like fiverr and get paid when anyone hires me.  You can create logos for people and get paid like the guy in the picture below.
This is one way I make money online. You can take a look at fiverr.com and see lots of things you can do and skills you can as well offer there and make money as a teenager.
A Quick Snap of my Fiverr Account: That is me getting paid for doing what I Love and using my Skills.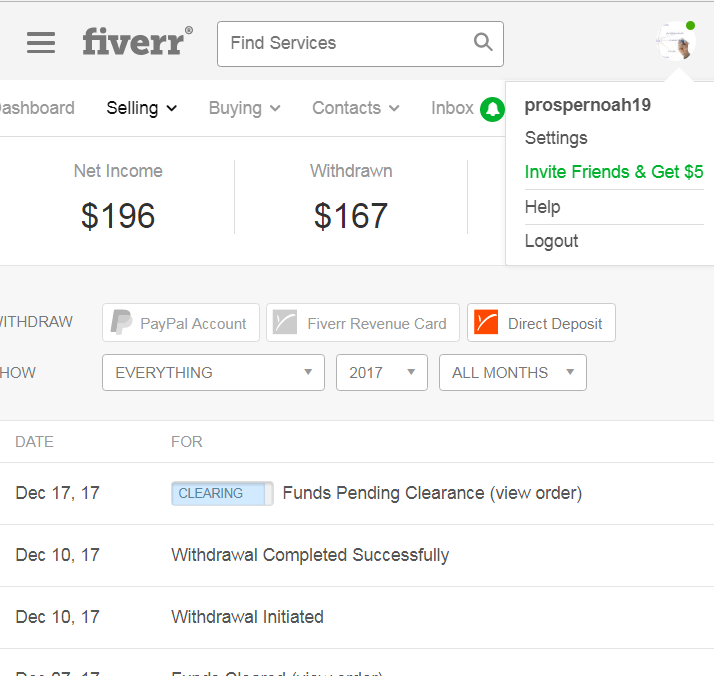 Above is just to show you that you can get paid for the skills you have within you, start small and start something.
Learn a Skill, Sell the Skills, Make Money Over and Over Again.
You may checkout fiverr.com for what people are doing and create an account. Start up something as well.
Below is another way.
2. I Make Money Online Sharing what I Know with People
This is another way you can make money as a teenager.
This is very simple.
Find Solution to a problem people are facing and create a Book on it. It's usually known as eBook and all called [Information Marketing].
You Know What?
My 4 Years on the Internet I have come to discover that before you make money you need to SELL something. I have tried lots of money making methods and the only and substantial one that has proven to bring in money even while I sleep is selling my own Products.
It's called information Marketing like I said above, you find what people need and solve the problem. You sell it to them quickly! They are digital products such as eBooks.
People don't need you to bring it to their door step, they pay for it and you send it to their email, they read and fix their problems. SIMPLE!
Few Examples of Most of my eBooks are below:
prospernoah.com/clickbank
prospernoah.com/paypal
I find what problems people are facing, create an eBook providing the Solution to that Problem and In return they pay me and get their problem solved instantly!
That's how I make My Money!
Writing eBooks and Selling easily and FAST.
You can create your own eBooks and make money from home easily.
If you haven't Made Money Online as a teenager, its probably because you haven't solved a Problem.
See where I show you the exact way to start preparing your own eBook and Make Ton of Money, Click Here . 
This is professionally called FREELANCING.
You can as well see the Third way I make Money Online.
3. Affiliate Marketing
Here you don't even need a product of your own.
The way affiliate marketing works goes like this:
You find another seller's product
You sell the product for him
You get commission
It's one easy way to make money online as a teenager.
It's also my all time best. If you are looking to start affiliate marketing and make a ton of money then I recommend you don't take any other course or waste time searching for free ways to make money with affiliate marketing.
Take thesame course I took and making success. It's one of the easiest course for a complete beginner to start and make money doing affiliate marketing.
I bought the course when it launched at around $10, but it should be $11-12 right now which I believe you can still grab. Because the price goes high any moment. >> Check and Buy the Course here.<< Your investment of $11 will definitely pay itself.
You buy the course, follow the method he shows you and apply them. Doing this can get you affiliate commissions while you wake every morning.
You actually setup everything and expect huge commissions on autopilot. Yes, you earn over and over again for your hardwork.
4. Cryptocurrency Investment
If you have been following this site and the make money online tips I share, you can see the exact way I made around $300 investing a one time $10 on Electroneum Coin [a Cryptocurrency].
Am still making money with that $10 one time investment and just in case you missed the post, you can click here to check it out.
Get the Idea? You can invest in Cryptocurrency too. I recommend you checkout the Post here. 
5. Blogging
This is not something you joke with.
However it takes time to start seeing results but it definitely worths the time.
Blogging is a way of sharing information with the world in simple explanation.
If you know how to cook. You could decide to start sharing how to cook online with people who are ready to learn. Doing that you make money.
I won't go into detail about this, because it's a long, long walk.
Instead I would recommend you to buy this course, it shows you exactly the SECRETS to make money from a free blog. Get it here and Enjoy yourself.
Infact, if you want to know my Super Secret to Make Money Online its through Blogging and am recommending you buy the course here to create a free blog and make money from it easily.
Conclusion
Do not be in haste to make money online. Instead follow guide that works as you can see in this post.
So this is the Easy Way to Make Money Online for Teenagers.
Take Action right now  and Make Bucks for yourself while at the teenage.
Have any questions? Drop them in comment section and have a great day!