Welcome to my 72 hour income generator review.
It's another great day and am doing a review for the 72 hour income generator training program by Toyin Omotoso.
I'm pretty sure you are getting a lot of emails from different marketers about the 72hrs income generator program which means you've gone through the video yourself but want to confirm if you should go for the program or not, or if it really works.
and that was what brought you here.
Yes! I got it.
Am not a prophet o, but I know that's why you're here.  Haha…
Anyway, you're in the right post.
But before I go ahead with the review, I have good news for you:
The good news is that I have prepared 2 special bonuses in form of Video Training for any one of you who buys the training using my affiliate link in this post.
So make sure you read this post till the end in order to claim the bonuses, and the 2 bonuses are limited to only first 30 people who buys the training through the link in this post.
If you prefer a video review to reading, then watch my review video below plus the bonuses you'll be getting:
If you'd rather read, then below are the bonuses you'll be getting as soon as you purchase the 72 hour income generator through my affiliate link.
BONUS #1: Over N125,000 on Expertnaire without Spending any Money on Ads
As a bonus for anyone who buys through my link, I have taken my time and created a 40 minutes video showing you exactly how I was able to make over N125,000 in affiliate commissions on expertnaire affiliate network without spending any money on Facebook Ads, Google Ads etc.
As seen below, the commissions have actually increased from N125,000 to N134,000 as at the time of writing this review post.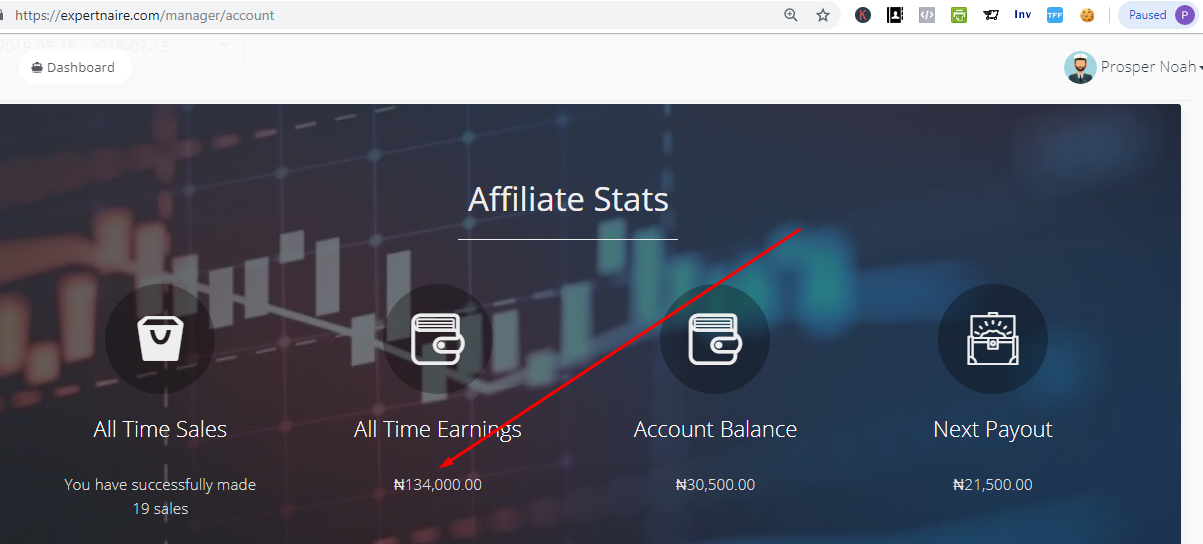 This is done using about 3 free traffic sources best known to me and they are 100% free.
In fact those are the traffic sources I've been using over the years to make lots of commissions in affiliate marketing.
Am not a big fan of running ads because the free traffic sources I use work really well for me and they'll work for me.
So am revealing the 3 traffic sources to you step by step so you can start using them and making money promoting affiliate products 100% free, you're not spending any Kobo on Ads.
I use these 3 traffic sources to make money directly and In fact; the third traffic source pulled me over 1000 email list subscribers and made me around over ₦770,000 in affiliate commissions inside and outside Expertnaire….(don't worry you'll see everything in the 40 minutes video haha)
This is a bonus you'll regret ever missing.
and this is what I have never revealed to anyone online before, you're getting it as soon as you purchase the 72 hour income generator through the link in this post.
I can decide to sell it but No, I'd be giving it to you 100% free if you decide to purchase the 72 hour income generator through my link.
Fortunately am the only marketer offering you such huge value just as a thank you.
So if you're a type that don't really have money to spend on Facebook Ads this will really help get you started pulling some affiliate commissions on Expertnaire platform.
BONUS #2: Video Training: How to Create a Blog in Nigeria under 30 Minutes
This is best for those who want to start blogging and also succeed. 
In this bonus, is a video I made showing you how to create a blog within 30 minutes in Nigeria (You'll watch me Live: Buying a new domain name and hosting, getting the login details and finally bringing the blog live and you will even be able to visit the blog after the video along with the strategy I used to bank over N905,000+ in affiliate sales with the help of Blogging, I mean 100% Free. 
So if you're the type who has been looking to start blogging for a long time now, then this bonus is what you ever need to succeed because am revealing to you in the video training exactly the hosting company I personally use for all of my blogs, the domain registrar and how you can create the blog within 30 Minutes and how you can succeed doing it.
Blogging is what I do for a living so you know you're getting lots of value in that bonus as I show you everything needed.
Infact, I've decided to add a third bonus.
BONUS #3: I'll assist you in Setting Up Everything
Yes, in this third bonus, am literally going to sacrifice my time and assist you in setting up everything including running your ads, setting up your email list, building your landing page, etc … with me by your side, you'll not go wrong at all and anytime you need my help, I'll always be there on Telegram.
(Because I discovered the main reason most people don't succeed after getting a training program is due to no one by their side to guide them, and once there is no one, they struggle, struggle and struggle and finally quit. So this bonus 3 will take care of that, I'll be there to guide you always… I love to take care of my own and see them successful)
So the above 3 bonuses will be all yours for free as soon as you get the 72 hour income generator through my link.
Now let's get started with the review so I show you all what the 72 hour income generator is all about and all you'll be getting inside the training program.
72 Hour Income Generator Review: What is it all about?
Before I go into what it's about, I want to quickly let you know that this is the first ever review I'd do on this blog where I literally beat my chest that it works.
and you know what that means.
So what is the 72hour Income Generator System all about?
This is a premium top quality video training for complete newbies or beginners on how to make money with affiliate marketing and it's created by one of the most & well respected internet marketer in the Nigeria's Internet Marketing Industry. Toyin Omotoso is his name and he's also the founder of the first ever fast growing affiliate network in Nigeria called Expertnaire.
Now note two things:
He's one of the Top guys in Nigeria's internet marketing industry
He's the founder of Expertnaire, the fastest growing affiliate network in Nigeria where you join, promote top quality digital products and earn commission doing so;
He's the creator of the 72 hour income generator system (Premium Video Training) where he shows you exactly how to make money with affiliate marketing.
What does the 72hour income generator contain?
These are video training modules that will teach you everything you need to start affiliate marketing including:
Product & Audience Research (Finding the right product to promote e.g. What is the product about, what results does it deliver, how does the product work to get people the results it promises, etc.)
Creating your Landing Pages like: squeeze page, thank you page, generating leads etc and you are getting free access to a Landing Page Builder Software worth $97
Email Marketing & List Building Systems (Building your email List Step by Step, Creating autoresponder, writing high converting email copies that will force subscribers to buy etc…)
The Art of Pre-selling and positioning
Driving targeted Traffic using Facebook Ads, Instagram
Lots More.
This is what you really need to make a killing with affiliate marketing and a lot of people are following the training, applying what they learn and making lots of affiliate commissions on expertnaire network.
Like a lady I shared with you in the last post who received N381,000 commissions last Friday as seen below: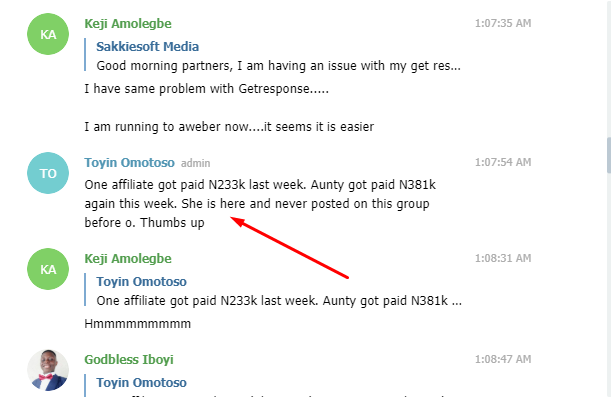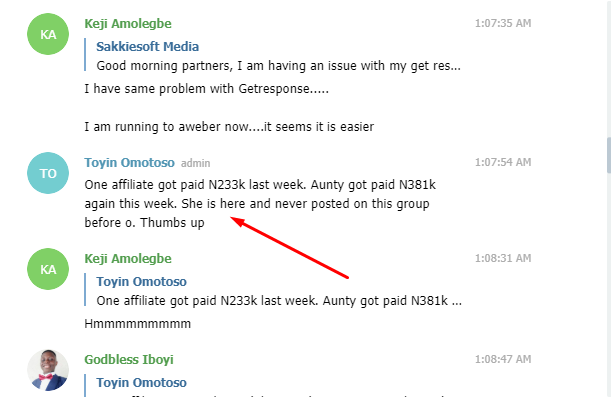 This lady bought the 72hour income generator program and applying it in the expertnaire platform, she's now one of the top affiliate on expertnaire.
Not just that;
this guy below made his first ever affiliate commission on expertnaire affiliate network while following the 72hour income generator training as seen below;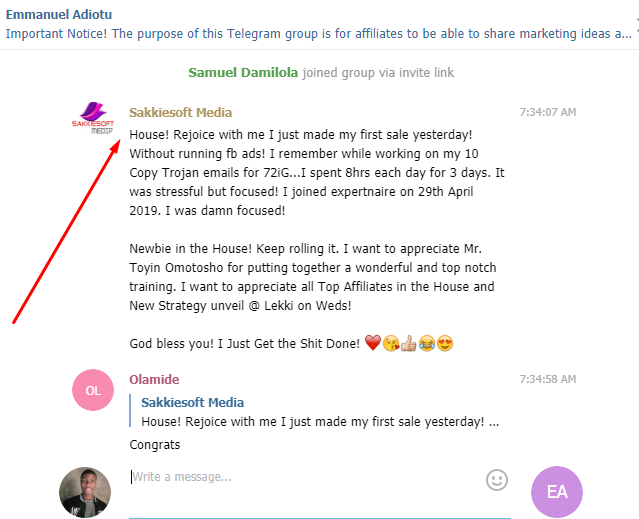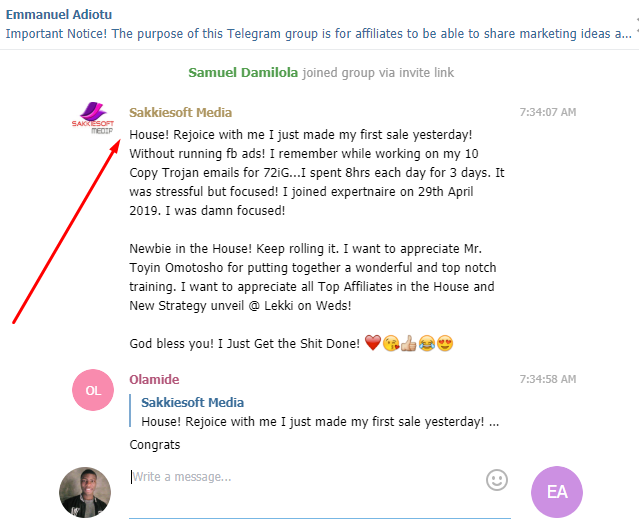 Below is a recent one from another guy who made his first ever affiliate commission following the training;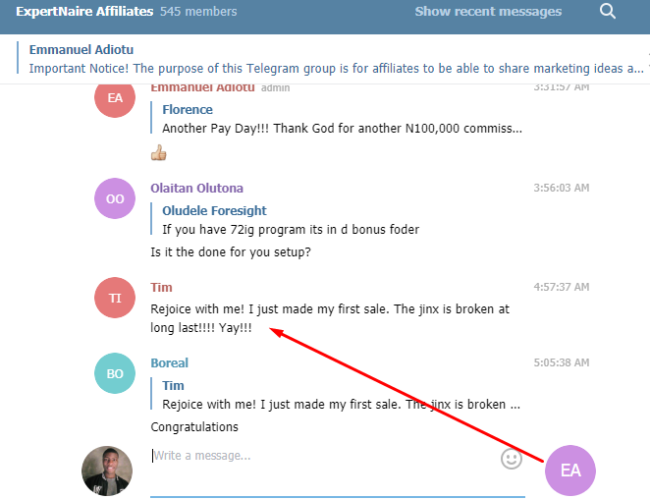 Haha as you can see, he made his first ever sale (affiliate commission)
You can see this is a top notch affiliate marketing training in Nigeria and you can't afford to miss it.
and don't forget my bonuses above when you buy through any link in this post.
and wait; there's more.
Extra Benefits when you buy 72hr income generator apart from the training Modules
I shared the benefits in my last post but I'd repeat them here for you again:
Be very attentive here to really understand.
Benefit 1. Free 2 years Access to Expertnaire Network
You will be given free access to expertnaire for complete 2 years.
Normally, if you want to join expertnaire affiliate network where you can get products to promote, you'll have to pay a registration fee of N10,000 and will continue paying that every year.
But when you get the 72 Hour Income Generator Course, Toyin Omotoso will be giving you 2 years access to expertnaire for free.
Benefit 2: Instant Access to Expertnaire Affiliates Telegram Group for Support
As soon as you get this training, you will also be given a link to join expertnaire telegram group.
That is the secret group for all affiliates on expertnaire to share tips and tricks, rub minds together with the boss Toyin Omotoso, help others and lots more.
Benefit 3: Monthly Meeting & Prizes
There's a special meeting for all affiliates held every month in Lagos and in this meeting, affiliates come together to share ideas, discuss with the founder and win prizes (Top Affiliate of the Month) and lots more.
Now don't miss this because I believe it's really going to change your life and make you money.
Click Here to get 72 Hour Income Generator for N30,000 + Free 2 years access to Expertnaire and start your affiliate marketing journey.
Hold on;
How do you claim my 2 bonuses promised in this post?
Step 1: Click this Link and purchase the course
Step 2: As soon as you're done, send me an email to prospernoah19@gmail.com that you've bought it through my link and want your bonuses.
I'd send my 3 bonuses to you immediately after I confirm.
Whatever I recommend, you should get it because I've personally verified it for quality.
Conclusion
You can either spend many years trying to figure out something yourself or just get a mentor, someone who is successful already.
That's the only shortcut to success.
Now that I've presented you with the best training in Nigeria to really make passive income with affiliate marketing, dont delay. I advice you get the course right away because it works really well and Toyin is someone I know very well.
He knows his stuff.
I strongly advice after getting the course you follow everything and also apply so you can start getting good results.
Don't hesitate to let me know in the comment section if you have any questions.
I believe my 72 hour income generator review post helps you make a good decision.