Looking for the best alternative to clickbank in nigeria?
Oya clap for yourself.. you're in the right post.
In fact, the clickbank alternative am going to reveal to you in this post made me $1,029.77 in 30 days as seen in below screen recorded video;
That was around August to September 2019.
Maybe you're fed up, tired of creating a clickbank account or just not earning from clickbank and you are looking for a good alternative.
You're in the right post.
and guess what?
Am not only going to show you the alternative but I'd also show you step by step how to get started so you can start earning atleast $500-$1000 every month from affiliate marketing here in Nigeria.
Before we get started, I want to warn you;
Don't just read this post and go back to whatever you're doing.
You need to follow it step by step and apply or implement what you read.
The reason people don't succeed is because they think, just because this is a free post, it's not valuable, so they won't take action on it.
That's why they keep on spending money on course after course.
So just because am offering this free on this post doesn't mean it has no value.
If you are the type who do not value and implement what you learn, you're not going to make anything out of this post.
So it's simple; Read and Take action.
If you like, keep reading all the best books in the world from now till next year, if you don't practice what you're taught, OYO is your case Lol…
You're on your own haha.
Now you'll be like "Prosper, issokay na…what is the alternative"
Lol…
So let's get started.
Best Alternative to Clickbank in Nigeria
NOTE: I wrote this post in 2019, but it's still relevant in 2021 and works pretty well, so read carefully.
The best or what I refer to as the best alternative to clickbank in Nigeria is the WarriorPlus affiliate network.
and this is what I've been focusing on for the past months.
Why I love the WarriorPlus affiliate network
1. It's a global network
(All countries are welcome to register, promote products and make money unlike clickbank where some countries are restricted, like our dear Nigeria lol, or where you have to use VPN)
You just register on their site warriorplus.com and start promoting.
2. Lots of withdrawal methods EVEN to local Nigeria Bank.
Yes, my last two withdrawals of $500 and $690 were straight to my UBA account as seen below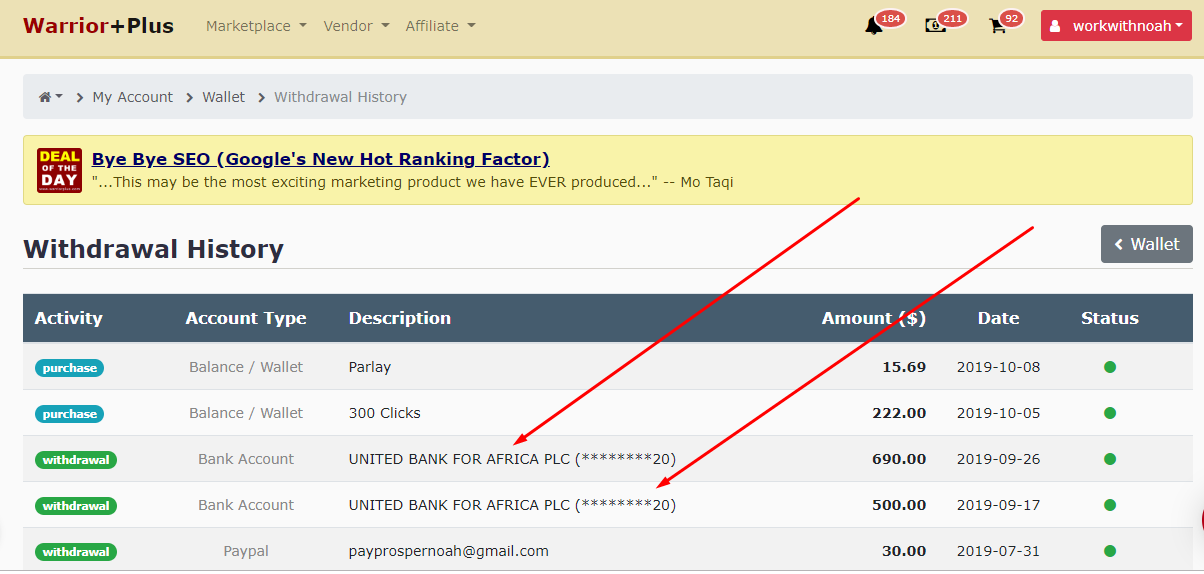 So they offer two payment methods which are PayPal & to Local Bank here in Nigeria.
Meaning if your earn affiliate commissions and would like to withdraw, you can do that using paypal or transferring to your bank account.
I always use my paypal account for smaller withdrawals up to $100 but anything higher I just use bank transfer like the ones of $500 and $690.
and it takes up to 48 hours for processing and crediting to paypal while bank transfer takes 48 hours to process and additional 4-6 days to get credited to your bank account. Unlike Clickbank that offers only one means of payment which is Payoneer.
I don't really use Payoneer, as their charges are a bit much…  you withdraw they charge $1, you check your account balance, they charge another $1 and their annual card maintenance of another $25…. ahh… that's just too much.
So WarriorPlus make things easy for me as I can withdraw to either my bank account here in Nigeria or just use PayPal as soon as possible.
The only big difference is WarriorPlus deals mainly with Internet Marketing or Make Money Online, Business Opportunities products while clickbank has almost all categories like Health, Education etc.
I don't see that as something to worry about because the make money online niche is one of the most lucrative/hottest niche in the world..
You need money to survive, no jobs, etc.
People want to learn how to make money online, so they are ready to consume whatever course, tools, softwares, videos etc. to help their life.
and this is where you come in.
You promote those products to them and bank commissions.
See how easy that is?
Enough of the explanation.
How does WarriorPlus work?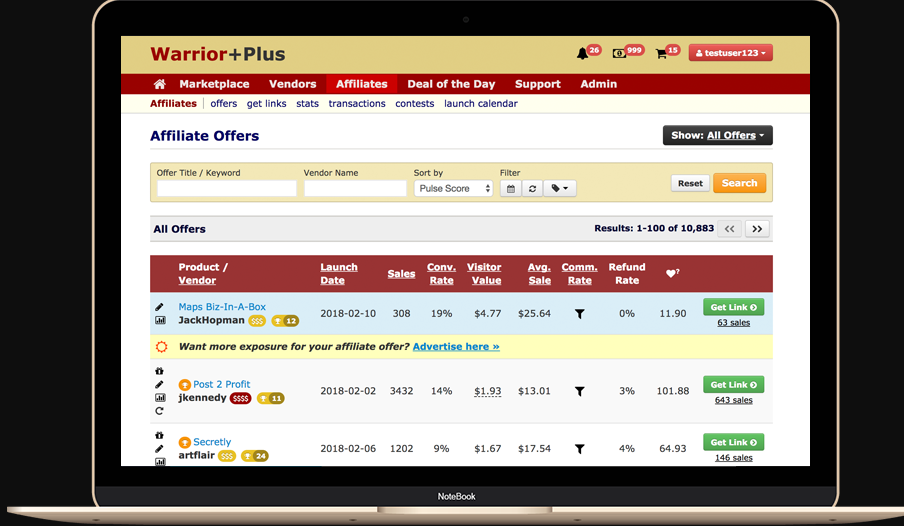 WarriorPlus is an affiliate network, it's becoming one of the best affiliate networks, competing with the likes of JvZoo.
Though JvZoo is similar to WarriorPlus and you can join that too but I personally find Warrior+ best for me.
If you ask me then I'd say the best clickbank alternatives are JvZoo & WarriorPlus but Everything is easy on warriorplus.
Anyway, if you're going to start affiliate marketing, you should have a JvZoo account too after signing up on warriorplus, this is so you get familiar with some things.
As you can see above, there are a lot of products for you to promote and pay between 30-100% commission on most products.
And there are also a lot of products launching almost every day for you to promote and make money.
If you head over to muncheye.com right now, you'll see all the products lanching on WarriorPlus, JvZoo, Clickbank etc… but you'll notice there are more of WarriorPlus and JvZoo.
Muncheye.com is like a calendar you should keep note of, always visit there to know what is launching soon as seen below;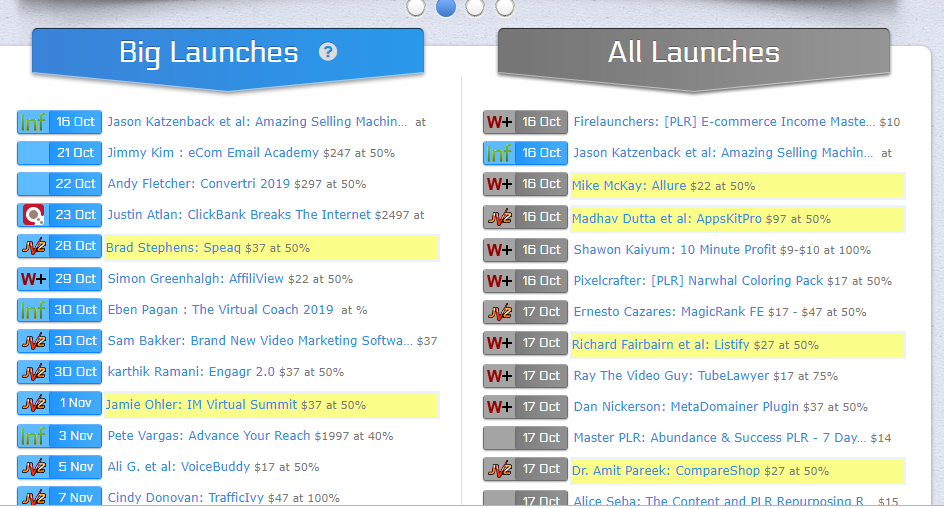 These are secrets many won't reveal to you, but am sharing them free on this blog, so make sure you value it and take action.
So, at muncheye you can see products that'll be launching in few days, few weeks, few months time as well as the commission you'll earn when you promote.
As you can see in the screenshot above, there are products that'll pay you 100% commission e.g. the one of "10 Minutes Profit"
If you apply and get approved you will earn 100% commission on the Front end.
You may be asking; "Prosper why is it so, what will be their own gain?"
Yea, there are two thing involved
There are other things called "OTOS" one time offers or "Upsells" and it means that if someone purchases the front end of $10 they may purchase the one time offers to make real good use of the product.
For example: The front end price of $10 may give them access to the eBook
then OTO 1 may be around $37 – to offer them access to the Video Training ( Alot of people prefer video training, so they may buy this one too)
Then OTO 2 may be around $47 – to offer them access to a Software that will help them achieve results faster (some may purchase this as well.
That's how the vendor makes more money.
2. You help them build a buyers list which is very valuable in affiliate marketing. If someone buys one of your products, it's high likely they are going to buy other products you'll be promoting in the future so you will make more and more money.
So that's the secret behind 100% commission.
apart from the 100% commission on front end offer, you will still earn 50% on the otos.
So let's say one of the person you promoted the product to actually bought all the OTOs, you will earn 50% on each oto he bought.
At the end of the day, you earn and the vendor earn too.
That's sweet haha.
Only one customer alone who bought all the otos could earn you up to $90 or even $100 haha.
So let's calculate;
If 10 customers bought all the otos = $90 * 10 = $900 in a day.
That's possible and a lot of the big guys do it.
Anyway… that's just a clue on how the whole thing works, so you can see it's even more profitable compared to Clickbank.
Though you can make more on clickbank as well but I suggest as a beginner, you focus on WarriorPlus.
Promoting WarriorPlus products earned me more than $1000+ commissions in 30 days.
That's something you can do too if you follow instructions step by step.
Here's what to do right now.
There's a post I wrote in March 2019 on how to make money with warriorplus step by step, it should get you started as a beginner, Go here to read the post. 
2. and I've also prepared a page on this blog for you where I post videos on making money with affiliate marketing. You should see the banner at the top on this blog or go to the affiliate marketing training videos page here. 
Meanwhile if in the future you decide to still go with clickbank but having issues with registration, you should check my post on how to open a clickbank account in nigeria
It's always good to have multiple streams of income.
So take action.
Meanwhile, If you're looking for a step by step training on making money with warriorplus as a beginner then I will advice you to checkout my friend Guy Potok course called Profits Engine, Click Here to learn more about it.
Lemme close my Laptop because I've come to the end of this post on the best alternative to clickbank in nigeria 2019 and beyond.
If you have any questions, just drop in the comment section, I'll reply you.