In this Post am going to show you what I did to make such huge amount in CPA Affiliate Marketing in just 6 days even though I barely knew anything about CPA.
And if you read this to the end, you'd see the ONE Training I took online and made such good success and how you too can become a killer in CPA Affiliate Marketing too.
I used to earn peanuts from CPA Marketing generally, in fact I never made any dime from CPA.
I applied to different cpa networks like MaxBounty, Peerfly and lots of others.
But then something happened that completely shocked me and turned my knowledge of CPA for good;
In fact, it was so powerful that I now earn around $500+ Weekly.
Below is a screenshot of my first 3 days and the second screenshot, my 6th day with CPA.
First 3 Days – $283.50?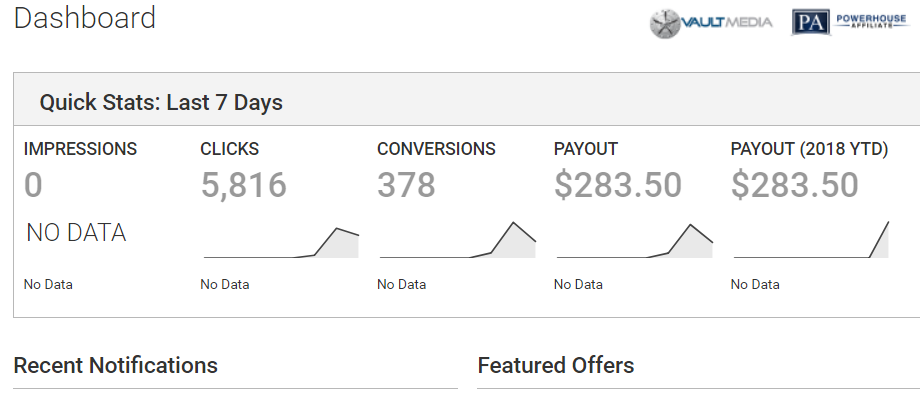 6th Day – $548.35?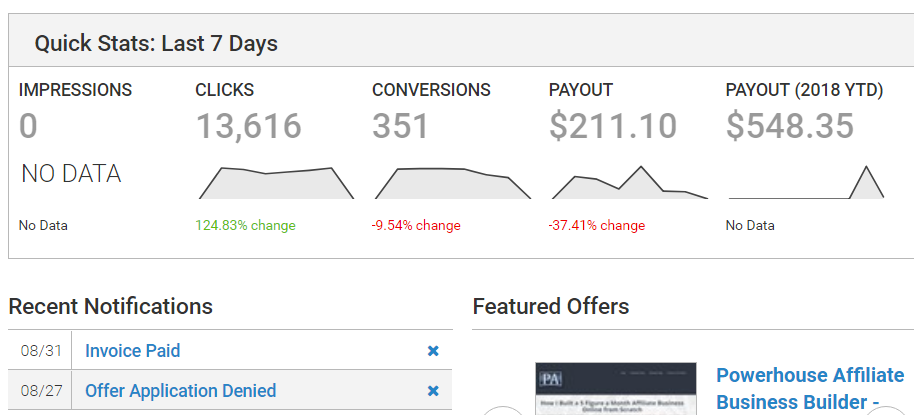 My First Payment to PayPal?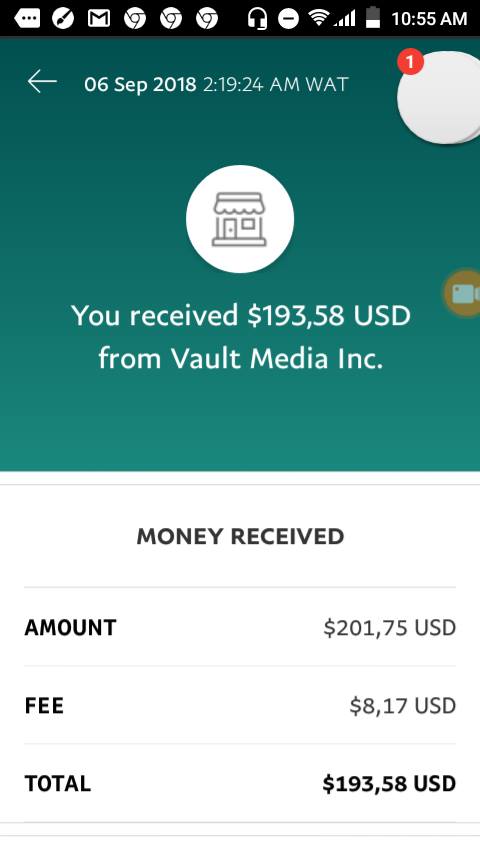 Second Payment to PayPal the next Friday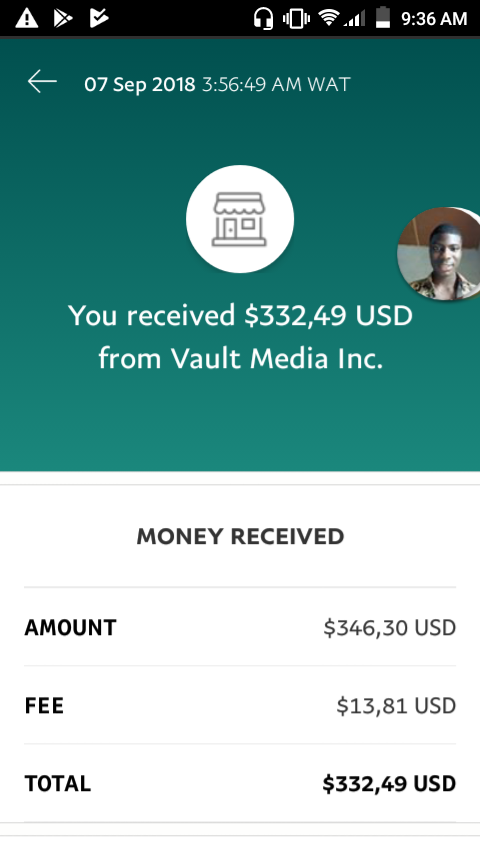 Since 2017 I've been looking for an easy to understand cpa affiliate marketing training to make money with CPA.
Finally, I found a very legit training Program today and the first day after following the training step by step, I made $50, Second day I earned $187, Third Day I earned $90+.
In total, just about 3 days of joining, I already earned a total of $283+ and counting as seen below: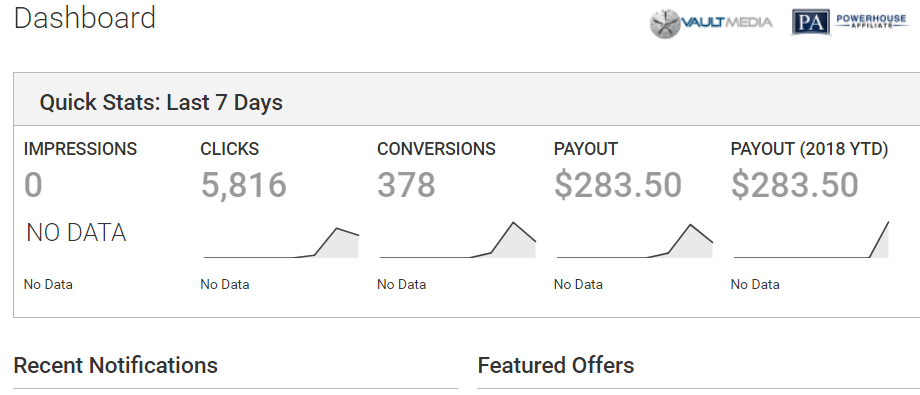 A member Jane also made $294+ in 2 days, I will add her video at the end of the post.
Meanwhile, here is my video on first 2 Payments from powerhouse affiliates own CPA network called Vault Media.
I will be getting paid Weekly minimum threshold of $100.
This is to tell you how great CPA can be when it comes to making money online.
So what is the Big Secret and CPA Training?
Powerhouse Affiliate Premium has been a blessing to me.
I've been taking the Powerhouse CPA & Affiliate Training that costs me just $47? every Month and earning me atleast $500 Every blessed week.
Just in case you don't know what CPA Affiliate marketing is all about, I will explain to you in a bit.
Don't get confused;
There's a slight difference in Affiliate Marketing and CPA.
This is it;
In Affiliate marketing you actually promote a product and until people buy that product, you won't earn.
While in CPA meaning Cost Per Action you get paid commission based on what people take action on;
e.g. You can get paid when people submit their email, or signups for a free trial, or take a quiz.
This is why it's so simple.
CPA is the only type of affiliate marketing where you don't necessarily need to sell something.
Below are some few ways you will earn on CPA;
Email or Zip Submit: Here in order to earn, visitor only needs to submit his or her email and you make money
Free Trial: User agrees to join a program on a trial plan, you earn your money
Download or Install: Visitor downloads a game, you get paid
Lots More.
So these are very simple to come by and there are many people that bank thousand of dollars daily and monthly from CPA.
Successful Affiliate Marketers need to be Punished Severely
Pro/Expert affiliate marketers are feeding you with lies.
They tell you to register into an affiliate program and drive traffic to it and you will make Millions quickly.
The Real Truth;
Big mistakes people make is actually going into a network they have no knowledge of.
If you don't know how CPA works and how to drive traffic to it, you will waste a lot of time there without making any dime.
The best thing to do is to actually calm and take a premium step by step training.
You know what?
I have joined lots of CPA networks such as Peerfly, CPAlead (the likes of maxbounty) etc…
But never made a single dime (not even $1).
So a friend of mine introduced me to Power House Affiliate Training Program and I decided to take a look at it.
and BOOM, after checking and using some of the training/courses..I recommend it as the best CPA Affiliate Marketing Training I've ever taken online.
The amazing thing;?
After going through one of the training titled "CPA Cash Vault 3.0" (the ins and out of CPA and how it works Plus how to get started)
I was looking for a CPA network where I could apply the strategies I just learnt in order to make money.
Then i discovered they have their own Private Network mainly for those who register in their premium training.
I signed up and was approved in a few minutes.
What happened next will surprise you;?
After approval, I had to login to my CPA dashboard and there I see lots of offers to promote.
I decided to go with one of the offers and sent traffic (Visitors) to it and hey; within few hours I was already making close to $10 in that offer am promoting.
The next 2 days, I've made around $286+ as you can see above.
So it's really worth it; spending $47 every month taking the CPA affiliate Marketing training and following every instructions there in.
I can make cool money.
At the moment, am actually trying to scale this earnings to atleast $100 per day x 30 days = $3000.
That's awesome.
So that's really it, and I bet if you register now, follow the step by step affiliate marketing training and apply it, you will make a lot of money from CPA.
Am not trying to get commissions from you, am only recommending what works really well for me so you can as well make money.
Just in case you want to register or learn how to start cpa marketing, then follow the below.
CPA Affiliate Marketing Training 2022: Registration Procedures
Like I said earlier, this training is held by Powerhouseaffiliate
About PowerhouseAffiliate
They've been in business for the past years and they teach cpa marketing for beginners who want to really make money online.
They are the best bet if you are looking for things like;
Affiliate Marketing Course
CPA Marketing tools
etc.
Lots of knowledge from 7 Figure earners in CPA affiliate marketing.
This isn't something of joke.
So here's what to do now;
Just follow the step by step below to register and start your training as soon as possible.
NOTE: Training fee is $47 every month but you can cancel after first month if you are not happy.
But sincerely I don't see any reasons why you should cancel because literally if you can invest $47 and make at least $500 every Week/Month, then what's there to lose?
Nothing.
Step 1: Click here to the Website , when you get to the site,register with your your correct details like name, email etc.
Step 2: You need to pay the $47 right now with your PayPal account.
Step 3: Make sure you don't put anything in the Coupon field, leave it empty.
Step 4: Pay
Finally You will be emailed your login credentials.
Now you can login your premium training and I suggest you go through all the courses step by step.
But if you want to take the CPA training straight away, you can select the "CPA cash vault 3.0" course from your dashboard.
It will walk you through what CPA is all about and how you can make enough money through it.
The amazing thing is that they will approve you into their Private CPA network where you promote offers and make money.
This is hard to enter for any other person but since you are a premium member, you're approved quickly.
How you Receive Your Payments from their CPA Network
You get paid Weekly when you reach threshold of $100 (It's very easy to come by as you do the promotion tactics they share with you in their CPA Traffic Surge course)
Note that wire transfer may take like 2-5 days to get the money into your local bank account here.
That's it my Friend.
My Plans with CPA
I tag this the best affiliate marketing course 2022 to be sincere.
After following all the strategies in the training, I plan to move from $75+/day to start making atleast $100-200 every day and once I achieve that, I will scale it to $500 every day.
Like I said earlier, here is a YouTube video my friend Jane made as she earned $294+ in just 2 days.
Though they offer a free cpa training as well but I won't lie to you, it won't make you any dime.
So you have to pay the $47 Per Month to get access to their premium full training in order to really earn greatly.
I'm very happy with this CPA affiliate marketing training by Powerhouseaffiliate, its really Top Notch.
Try them and See wonders when you take action.