Who else among my readers wants to learn how to get paid to read news in Nigeria and make from N10,000- N50,000 monthly?
If you're among and want to learn, then you're in the right post.
This is best for those who are super lazy, lol, don't mind me.
It's good especially if you are the type who do not like stress or want to increase and add other streams of income.
Also great for those who do not have a Laptop and only using their mobile phone.
You can make money online in Nigeria just by reading news, logging in, sharing to Facebook, leaving comments etc.
I will break everything down for you on how to get started shortly but I have tomake warn you;
You can't possibly quit your salary job because of this, this will only help increase your income or add extra money to your bank account.
Take it as a part time stuff.
So don't think just because you're getting paid to read news, you should quit your job.
Bodi go tell you if you do that lol.
A lot of people are earning between 10,000-15,000 every month.
If you're serious, you could earn even more.
All depends on how well you take action.
Meanwhile, if you read my last post on how to make money with your mobile phone, you'll discover that a guy bought his first ever Laptop using this read news and get paid site am about to share with you, another guy bought himself a quality Gucci shoe.
Don't worry I'd show you everything shortly.
So let's get started right away.
How to Get Paid to Read News in Nigeria Step by Step
There are a lot of theseNigeria read news and get paid sites but I like to focus on only one that I personally use and it's called NNUForum.
Hold on!
Don't go anywhere or click anything yet.
I'll share more info with you but before then, I want to let you know that it works well and I've been with them since 2017 when it first started.
Before, it used to be called NNU Income and I earned over N700,000 (though It involved the affiliate program as well).
As seen below;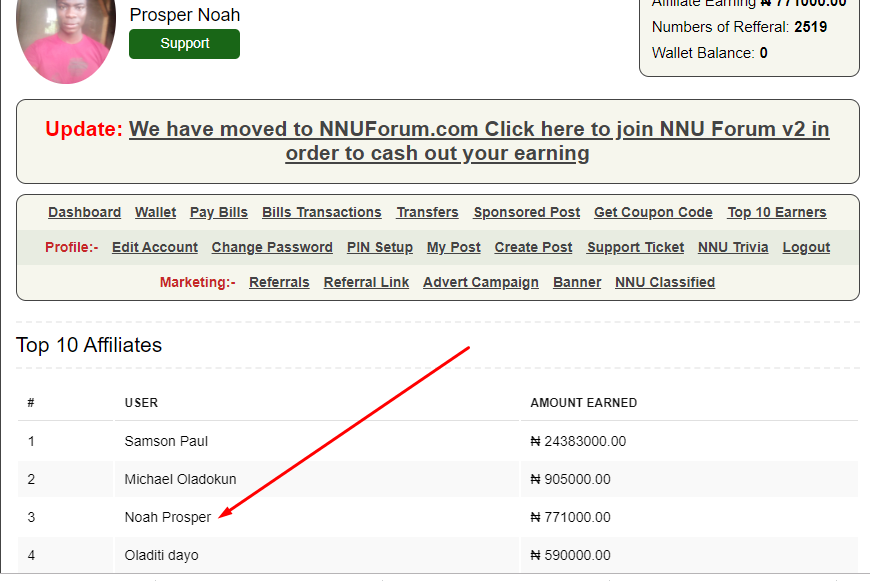 NNU Income was the Version 1, it's gone but now there's a version 2 called nnu forum and it's even better.
I haven't been so active in the version 2, so I've only earned around N55,000 as seen below;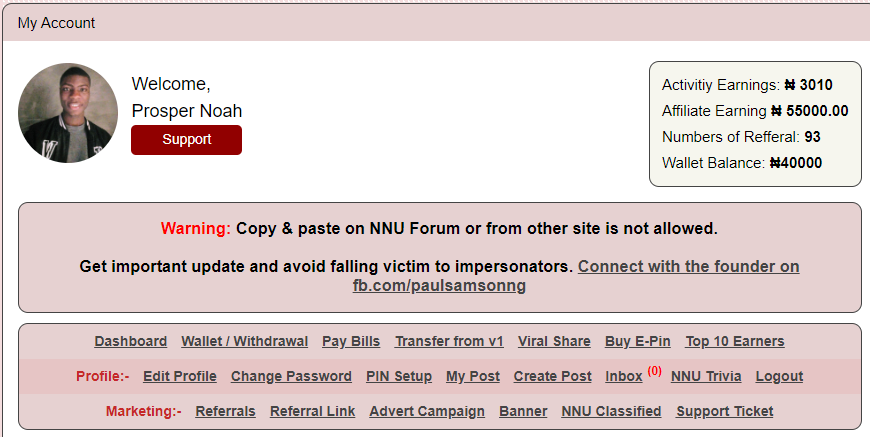 I like the fact that a lot of people are reading news and also getting paid in the process, NNU Forum makes that possible.
Unlike Vanguard, Punch etc, where you just read news and not make a dime.
It'll interest you to know that nnuforum is making a lot of money for serious Nigerians and like I said earlier, a guy used the earnings, bought himself a brand new laptop and the other guy bought a good gucci shoe for himself.
See the testimonials;
First guy Laptop.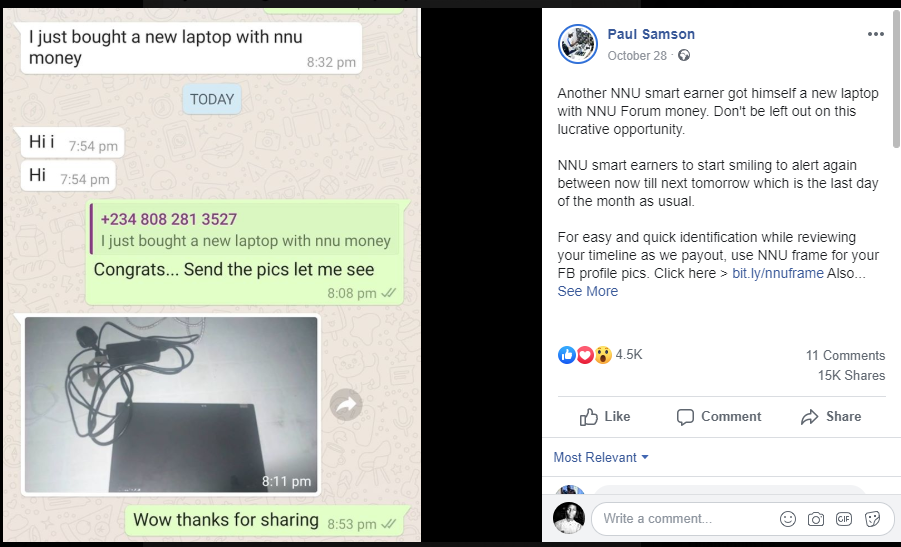 Second guy Gucci Shoe below;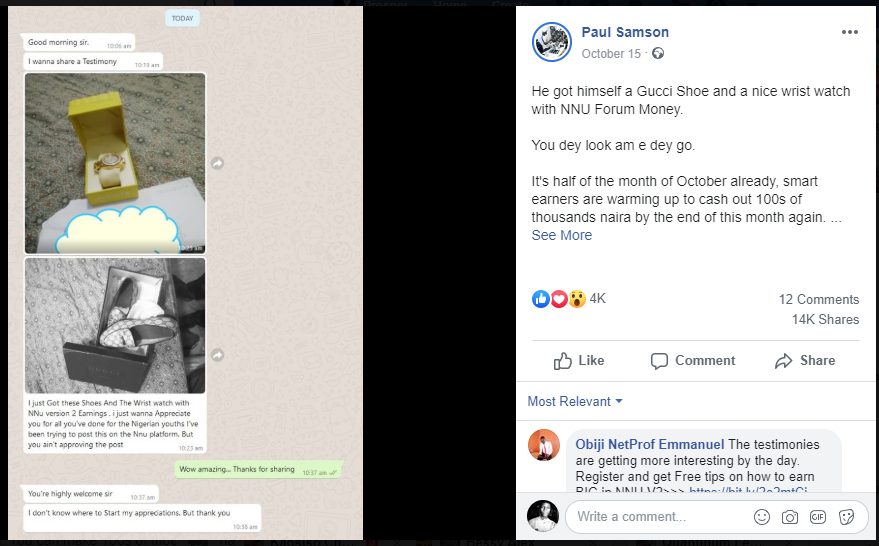 You can see there's good opportunity to make money here.
Before I go into explaining how it works for you and how to register & get started I'll like to share more screenshots just to let you know how serious this is.
I don't like it when I share a good opportunity to make money and my readers don't take action on it.
You can see below Top 10 affiliate earners on nnu forum;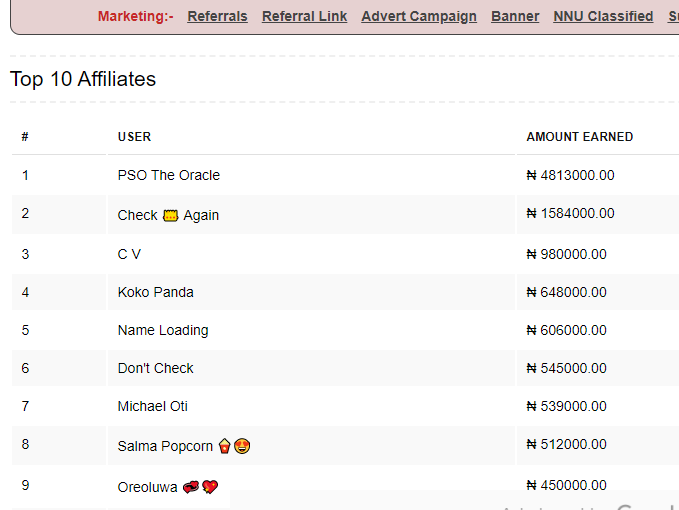 Earning 100s of thousands.
So if you're going to be serious, then you can do it as well.
The above are people who make money reading news and also make money by telling others how to do it.
Enough of the explanation;
Let's get started.
What is NNU Forum?
I won't waste time re-explaining how this works.
I'd just copy from the site and paste here for you;
Here is the explanation from the site for you;
If you missed out on v1, you should not miss out on this v2 NNU Forum. Over 0.5 billion was paid out on the first NNU version and here is the v2. An amazing platform to earn more money online via forum discussion.
Membership Benefits And How To Earn Money
With our simple ideology on making sure interested Nigerians experience and enjoy online earning opportunity, NNU Income v2 discussion forum is fully equipped with the following earning features;
Monthly Revenue Share– Our subscribers / participant earns money via activities point by login in to their NNU account daily, reading and engaging in forum discussion, posting relevant forum topics and sharing viral post on Facebook.
Affiliate Commission– As a member, you are also an affiliate after successful registration.
You will be earning a huge commission of 71.5% = N1,000 per each person you refer to joins the forum through your referral link or username. The more people you refer to join, the more 71.5% commission earning. So, if you can refer at least 10 people to take advantage of NNU Income opportunity daily, you will be earning N10,000 Naira in a day.
Who Can Participate and Why You Should Join NNU Forum
Anyone with daily expenses can take part in NNU Forum. It is an equal opportunity open for Students, Fresh Graduates, Job Seekers, Bloggers, House wives or anyone who wish to earn money online.Take advantage of your Facebook friends, Instagram followers, WhatsApp, phone contacts, and stop wasting your precious time online.
If you are a student, getting started with NNU forum is a great decision as an affiliate or distributor because there are lot of students like you on campus who are in need of cash daily. Entry fee is affordable for anyone. The economy has changed a lot over the past few months with the present government tenure.
Employers are hiring less full time employees and more part timers so they dont have to pay benefits. Becoming an affiliate and getting involved with earning opportunities online is the best option for you. As an affiliate marketer, you can alleviate poverty, headache and uncertainty of working for someone else.
Keep in mind though that you must have an entrepreneurial spirit and positive mindset.
Affiliate and online business are not for everyone. But, if you like the idea of breaking away from financial bondage in this country, working and making money in the comfort of your home or wherever you are with NNU Forum and growing your business at your own pace, then becoming NNU Affiliate is a good starting point and a great choice for you.
Below are six ways to earn on NNU Forum
1.As an affiliate, you earn 71.5% per each referral.
As a participant, you earn point for your activities on the forum.
2.Active daily login:You earnN50when you login to your account daily.
3.View Forum Topics:You earnN10on each latest forum topics you read.
4.Relevant Comment / Discussion :You earnN20on each new topics you contributed to.
5.Posting Forum Topic:You earnN200for posting relevant, interesting and well structure forum topic that worth discussion and get approved on the website. You could even earn more between N500 to N1000 when you post more relevant, unique and original content on any categories.Note that copied content including topics from other sites are not allowed.
6.Sharing viral post on Facebook:We assign a viral post to members to share on their Facebook timeline daily, you earnN100naira daily on assigned post you share on your timeline.Note that our post must appeared on your timeline before you can get paid.
How To Register And Get Started
To join NNU Forum, registration fee is N1,400 naira only (one time payment).
You can make payment online on registration page using your ATM card or online banking or using registration E-Pin.
Make sure you fill your name, email etc. correctly.
When you get to payment method, choose paystack, it means you want to pay with your atm card.
If you don't have that or cannot pay with your card, you can buy an epin from one of the distributors.
I always advice you go with a Lady named Uzoma Amaechi.
She's a friend of mine and trusted.
How To Cashout
On NNU Income Program Project v2, we have come up with a remarkable working plan to make sure all participants benefit and cash out their earnings without losing or ending up getting frustrated. We want Nigerians to experience online earning opportunity and cash out to their bank accounts while retaining and sustaining NNU Income Project as the most trusted and outstanding earning platform in Nigeria. As such, we are using a first come first serve and most active method on our monthly revenue sharing.
Both affiliate commission and activities earning are paid out upon withdrawal monthly based on activeness and membership duration on the forum and due time for revenue share. We will make sure no member is left out without getting paid so long you are active and earn up to the maximum withdrawal threshold either with or without referral earning. Monthly income will be published with details of how revenue is shared in a specific month with beneficiaries list.
Minimum withdrawal remains N5,000 independently on both activities earning and affiliate commission. Withdrawal is paid out every last day of the month to ensure stability and sustainability of the system; reasonable and awesome salary payment to your bank account monthly. Members profile and activities will be duly reviewed on the website from time to time including payment day in order to ensure no member is left out from the monthly payroll.
Once you earn up to N5,000 in your activities, it will automatically dropped in your wallet for cash out. The same thing is application to affiliate earning, once you have earn up to N5,000 on your affiliate earning, it will also dropped in your wallet automatically as both earning standalone and independent. You will get paid with referral or no referral base on how active you are and your duration on the forum + if you are due for payment. This is to ensure no member is lagging behind without getting paid.
How Can I withdraw my earnings and when?
You can make a withdrawal from wallet menu on your dashboard at anytime while we process payment and share revenue every last day of the month.
NOTE that your Facebook timeline will be checked and your membership duration and activeness will be reviewed before your withdrawal can be processed. If you are not due for revenue share for a month, your withdrawal will remain pending till when it gets to your turn.
More Earning Opportunity
Without waiting for monthly revenue share, you can leverage on our E-Pin selling, agent or distribution opportunity. You will earn 15% per each E-Pin you sell to any prospective members on NNU Forum. E-Pin wholesale price is N1200 per pin, you can buy bulk from minimum of 20 pins or more. Forum registration is N1400 which is the price you must sell to prospective members, while you earn N200 naira profit per sales. Also your name will be added to the list of distributors on the website so you can be getting prospect from our campaign.
In Summary
Registration membership fee is ?1,400
Affiliate commission is 71.5% = ?1,000
Agent / Distributors earns 15% = ?200 profit per sales
Reasonable discussion / comment : ?20
Posting relevant unique forum topics: ?200 – ?1,000
Daily viral share on your Facebook timeline: ?100
Withdrawal Threshold is ?5,000 Referral or no referral
Referral is absolutely optional!
We share revenue and payout every last day of the month based on first come first serve both membership and withdrawal time including highest earners first and no members will be left out without payment.
and that's it with the explanation.
If you take action, you can start earning immediately you register.
To get started, Click here to register now
I made a video review as well, just in case you want to watch, below is it;
Like I said earlier on, there are other news sites like this that pay you for reading news, commenting, sharing etc.
Some include:
Zinoly
Newspay
Giftalworld
Wakanda
But I always advice you go with one, which is nnuforum.
Go here to Signup now and start earning.
So with nnuforum, you can get paid to read news in Nigeria and withdraw to bank every month.
If you have any question, feel free to drop a comment and let me know.