I have a lot of people who are interested in creating their own blog but do not know how to go about it.
e.g. How much is involved & what and what is needed to make it work, etc
Cool stuff.
So how much does it cost to own a Blog in Nigeria right now?
Great question.
If you're among those asking this same question then you're in the right post.
Here is what I will do:
I will not only break down the cost and what you need, I will also provide a V.I.P-only and private video for you on how to setup the blog in 30 minutes, so your blog can come live.
Meanwhile, you need to understand that, on this particular post, I'm not teaching you how to make money from blogging, this post will only break down the cost and how you can own a blog.
If you need a step by step guide on how to make money from blogging, am not offering that at the moment, but I can recommend a very good fellow Nigerian who will coach you till success so you can start earning between N250,000 to N2.5Million+ Per Month? through blogging, go enroll in his Blog Cash University.
So let's get started.
How much does it cost to own a Blog in Nigeria?
Yep.
Without wasting much of your time I'll just go straight to what you like to hear.
But before then;†I like to be very transparent to my lovely readers.
For your information and just in case you don't know yet, at the moment I have about 2 active blogs.
Tipsonblogging.com – This is my primary and first blog and this is where I built authority, made a lot of friends because I share lots of blogging related posts, how to rank blogs on Google to drive traffic and make money from blogging etc.
Though I no longer post regularly to the above blog but it's still active and I get a lot of people visit daily for information and solution to their problems.
and the second is prospernoah.com the one you're currently reading now.
Here I offer how to make money online and I focus mainly on the Nigerian audience.
That's it.
If you want something like tipsonblogging.com and prospernoah.com, it's not hard at all.
You can set up within few minutes of following the instructions in this post.
A lot of you may say "Prosper, issokay, please let's just get started" haha.
Okay, let's get started on how to own a blog.
Follow below carefully;
Again, make sure you follow and implement this carefully.
I like to show what works personally for me.
What you need;
A Domain Name
A Hosting Package
First things first;
1. You need a Domain.
That's what people type in their browser, whenever they want to visit your blog.
e.g. www.prospernoah.com or www.tipsonblogging.com or www.google.com†
A .com domain costs around $8.88 maximum every year on namecheap hosting company.
As seen below;

Take note.
2. You need a Hosting Package
This is the main thing and it's what will bring your blog live.
It's where your files will be hosted before anyone will able to visit your blog.
The hosting company I use for all of my blogs is Namecheap, they're one of the best.
Namecheap offers discount for new customers, so hosting costs around $29.28 for your first year and every other year, you pay $57.88 as seen below;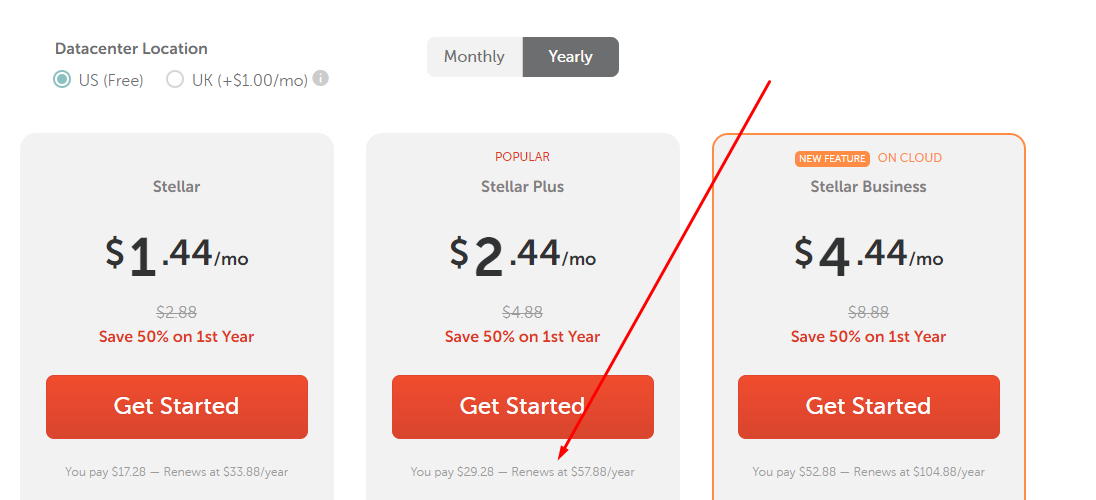 That's for their Stellar Plus package and I recommend it for blog starters.
If you calculate everything; Domain costs $8.88 + $29.28 = $38.16
Yes, $38.16 is enough for you to own a blog in Nigeria as soon as possible.
$38.16 is equivalent to just N13,775.76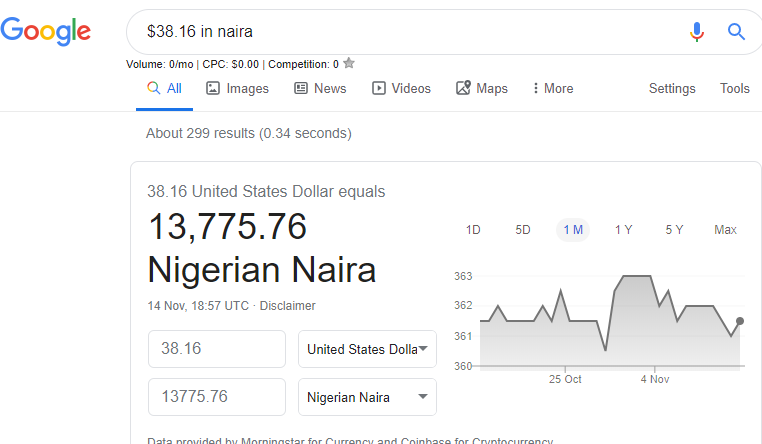 Even less than N15,000
Cool stuff right?
So that's it.
13,775.76 Naira will get you a blog quickly.
If you have this at hand right away and would like to create your own blog, then follow the below video I made on how to create a blog in Nigeria in 30 minutes using Namecheap.
You'll see me get the hosting, domain, and bring the blog LIVE.
How to Create a Blog in Nigeria [Video Tutorial]
NOTE: This video you're about to watch is an exclusive, V.I.P only and a private video I made as a bonus for some of my subscribers who purchased a particular product I recommended in the past.
Take it seriously.
I pray none of them sees this post, they'll get mad at me for sharing the video here…. hahaha lol.
I want you to benefit, that's why am offering it on this post.
Below is it; feel free to watch and implement to get your blog created in 30 minutes.
Below are links to some things I mentioned in the video
As explained in the video above, what you just need is
Get your domain name
Get hosting
Install WordPress
and boom, you're good to go.
If you watched that video above and implemented, your blog should be setup.
I've come to the end of the post.
Also feel free to let me know if you have any question.
So.. how much does it cost to own a Blog in Nigeria right now?
Just $$38.16 equivalent to N13,775.76
I have to warn you though;
Creating a blog is very easy but making money from that blog is where the real deal is.
You have to know the steps, follow the right guide, the right coach or mentor, to become successful.
That's why a lot of bloggers quit just few months of creating their blog and got nothing to show for it.
Some even wasted years, this is because they do not have a proven formula.
You can't just create a blog and expect it to start fetching you thousands or millions of Naira monthly.
If you want to get serious and take blogging as your business, make a lot of money, then your best bet will be to get a coach that'll walk you through everything step by step, someone who knows what he's doing.
Right now I'm not offering any mentorship or training, so I recommend you go enroll for my Friend, Joe Okoro's coaching Program called the Blog Cash University.
That's all you need to succeed.
Wish you all the best.
Again, let me know if you have any question.
If you enjoyed reading this article then you should join my special make money online mailing list.
There's currently over 3,000 readers there who receive my emails on online business on a regular basis;†
Inside, you will receive:
FREE Report on How I Make N200k Monthly Online Right Here in Nigeria
Powerful Articles and Bi-Weekly emails containing profitable Online Business Opportunities To Help You Make More Money Online.
SPECIAL Bonuses in the form of eBooks, Video Training, etc.. from time to time That Only My Subscribers Get to Enjoy
And Many, Many, Many More.