Want to learn how to make money with your phone in Nigeria?
Yep I'm talking about your android phone, not Java o. Lol
I get a lot of emails from people "Prosper, please teach me how to make money with my android phone in nigeria as a beginner"
So I decided to make this post specifically for those sets of people.
Meanwhile who told you you can't make money using your android phone here in Nigeria?
Whoever says you can't, tell him loud and clear "Prosper said I cannnnnnn"
Lol.
So yes, you can actually earn using your android phone.
Just make sure you have internet connection.
At least you can pay for data to chat on Facebook and Instagram.
Thank God who gave you that sense that you can as well use that same phone to make money.
Before we get started, I have to warn you;
You can't create a suuuper solid online business using your phone.
At least it won't be so flexible.
You can only make some good amount of money in the mean time and then later on you get a Laptop and start something that can be called a sustainable online business.
and to sweeten everything for you, I want to let you know that you can make enough money to get a Laptop.
Many people are doing it.
Back to the purpose of this post.
How to Make Money with your Phone in Nigeria [Guaranteed]
There are different ways but I like to share what works for me personally.
So you can copy me or replicate and get same or even better results.
Meanwhile, you should not be a jack of all trade.
So Pick one out of the two I'd be sharing with you below.
Spend some time at least 30 days, you'll definitely get good results and you'll thank me later.
1. Referral Marketing
Yep.
Referral marketing is something and the easiest you can do with your mobile phone here in Nigeria to make money.
A lot of people here in this country are jobless and want to make money online legitimately without stress.
Your work is to refer them to something that's legit, so they can make money and you earn commissions for referring them
At the end of the day, you both win.
They make money from your recommendation and you make sweet referral commission.
Obviously as you already know, there are a lot of these referral programs and they include Wakanda, Winapay, Newspay, Giftnaija, NNU etc.
But most importantly, you have to focus on just one of them that is legit.
If you ask me, I will advice you start from the NNU forum Affiliate because it's very simple and straight forward.
You can recommend it to your friends who want to make easy money online and you earn commissions.
Simple.
Yea.
It's as simple as telling your friend something like "Hi guys, you can make up to 30,000 naira weekly by reading news, sharing sponsored posts and being active on nnu forum, here is how it works"
and that's it.
Once people register, you earn N1,000 referral commission.
Remember this is something you can do with your phone via your WhatsApp, Facebook Profile etc.
This is a good place to start from using your phone, earn some good amount of money and later you can upgrade into bigger stuffs like Affiliate Marketing, Blogging etc. when you get a Laptop.
A lot of  people using NNU forum bought their Laptops, like this one below.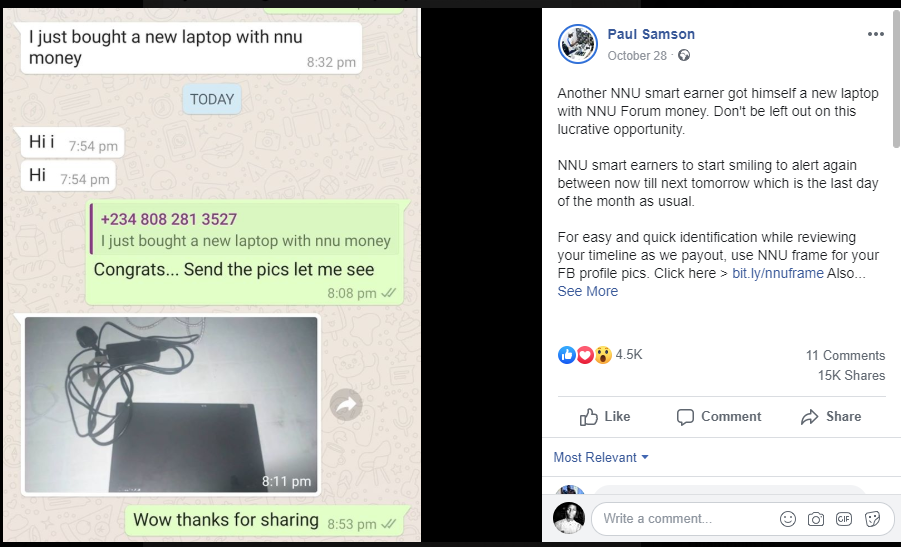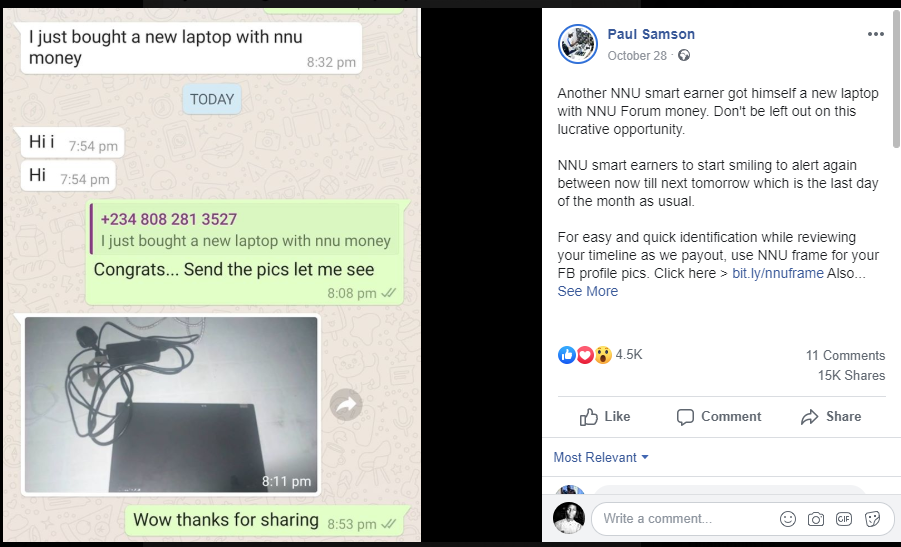 It doesn't stop at that.
This one below used this same money made using their mobile phone, got a gucci shoe and wristwatch for himself.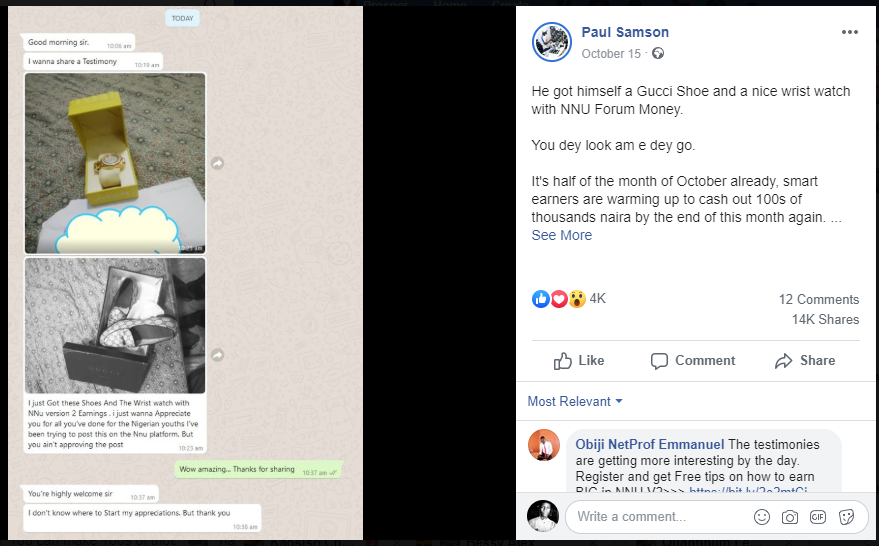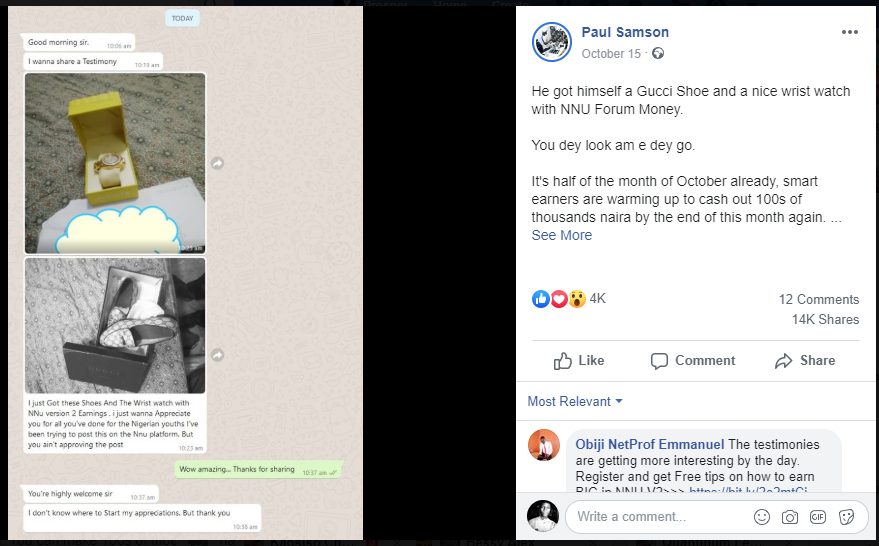 Those are peeps who are making smart use of their mobile phone.
Am telling you all this, for you to know it's possible to make money using your android smart phone here in Nigeria.
You just need to be serious.
and most of these guys above just use WhatsApp and their Facebook timeline to refer others and earn affiliate commissions.
Referral marketing is sweet.
Now you may say  "But Prosper, am not the referring type, I don't know how to refer people" 
Well, never mind.
I put up an eBook for free on the strategies you can use to promote this referral program stuffs and make lots of money.
In fact it contains some of the free promotional strategies that made me Top 3 affiliate on NNU Income, earning over 770,000 Naira 100% free as seen below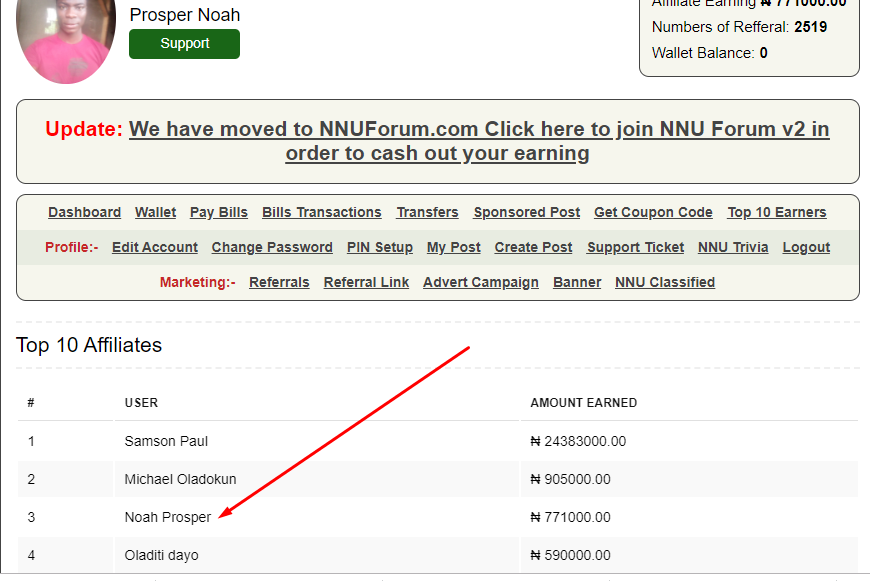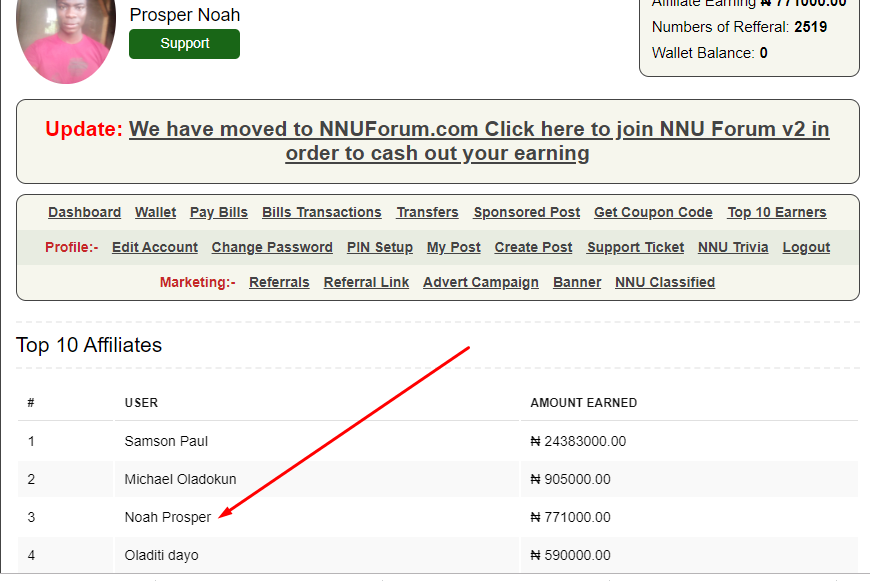 So if you signup into nnu forum using my link, I'd send you the eBook, you implement and make some good money for yourself, see all the instructions here.
You can see there are lots of opportunity using your mobile phone.
No one started with a Laptop.
We all started from small, I started from my Phone, to Cyber Cafe, to finally getting my own Laptop… so you should take it easily and step by step.
Don't rush yourself.
That's it with using your mobile phone to make money here in Nigeria via referral marketing.
There are other referral programs like I said earlier just in case you don't like the nnu forum option but to the best of my knowledge and from personal experience It's what I recommend you start with.
and if you're serious, follow & implement the strategies I put in my Referral Hackers Pro eBook, you'll make a lot of money.
Here is instructions on how to get the eBook and start working as soon as possible.
Remember; NNU registration is N1,400
Step 1: Register to NNU forum using my link here.
Step 2: Send me your username for confirmation and I'll send you the eBook when confirmed.
Then start working.
Spend at least 30 days, implementing the promotional strategies in the eBook and I guarantee you're going to get results and make a lot of money.
The main reason people don't succeed is because they don't take action after getting a quality stuff.
Don't be among those peeps.
Again; I really want you to succeed and that's why am doing all these.
Meanwhile, if you want to do strong head, don't want to use nnu forum, below are other referral programs, though I haven't tried them myself.
You can give a try and see how it goes.
Though my eBook is only for those who go with nnuforum.
Here ya go;
NOTE: I won't link to any of them, you should find out more yourself using Google search.
Other Referral Programs
Giftnaija
N1,000 referral commission (Read News & Get Paid website)
Longrich Business
No much info but I heard they specialize in selling physical products and also have a referral program
Recharge and Get Paid (RAGP)
I hear a lot about this on Facebook though I haven't gotten in myself.
Obviously you get paid when you recharge airtime, pay bills, etc. and they have a referral program as well.
Were you expecting a second way?
Well, like I always say; am not the kind of person who'd post a bunch of programs for you to join.
I like to share only what works well for me so you can benefit too.
Meanwhile, this isn't the end.
There are other stuffs I personally do using my smartphone but they are a bit advanced like buying & selling/withdrawing PayPal funds etc.
I'll let you know if I find something very easy that you can do aside referral marketing using your mobile phone.
and that's ittttttt.
Referral marketing is what I recommend you start from, make some good money and probably get a laptop, go advance…into a more sustainable online business.
This ends this post on how to make money with your phone in Nigeria.
Let me know if you have any question, I'll reply you in due time.
If you enjoyed reading this article then you should join my special make money online mailing list.
There's currently over 3,000 readers there who receive my emails on online business on a regular basis; 
Inside, you will receive:
FREE Report on How I Make N200k Monthly Online Right Here in Nigeria
Powerful Articles and Bi-Weekly emails containing profitable Online Business Opportunities To Help You Make More Money Online.
SPECIAL Bonuses in the form of eBooks, Video Training, etc.. from time to time That Only My Subscribers Get to Enjoy
And Many, Many, Many More.