You see, I'm about to reveal something to ya..
Do you know that one of the best ways to make hoooge caaash online is by helping people make buying decision?
Very, very smart technique only a few Nigerians like myself know of.
Before I got into email marketing, this accounted for like 90% of my earnings.
It's what helped me make my first million naira in 2018 when I was around 18 years of age.
Yep! It's the first time I counted 1m+ in my bank akant.
Now here's how the stuff works.
You help people make buying decision by writing reviews on a blog.
Just like the way I do on prospernoah.com
You simply review income programs, digital products, e.t.c
The first income program I reviewed was affnaija an earning program where Nigerians can get paid to share ads on Facebook. The platform literally  gives you a Facebook Ad template that you can copy and paste to your timeline, and then you make money.
Your only job is to make use of the templates/swipes given to you, and advertise it on your facebook timeline.
Very simple income model. I earned some good cash from there and then I decided to follow that same path.
I reviewed another program that launched then, which was nnu income program, this alone brought in over N700,000+ in affiliate commissions.
As seen below;

and then a few others.
Just before I got into promoting digital products via email marketing, my best income source was through reviews.
Everyday; programs, courses, etc,, are being launched and 100's of affiliates promote them to their audience either via email, or webinars, or whatsapp classes etc.
But most of audience don't buy immediately.
They want to know if the program is legit or not and what do they do?
They go to google and search for a review or how it works.
and they land on my reviews.
For example:
I've written a review of owodaily, the review has brought in a lot of affiliate sales/commissions;
If you go to google right now and search for owodaily review you should see it right there.
So you go ahead to click on it and it will bring you to my blog.
On this review what I basically talk about is simple;
I summarize what the program is about
Who created or founded it
If its legit or not
How to join or register or signup and stuff like that
and when they are done reading the review, they will click on my affiliate link and when they signup or purchase the product, I earn commission.
As simple as that.
It's how I make most of my income from blogging.
I've reviewed some good number of products and programs that brought in lots of cash.
In fact, did you also know that I reviewed the famouns 72 hour income generator course when it launched in 2019?
A course that teaches how to make money with affiliate marketing
Guess how many sales I generated from that review alone?
About 25 sales.
It paid commission of? N9,000-N15,000 per sale.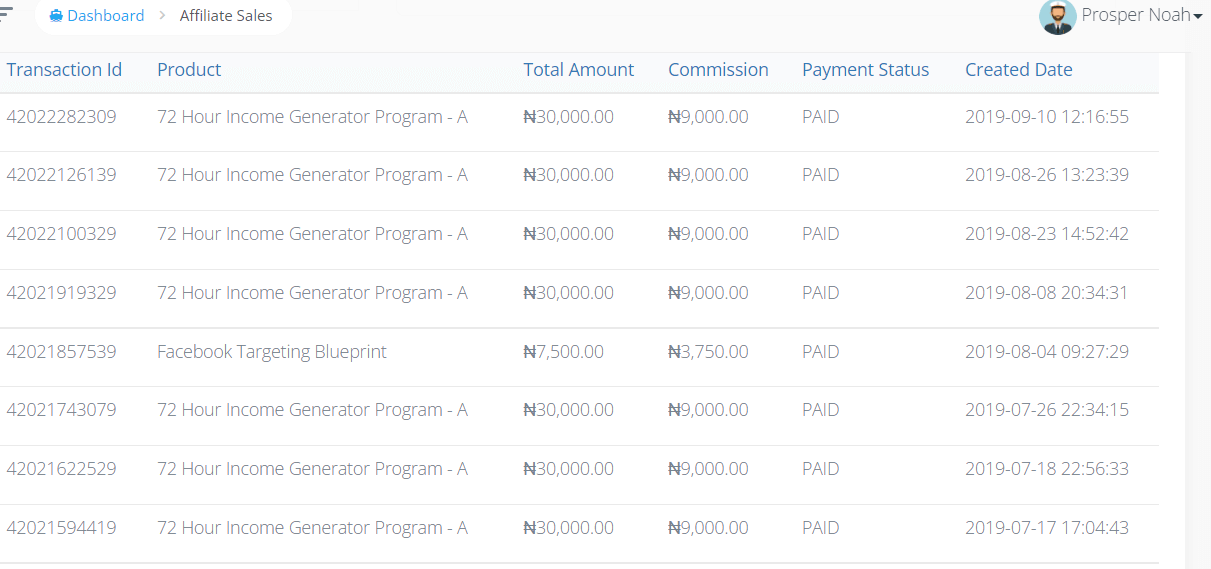 That's about N375,000 in commissions
Just from that one review post.
You get what am saying now?
Your job is to help people make buying decision.
When they've gone through a platform that claims to pay, or they come across a course or whatever that promises to make them money, they're in doubt and want to know if it works or not.
They come to google and you help them, show them what its about, how it works, how to signup, etc.
You'll make a lot of money this way.
and the really cool stuff about this, is that it is passive income.
As long as your review is up you don't need to do any other thing.
The commission will keep coming and this alone can make you between 200k-N300k+ monthly.
Even more than that.
If 1 review makes you 200k-300k/mo. How about having like 10 reviews on the blog?
That's lots of cash.
It's not even limited to income programs and or courses; you can review latest software launches and make money from jvzoo or warrior plus.
On sites like muncheye.com software, training courses, etc.. are being launched almost everyday.
Top Affiliates are promoting to their email list, the subscribers are wandering on Google looking for reviews before they buy.
If you review these products, you can earn in dollars, up to $500-$1k+.
No need to run Facebook ads, 100% free quality traffic to make affiliate commissions.
Actually this is not for everyone; especially if you don't want to put in the work.
I have about 4,000+ subscribers on my list and I'll be damn happy to show even if its only 10 people out of this 4k+ peeps how to go about this.
To get started with this reviewing products of a thing, you will need to setup a blog like mine.
You can see I used my name. www.prospernoah.com
You can decide whatever name to use.
When the blog is setup, the next thing will be to create a few pages like your about page, contact page, etc.. finally you can start writing reviews of? products or income/earning programs and make money.
1-3 months is ideal to start getting results.
Apart from reviewing products/programs on the blog, you can even sell your own products or even build an email list from there, or make money displaying google adsense ads.
How to Get Started?
Get a domain name e.g. prospernoah.com
Get a host
Install WordPress
A .com domain name costs around $13
and hosting for lets say 6months $15
that's equal $28 (N14,000)
N14,000 is all you need to setup your blog ASAP!
Yes, with that you can setup a blog like mine.
If you have your money ready, you can click the below link to message me on WhatsApp.
WARNING:?
Do NOT message if you are not ready yet so you don't waste my time.
I'm not collecting shishi from you.
I'll only give you the link to get domain and hosting + also guide you to install wordpress so you can get started.
When your blog is setup I'll also give you my SEO/Ranking course that costs N15,000 for free, with that you will be able to rank your articles on google and start getting traffic and making money from the blog.
When you start getting some traffic and earning from your reviews, you then apply for Google AdSense to earn more money.
If you're ready as well as your N14,000 is ready to setup your blog then click here to Send Me a Message.
I'll give you next steps and what to do.
If you prefer to do it yourself, here is my video on how to get domain and hosting? and install WordPress on Interserver Hosting.
==> Link to Get Interserver Hosting
Select the $2.50/mo plan you see on homepage and buy for 6 or12 months
In the next page enter the name you will like to use for your domain
When you are done getting your domain, hosting and installing WordPress, come to daddy ?
Just send me an email to prospernoah19@gmail.com
I'll be giving you;
My SEO/ranking course to rank your blog on Google and start getting traffic ASAP
My Review Template so you can follow to start writing review articles and earning affiliate commissions
How to Find Products, Income Programs etc.. to review
Extra Guidance to succeeding with your brand new blog so you can pull in 200k-300k+/mo easily
This is what I do for a living.
This is how I earn affiliate commissions without running ads
This is how I build my email list for free and promote affiliate products
If you want to model what I do to earn a living, this is your chance.
And I'm not even charging you a kobo.
How's that?
Sounds good?
Awesome.
==> Go here now to Interserver, get your domain and hosting and install WordPress.?
Let me know when done via email to prospernoah19@gmail.com for all of the resources promised.
Just 10 people and I will make this page disappear in no time.
If you feel N14,000 investment on domain and hosting is too much, you are not even ready to earn a living online yet.
Hope this helps.
You can let me know in comments if you have questions