If you're looking to join the Naira4all Program and searching google for Naira4all Review before you register, then you're in the right Place.
Using this honest review, you can know if its worth investing your N3,000 or not.
and at the end I'll also reveal 3 good working alternatives that've made me over N200,000+.
Before then;
Who I am to Review naira4all Program?
I am Prosper Noah and I own this blog prospernoah.com just incase you don't know me Yet (Lol).
For the past 3 years I've been studying every area of Income to find out what works (and what doesn't) for making money online in Nigeria.
The Amazing thing is this;
I know how hard it is to make money online in Nigeria especially for beginners.
I know and understand that;
There are lots of scams online and you don't want to take chances anymore, just like you I've wasted a lot of money online to programs that promise you heaven on earth and at the end, its all big SCAM.
This isn't good you know?
So I came across Naira4all Earlier and used the Program plus checked everything in their dashboard as an experienced Internet Marketer that I am (Lol).
How I found Naira4all Program
I was tired of all the online scams and lots more, so I had to work hard to find legitimate programs via searching on google and I found it as one of the popular make money online Programs in Nigeria;
As in;
I kind of risk and put money into every promising program I come across and if It works for me, I share with my loyal readers like you, if it doesn't work I let it go for good (Life is about taking risk).
So I do all the work for you; I love you and there's nothing you can do about it (Laughing in Chinese Lol)
For Example, below are two Programs I have used earlier that work greatly;
Just Keep reading…to know if naira4all is legit or scam.
So;
On this Post I'd be doing a very honest naira4all review.
I bought the Package of N3,000 too so I can test the naira4all progam if it's legit or another scam.
I've checked everything (The Good and Bad Side) and lots more.
So what next?
Just buy some Kola while I take you through;
So basically if you're on this post, it's either you want to know;
What naira4all is all about
is naira4all legitimate?
Or you need a Naira4all registration guide
etc..
I don't want to waste your time So I would just go straight to the Point.
And wait;
Just before the review, you may want to learn a few things about the Program such as
When naira4all was founded
Who founded it
Naira4all Facebook Page or Group Details (This shows if any program are Authentic or Not)
Etc..
So;
Naira4all Review 2023: Is it Legit or Scam?
In just a few minutes, you'd come to know if this program is worth your money or not.
What is Naira4all all about

On the about Page naira4all claims:
It's an online business that allows Nigerians make real money or what is called "Legitimate money online" both locally and internationally easily.
Unlike nnu and wakanda, this program is kinda designed to walk you through every make money online aspect both in Nigeria or Outside Nigeria online.
Benefits of Naira4all or What's Included: List of what's included when you Join the Program
This is also known as naira4all benefits I.e. What you stand to benefit when you register and pay your N3,000 so you can start making money.
Benefit 1. Get paid to view adverts (websites)
This is the first benefit/thing you get in your Dashboard when you join the Program and upgrade your membership with N3,000 one time.
It actually shows you list of 100% working websites you can join to get paid just by viewing adverts, you can make money and withdraw to your Bank Account (Payoneer).
I have reviewed this and it seems very nice because I know the sites listed there are very Legit ones, unfortunately I can't mention the websites here for privacy reasons.
Benefit 2.Free Blog / Website Set-up For Members.
Again, this is another benefit and this one is much better and great.
You know why?
Blogging is the next big thing in online marketing world, and if you can setup one then you can diversify your income streams and make money from almost any area like Promoting products on your blog, Placing google ads and getting paid on your blog, Selling Ad spaces to companies like MTN, Jumia, selling your own products on the blog etc..
They actually help you install your blog and set it up and also walk you through on how to chose a blogging niche (what to blog about) and lots more (All this is packaged when you join naira4all).
So this is another great benefit alright,
Don't go yet, there's even more at about 9 benefits of naira4all when you join;
But I will list only 4 and below is the third Benefit.
Benefit 3. Get Paid To Share Links On The Internet.
This sounds strange but yes it works 100%. As an internet marketer who's been into making money online for sometime now, I know there are many sites that claim to pay you for sharing links to Facebook, twitter, etc.
But There's good and bad news;
The Bad news is that most of these get paid to share links on the internet sites end up being scam
The Good news is this;
Naira4all gives you access to only the ones that work very well (Very Legit Ones), all you just need to do is join and take action to make money by sharing links on the internet.
Benefit 4. Free 3,700+ eBooks you can Download and Resell to Make Money Easily
This is called PLR, you simply buy an eBook with resell rights.
Resell rights here mean you can resell it at any price you want and keep 100% Profit.
So naira4all is giving free access to these huge list of 3,700+ make money eBooks, you can sell it to anyone who wants to make money online at any price you want.
It's all yours.
My Take on This;
This is a very good online income opportunity because all you can just do is promote and sell these eBooks easily and fast making use of Facebook Ads or promoting in forums like Nairaland.com and lots more.
So instead of wasting many months writing eBooks, naira4all does this for you automatically. The only work on your part is to sell and keep your money.
Those are just the benefits;
Is The Naira4all Program Worth your N3,000 Investment?
Now that am done with the benefits, you may want to know if the program is worth your money and so I will list some Pros and Cons (The Good and Bad side) of the Program.
Pros or Good Side
The Website naira4all.com where you download and get all information after joining is very fast
Easy to navigate and download all you need easily and fast
You can follow the tutorials and guides (It's easy for beginners)
eBooks to download are not heavy files where you will have to waste much data
Cons or Bad Side:
You need a smartphone like Android to access the site and get necessary details
Joining the Program takes 24 hours for approval after you make the payment of N3,000
They should consider adding an online payment option where you can just pay with your Debit Card and get access to your Premium Membership dasboard immediately instead of waiting for 24hours on manual approval.
Yes, it is worth every penny!
My

Results

Using

Naira4all and What you may Likely achieve from the Program
Even though I joined this program earlier August 2018 there's been a great benefit and you are going to make money online for sure.
If I happen to have joined the program earlier maybe around 2016 or 2017, then the result am getting today would have been from this program.
When I checked the dashboard and analyzed everything my online income growth is like a reflection of the program.
I currently make money from the following;
Affiliate Marketing
Selling eBooks on my Blog
Google Ads on Blog
Etc..
This is one of the things you are likely to learn when you join the program and they help you set it up for free too.
So if you join and follow the Naira4all program then definitely you're guaranteed to start making money online as soon as possible if you take action and use what you see.
So is Naira4all real or scam?
Simple! it is legitimate.
Now that you know its legit and not scam; you may want to signup right way;
Not to worry;
In few minutes I will show you step by step the naira4all registration procedures to get approved easily.
Naira4all Registration: How to Register or Join the Program Step by Step
Naira4all registration fee is N3,000
Follow the below steps carefully to register.
When done registering, login to your naira4all account and you will see the bank account where you should pay the N3,000 into
When you have sent the payment, Make sure you click on the Notify payment button in your dashboard: That is where you will upload your receipt or payment details for approval.
Your payment will be approved within 24 hours.
Lastly you will get an email that you're approved for premium membership and that's all
Make use of your materials in the dashboard and start earning.
Enjoy.
I noticed a lot of people who have registered have been asking; how they can withdraw from naira4all and stuff like that.
How do I withdraw from Naira4all
You don't actually withdraw from naira4all directly, you can only withdraw from the different earning websites they're going to show you; so you complete tasks on these sites and get paid to payoneer or skrill and then from there you can transfer that money to your Nigerian bank account.
You will be also be taught in your dashboard how to signup for payoneer, skrill and other payment methods required to withdraw your earnings.
Even for the referral program of naira4all where you get paid N1,500 per referral, you don't need to click withdraw, just have your bank account details setup and whenever you earn commission, they pay you automatically weekly.
Alternatives to Naira4all Program
While Naira4all may be an all in one awesome money making program in Nigeria, you may be looking for other sites like it.
So just incase, then you can check out the alternatives and two best and paying programs below;
You should note that the 3 am listing below work very well and I earned a lot but has to do mainly with affiliate marketing. That's why I suggest you should go for naira4all so you can learn everything at once.
But if you still insist on the 3 alternatives to make money then feel free to take a look at them below;
1. Owodaily
On Owodaily you can apply and complete easy and simple tasks and earn online in Nigeria; such as sharing a post to Instagram or Facebook, liking a post, commenting on a youtube video, etc.
Members usually get paid from anywhere 10 naira to 50 naira per task you complete and you can earn up to even up to N5,000 maximum for some tasks.
When you are done completing a particular task or job, you will then upload the proof that you've done it and you get credited to your account, then you can withdraw the money to your bank account once youve earned up to at least N5,000 and you can complete as many tasks as possible.
and I've earned and withdrawn over N100,000 on owodaily as well as seen in below screenshot.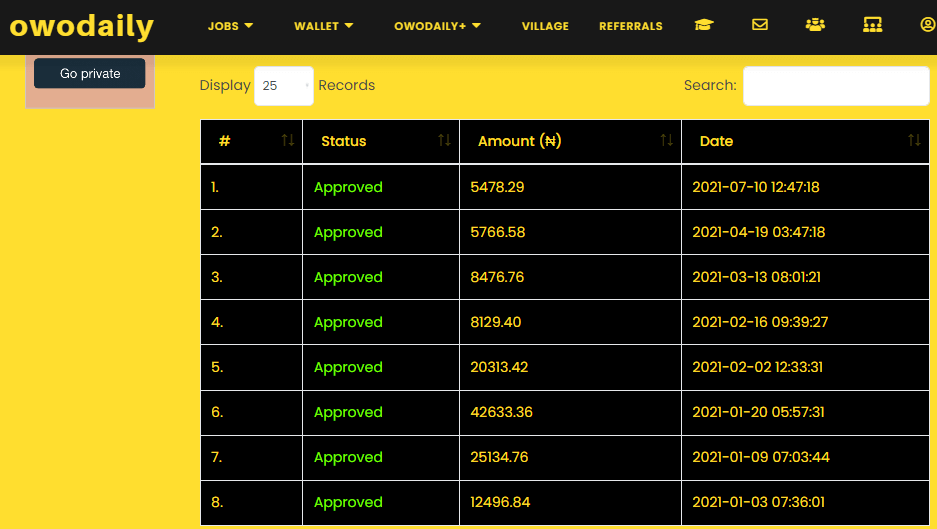 Take note that I was focusing mainly on the affiliate marketing aspect.
I told you earlier that this alternatives have to do mainly with affiliate marketing.
Anyway, I have a full detailed post on how you can get started earning on owodaily, click here to read it.
2. Dataway Ng
This one is a data vending platform and you can make money in 3 ways
By buying mtn data cheap and reselling it
You'll also earn lots of mtn data in the process
lastly, you earn on the platform by referring others; you earn N1,000 + 1gb per anyone you refer.
As an added bonus, when the people you refer renew their subscription every month, you earn extra 1gb every month continuously.
I just joined newly and haven't been actively promoting but I've earned lots of mtn data and also made about N30,000 from it.
Take a look at the my dashboard/earnings/data below;
Earning to bank Cashouts

Data Cashouts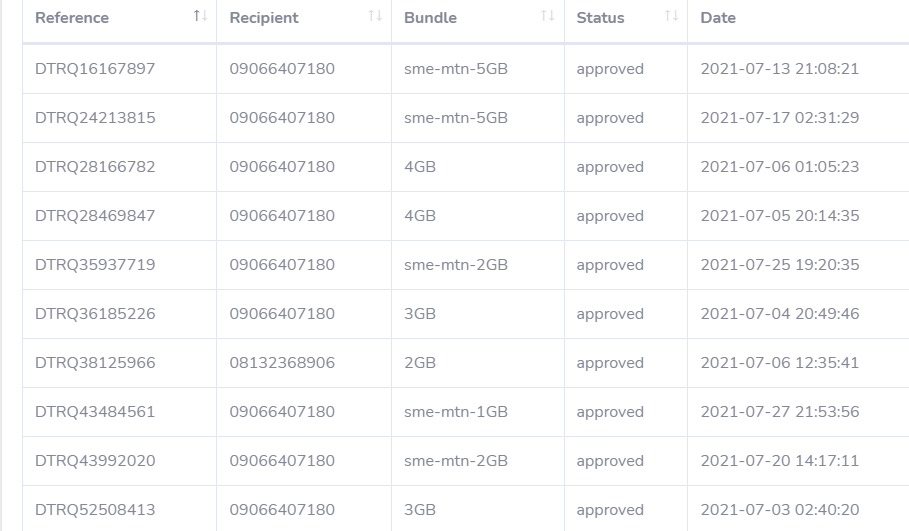 If you like dataway and want to get started with it, there is a page I created where you can learn everything about it and how to get started, here is link to the dataway page.
3. Chop40k – Now Nairainflow
This one is full fledged affiliate marketing and it provides you with easy way to make moneay right here in Nigeria.
I made over N100k+ from this one.
They've actually rebrand and changed their name to Nairaninflow
Let me add a screenshot from my phone of my earnings dashboard so you can take a look: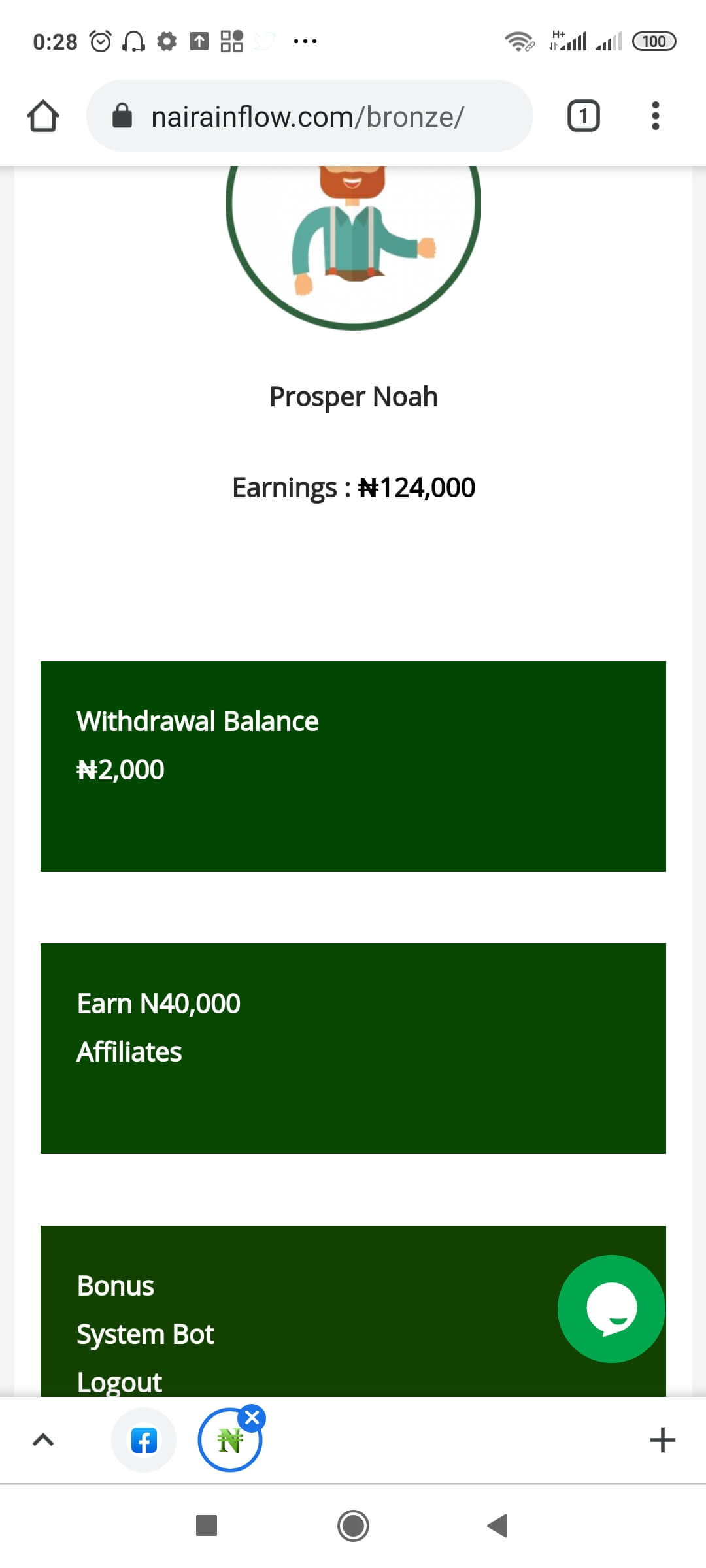 On Chop40k/Nairainflow, you will be given a product worth 10,700 Naira with lots of earning opportunities; this is an electronic guide that'll let you learn of over 100 types of businesses plus how to set them up step by step.
You get earning opportunities like;
How to create a Clickbank account in Nigeria and how to earn $250 from it
Tutorial on how you can earn at least $100 daily via cryptocurrency (you've heard of bitcoin right?)
How you can setup a PayPal account that will able to send and receive money + how you can earn 10 dollars every day with the account.
How to earn up to 50 dollars every day through Advertising links plus how to withdraw from it and many other premium products you'll get access to as soon as you join chop40k
You also earn by sharing businesses on facebook with your friends
Another way to earn is through the affiliate program part where you earn ?2,000 and ?4,000 in commission.
If you are interested in this one, read up my article here where I explained how it works and how to get started.
That's it with the 3 alternatives
Other Featured Articles: PayPal Nigeria: 100% Working Method to Receive Payments
Conclusion
I hope this naira4all review post helps you make a very good decision to start making money online for real right here in Nigeria.
Before you go, why not subscribe to my fast growing YouTube Channel Below is one of my video review of naira4all just incase you prefer watching .
Naira4all Review
Price Affordability

Support Response Time

How Legit?

Email Support
Summary
This review of naira4all covers every aspect you need to know just before you register. At the end of the review, naira4all is actually legit and paying well. So go ahead and register an account easily and fast.
Pros
You can start earning almost immediately when you register and start working
It's a Work at Home Stuff
Cons
You need a smartphone
If you don't take action, you won't earn for sure.