Are you looking for an owodaily registration guide to help you join the platform and start completing tasks to earn money? Want to know which plan to pick between owodaily and owodaily+?
You're definitely in the right place at the right time.
Maybe you're confused or just looking for a step by step tutorial to join the platform.
I've been getting a lot of questions recently from my blog readers; questions like
"Prosper, what package should I signup for on owodaily, the N5,000 own or the N15,000 own" 
"How much can I earn daily"
I'm finding it hard signing up
and stuff like that.
If you're facing same issues, then you've landed in the right place.
You see, I've reviewed a lot of income programs on this blog ranging from nnu, wakanda, naira4all, dataway and lots more including owodaily and if you ask me which one is still paying currently I'll advice you go with Owodaily.
Why?
It's very easy to make money here, all you need to do is complete simple daily tasks and you get paid.
Is owodaily still paying 2023?
Yes, In January 2023, I have been paid N9,960. Below is the screenshot: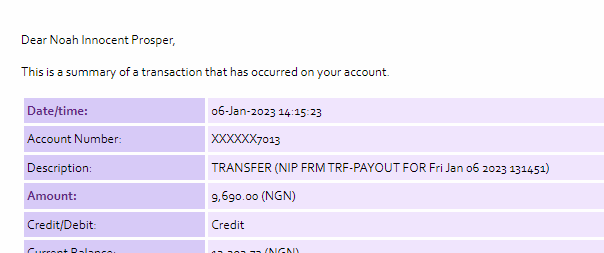 In fact, as at the time of writing this post in November 2022, I've currently earned and withdrawn over N489,000+ from owodaily as seen in the screenshot below;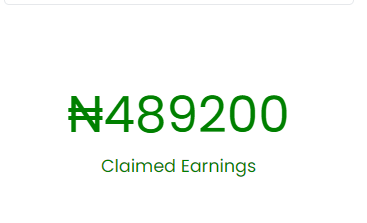 Above earnings were made from combining the different ways to make money on owodaily including completing of tasks, affiliate marketing, etc.
Below are some of my most recent withdrawals, you can check the dates;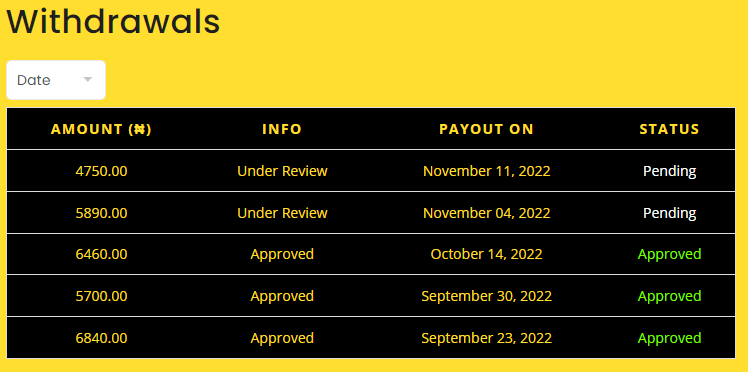 I have about 2 pending payments that would be credited to my bank on Friday, since they pay every Friday.
Check more withdrawals below.

You see? I'm still making some easy cash from there and the payment proof says it all.
So if you want to join the platform and want to know the registration fee and other stuff you're definitely in the right place.
I'm going to walk you through everything.
As if that's enough, I'll also be dropping a video tutorial on how to register right on this post to make sure you don't get confused.
Sounds awesome?
I love my my readers so I do everything to make sure they succeed.
If you don't want to watch video, no problem.
Let's get to it right away.
Owodaily Registration Tutorial: How to Register for Owodaily and Start Earning
Follow the below step by step instructions to sign up for owodaily as soon as possible.
Just before then you may be asking "Which one should I go for, the N5,000 package or N15,000?"
So which plan should you go for?
The normal owodaily that costs N5,000 fee or owodaily+ that costs N15,000?
Owodaily Registration Fee Explained
There are two plans to earn on owodaily and they include:
1. N5,000 plan
2. N15,000 plan (Owodaily+)
These two plans allow you to make money but just incase you're confused as to which one to sign up for let me quickly explain each of them for you.
N5,000 Plan
This package from owodaily is the one I'm personally using, I haven't upgraded to plus yet and it's the one that earned me over N480,000+ as you saw earlier on.
If you are just getting started with owodaily and a complete beginner this is the one you should signup for.
With the N5,000 one time payment plan you can do the following things.
Complete unlimited tasks on the platform and earn money
You can also earn from the referral program that pays N1,600 each when you invite others
You can also post a job on owodaily for members to complete for you.
So actually the 5,000 Naira package is what you need as a beginner to start making money on owodaily.
Let's see what you can do with owodaily+ that with N15,000 subscription fee.
N15,000 Plan (Owodaily+)
With this plan you can earn even more money and the only difference is the fact that you'll be able to promote other people's products on the platform and earn commission.
In other words, when you signup on the N15,000 package you can make commissions as an affiliate marketer, you'll be given access to promote people's digital products.
For example: Let's say a video training product costs N30,000 and is paying 50% commission
If you run Facebook ads, promote it and someone buys, you will earn N15,000 as commission.
If you make 10 sales in a month, that's N150,000
and most people who have good knowledge in affiliate marketing can make that 10 sales even in a day.
You get the gist now?
Owodaily+ gives you access to the affiliate network. (That's the extra)
To help you make more money.
With the N15,000 package you get access to the following benefits:
Complete tasks and earn money
Invite others and earn N1,600 each
Instant access to Owodaily affiliate network to promote digital products and earn commissions
Which One Should You Choose?
I like to be very honest when it comes to money decision like this, it's why my readers trust me and my recommendations a lot.
If you're just getting started as a complete beginner, maybe you've not done something like this owodaily before I will advice you to start with the N5,000 package.
Though the N15,000 package is very attractive as you can make much money as an affiliate marketer I won't advice it for now.
Why is that?
It's best for people who have a bit of knowledge on how to promote products as an affiliate, so if you don't have that knowledge yet, don't go there.
I recommend you register for the 5,000 plan and make some money completing simple tasks first and then later on you can upgrade to owodaily+ if you want.
Yes, you can always upgrade anytime you feel like.
Are we clear? haha.
I mean do you understand the differences now?
Have you decided on which package is best for you?
Then let's go ahead.
Now I'm going to walk you through how to sign up.
Quick Note: I don't know about you, but some people like to do strong head, they actually register for the N15,000 package and try to learn how to do affiliate marketing in the process.
Haha
and it works for them, I'm not joking.
I haven't used owodaily+ myself but I heard they give you some tools and promotional materials to help you promote the products as an affiliate when you register.
If you have cash at hand, you can give it a try though.
Anyways, if you ask me, I'll advice you start with the N5,000 package and upgrade as you go.
I only recommend something I use myself.
I've been on the regular N5,000 plan for a long time now and it's working for me, very soon I'll upgrade.
Enough stories…. Prosper lol
I don't want to waste your time so here's how to register step by step.
How to Register for Owodaily
Remember, owodaily registration fee is N5,000 and N15,000 respectively (depending on your choice)
I'm assuming you've decided on what plan to go for.
Now follow the below step by step guide.
Step 1: Click my special link here and you'll be taken straight to the owodaily website page that says you've been invited by Prosper Noah as seen below;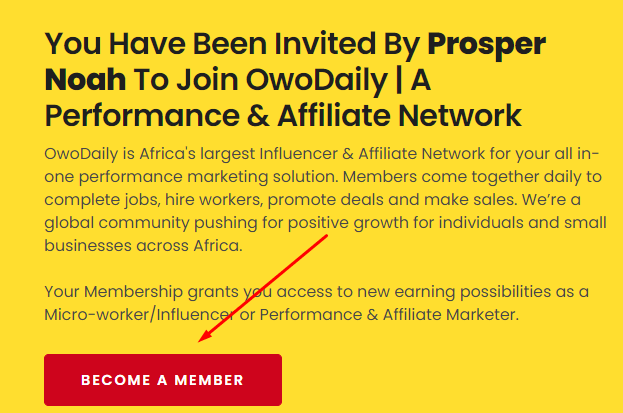 Just click on "Become a member" and you'll be redirected to the registration page as seen below;

Go ahead and fill in your details such as:
Full name
username
Correct email address, etc
When you're done click on "I'm not a robot" and submit to complete your registration.
You'll see this message.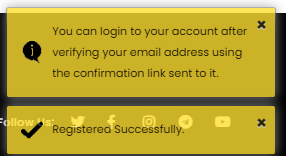 Step 2:  Check your email for confirmation link. A link will be sent to your email box, you have to click on that link and you'll be taken back to owodaily to make payment.
Here's how the email looks like: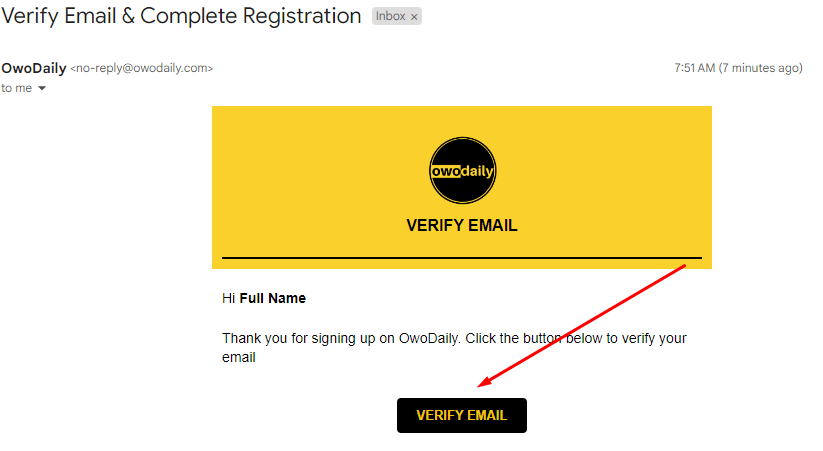 Click on the "Verify email" button
Step 3: When you've clicked on that you'll be taken to owodaily website to login.
It's now time to make payment and start earning money.
Simply choose your preferred payment method and pay.
The two best payment methods are flutterwave and gift card (bank transfer)
Flutterwave (If you chose this, you'll pay with your card)
Gift Card – Pay to an argent using bank transfer
Both are very good but if you don't have time to wait for an agent to send you pin for registration, your best bet is flutterwave.
That's the one I used for my registration and I'm sure it's what majority of people use.
Step 4: Choose your plan between owodaily membership for N5,000 and Owodaily+ for N15,000

Click and go ahead to pay.
If your transaction is successful then you've just signed up for owodaily and the next step is for you to start making money.
If you face problems with making payment, you can always reach out to me via email: prospernoah19@gmail.com
I'll assist you.
So what are you still waiting for?
Click here to register on Owodaily now
Earlier on, I promised to provide a video on registration, unfortunately I won't be able to as I'm facing some issues with my Laptop recorder.
However,  below is a video I made early this year that shows an insider look at my owodaily dashboard where I explained how it works and a walkthrough on how to complete tasks.
Hope it helps you small haha..
Manage it please for the mean time until I record a new one on registration.
FAQS on Owodaily Registration
Here's some frequently asked questions by other readers. I've answered them in detail and hope it helps you too.
How do you use Owodaily?
With your owodaily membership you can do the following things.
Complete simple tasks and get paid
Post jobs on the platform for others to complete
Refer others and earn invite commission of N1,600 each
Promote people's products and earn affiliate commissions from as high as 50%
Sell your own products and let affiliates promote for you (Owodaily seller)
and much more.
How do I withdraw money from Owodaily?
It's simple, owodaily minimum withdrawal is N5,000 and you get paid every Fridays.
When you've earned up to N5,000 click on wallet and withdraw.
Confirm your email and you will be paid the following Friday.
Withdrawal fee is 5%
Conclusion
Owodaily is currently one of the best paying sites in Nigeria for 2022  so if you're looking for an easy way to make money online give it a try.
I've also written a detailed review on it just in case you want to take a look, here.  It's still paying and will continue to pay, I'm still making money week in week out even though I no longer put in a lot of effort.
If you take it really serious 50k-100k in a month is a starting point for you.
It's all about consistency and persistence.
and that's it for today.
I'm sure this owodaily registration guide will help you big time.
Have questions? please let me know in the comments section.