Owodaily
Earning Potential

How Legitimate

Payout Process
Summary
Owodaily is a digital jobs platform where you can earn up to N2,000 per job/task completed by liking, commenting on posts, signing up to websites, etc…
Make as much as N5,000 weekly spending just 5-10 minutes daily, minimum withdrawal is N5,000 and you get paid to your bank account in Nigeria every Friday
Top Paying Earning Platforms in Nigeria

Earn up to N2,000 per job/task completed on owodaily by liking, commenting on posts, signing up to websites, etc...

Buy data in bulk and resell for profits, earn N1,000 per referral and make up to N10,000 daily + other awesome benefits

Earn money online by browsing websites, viewing adverts, taking surveys, watching videos, playing game, installing apps on your phone, etc.


Make as much as N5,000 weekly spending just 5-10 minutes daily, minimum withdrawal is N5,000


Register and activate your membership, purchase data in bulk and start reselling instantly... N1,000 minimum withdrawal

Start making money as soon as you join the membership taking surveys, watching videos ... minimum withdrawal varies

Get paid to your bank account in Nigeria every Friday

Get Paid anytime to your bank account in Nigeria

Get paid in different methods; bank, paypal, payoneer, gift cards, etc)
Welcome to my owodaily review post.
If you are here then it means you've probably heard of owodaily digital jobs platform, maybe through youtube or facebook, nairaland etc.. and are looking to join and make money.
But you want to learn if the platform is worth your investment, if they are legit or scam.
You're in the right place, as I would be reviewing this platform to show you exactly how it works step by step.
All you need to do is go through the detailed review carefully.
Just before then, it's only fair that you know who I am and why you can listen to me.
Who Am I to Review Owodaily Platform?
If this is your first time here, my name is Prosper Noah and I own this blog you're reading right now.
For the past 3 years I've been studying every area online to find out what works and what doesn't for making money online right here in Nigeria.
I've reviewed a lot of income programs, ranging from nnu where I made over N700,000 as seen below;
Wakanda Nation Income program where I made Over N100k+
Hiwap program, naira4all etc.. revealing how they really work, how they make their money, if it's scam or legit, if you should invest your hard earned money and other stuff..
I literally do all of the work for you; researching, testing and almost everything.
I'm only telling you that because I want you to know I'm into those kind of online business models myself and make a lot of money doing so.
How I found Owodaily
As you already know, what I do is blog, in other words; I make research on what people are searching for and then provide them with the solution.
I use secret tools for this.
So I was making a research and owodaily popped up.. it turned out that a lot of Nigerians were actually searching for the review on google probably to know if the platform is legit since there's a registration fee of N5,000.
No one wants to lose their hard earned money.
That's why a blog like mine exists, I do all of the research on how to make money online through various programs and offer you advice and go ahead.
So on this post am going to carefully cover;
a very honest owodaily review
How it works and what it's about
Is it registered by CAC
How you can make money there
Etc….
Let's get started.
Owodaily Review 2023: Is it Legit or Scam?
What is Owodaily?
Owodaily is a digital jobs based platform or community where you can actually make money applying to easy tasks like sharing a post to Instagram or Facebook, liking a post, etc.

So they pay you to do those stuff.
Let me explain better to you so you can get to really understand how this platform works and how you can make money;
It's good to know before you go ahead to invest your money and time.
Now here's the concept of Owodaily;
What they do is pretty much simple;
They connect advertisers with publishers.
For example: Let's say I have an Instagram account or any other social media account or page that I want to grow the followers and engagement, I could simply signup to owodaily as an advertiser in order to get these likes, followers, comments etc…
That's where you come in; you do the job of a Social media manager. 
What you're going to do is apply to different tasks and get paid for it.
You could apply to task that says to go to a particular person's instagram page and leave a comment.
How much you can make on Owodaily
You get paid between N10-N50 per task and even up to N5,000 maximum per task, after completing a particular task/job, you upload the proof and get credited.
Then you can make withdrawal straight to your bank account once you've earned up to atleast N5,000 and you can complete as many tasks as possible.
Meaning you can earn money easily doing this stuff on owodaily
The tasks for you as a worker is not just limited to facebook and instagram
They include tasks related to:
Twitter
YouTube
Music
etc…
This means that a lot of people who need to grow their facebook page, twitter account, instagram account, youtube channel views, music etc. can post jobs to owodaily platform and have the workers do the job and make money.
You're the worker and your job is to simply do what is posted on the platform like , upload the proof and you get paid.
We can refer to those who complete these jobs as micro influencers. 
Hold on let me show you an image of how the tasks in your dashboard look like and how much you can earn for each.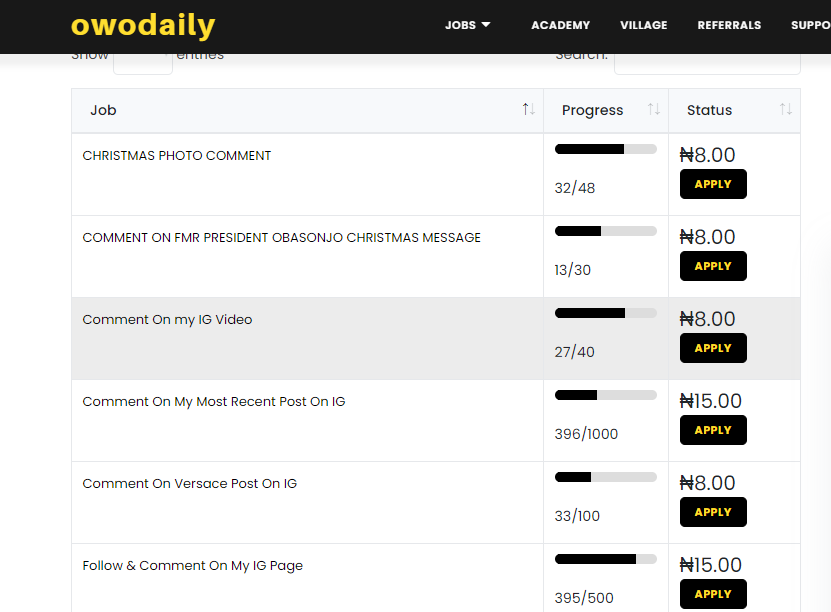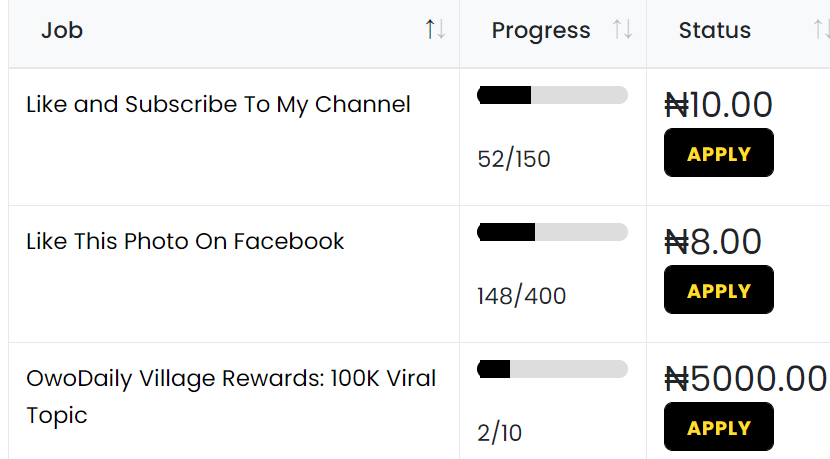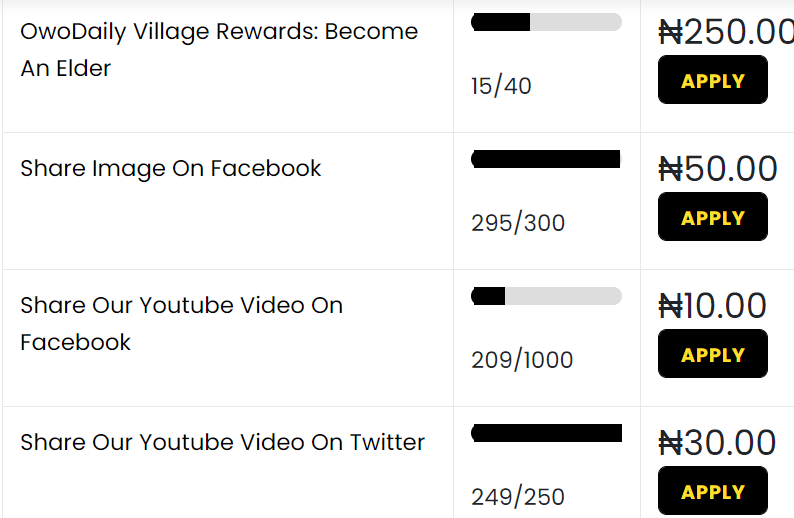 Simply click on Apply, and follow the instructions carefully to complete the task.
Once you've done that, there's a place for you to submit your proof and then you get credited.
Proof could be things like your instagram username, facebook username or any other stuff they require.
There are lots of task for you to complete so you will make a lot of money.
As I said earlier, all you need is just apply to one, complete it as soon as possible and upload the proof there on the platform and you get credited for your work.
As simple as that.
Isn't that really easy way to make money online here in Nigeria?
Just completing easy tasks.
Benefits of Owodaily or How You Can Make More Money when you Join the Platform
Apart from the one I explained above which is through completing the task/jobs on the platform which is the first way to make money, there are even other ways to earn more.
What are the other ways?
There's an affiliate program as well, and you earn N2,500 per anyone that joins owodaily through your affiliate link… (this is called affiliate marketing and with this alone, you can make passive income if you are able to make posts on Facebook or WhatsApp about owodaily to invite others) though it's optional
Another way is that you can actually become a reseller; Tell people that you can get them followers, charge them, then post it as a job on owodaily and get people to do the work…. you keep the profit haha
One other way is through posting your own business. If you're a business and you want to make sales, you can post it as a job
Other cool benefits include the fact that you'll get access to full support any day any time just incase you face issues, and you'll also be able to get access to their Digital Academy.
That's it.
But personally, as a beginner the best thing is to actually focus on completing the jobs/tasks and earn your money without stress and there are unlimited jobs for you to complete daily and get paid.
Once you earn up to N5,000 you go ahead to withdraw your money.
Is the Owodaily Program worth your N5,000 Investment?
Considering the fact that you can earn some good money without so much hard work on your part, then I think it's worth it… and it's even amazing that membership costs just N5,000 one time and you don't need to pay another money ever again.
You can as well combine this with your current job or online business, it's cool to have multiple income streams right?
Anyway, here are Pros and Cons (The Good and Bad Side of the program)
I took really good at the website and have even signed up myself today as at the time of writing this review.
Pros: The Good Side:
The website loads really fast; this is good so that members won't have issues with completing tasks
The business is registered with CAC with B3185497 (for credibility sake)
The registration fee is really affordable, talking about N5,000 for full time membership
There's social presence (Talking about the fact that they have an active YouTube Channel, a facebook page twitter page, etc)
Cons: The Bad Side
So Far I haven't really found something bad
Yes, it's really worth your money.. the benefits are a whole lot much.
In fact, one of my youtube friends withdrew N10,000 few days back from the time I wrote this post. A lot of people are getting paid.. so be rest assured, you're going to make money for sure.
So is Owodaily legit or scam and is it still paying in 2023?
Newest Update; 10th January, 2023

I was paid N9,690 on the 6th of January as seen in below payment proof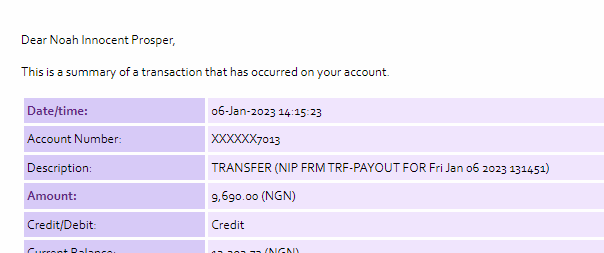 UPDATE; 3rd November, 2022:
As at the time of updating this review post on 3rd November 2022 , I have withdrawn multiple times and made over N489,200+ on owodaily so far, I ought to have made more than this but I've been busy with some personal projects.
Minimum withdrawal is only N5,000
Below are some of my 2021 withdrawals, followed by some 2022 withdrawals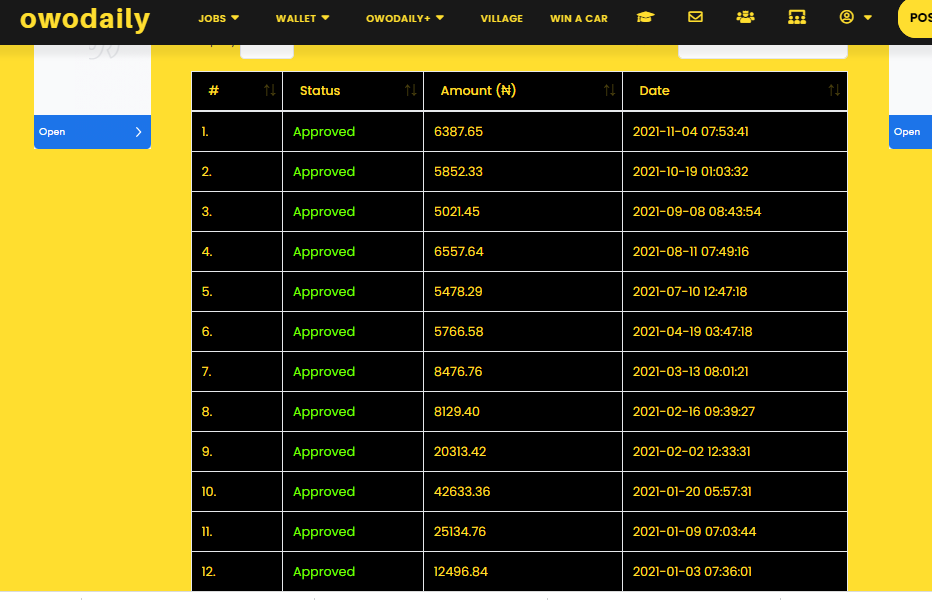 Below are recent 2022 withdrawals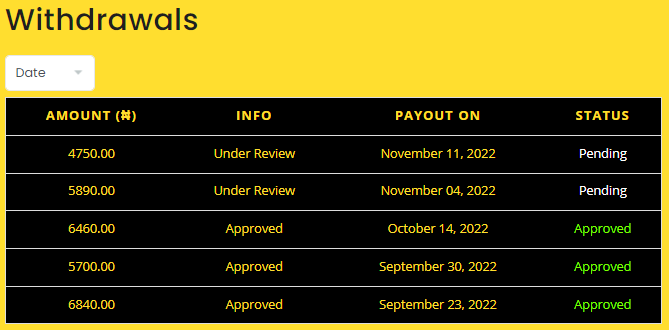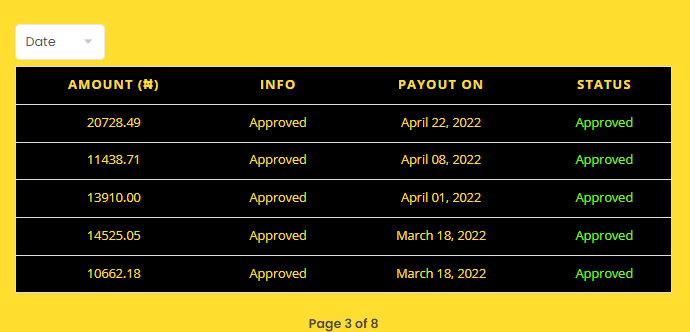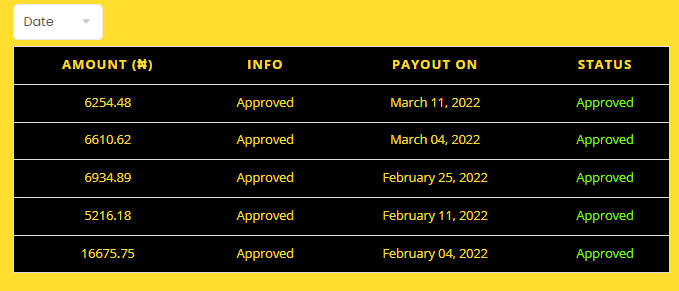 As you can see, owodaily is still paying in 2022 as well as 2023
This is 100% legit and am going to show you in few minutes how you can can register into the platform and activate your account to start making money as soon as possible and also I would be giving you a free bonus eBook that will help you make more money fast by inviting others.
If you join successfully through the link in this post I will be giving you my Referrals Hacker Pro PDF eBook to help you and teach you my personal strategies for getting a lot of referrals for programs like owodaily
I'll also be giving you the following bonuses:
BONUS 2: Free 1GB of data
I'll be giving you free 1gb just as a thank you for signing up through my link and am sure this could help you get some task/jobs completed within next 24hours.
BONUS 3: Access To My PDF Report 12 Easy Ways To Earn in Dollars and withdraw to PayPal
In order to help you earn even more, especially to earn in dollars I will also be giving you access to my PDF eBook where I reveal 12 easy ways you can earn in dollars and withdraw to PayPal Account + My PDF that shows how to create a PayPal account to receive your earnings here in Nigeria from these websites/businesse
BONUS 4: Video Guide on How to Complete Tasks successfully on Owodaily
(I have created a step by step video tutorial guide where I show you how you can easily complete these tasks/jobs on Owodaily properly and get credited as a beginner)
Remember, I'm the only one offering you these bonuses and I'll be removing them any moment from now.
So go ahead and register as soon as possible, don't waste time.
In the end all I want is for you to make really good money with this, so make sure you join and activate your owodaily account through the link in this post and when done send me an email to prospernoah19@gmail.com to claim all bonuses.
Owodaily Registration: How to Signup into the Program and Activate your Account
Remember, the registration fee is N5,000
Follow the steps below step by step so you don't make mistakes okay?
Step 1: Click Here to the Website
Step 2: Fill in your details correctly including email, phone number etc…
Step 3: When done, you'll be taken to a page for you to pay the membership fee of 5,000 naira with your atm card (Pay online).
Do that and you're done.
Now you can start earning; feel free to play around the dashboard so you can get to understand things better.
I have also written a detailed tutorial on Owodaily registration.
Enjoy yourself.
Sites Like Owodaily
While owodaily is a really cool and very easy way to make money online right here in Nigeria, you may be looking for similar programs to make even more money.
After all, it's great to have money flow to your account from different places.
But at the moment, owodaily seem to be a very unique platform and the first of it's kind that's legitimate.
Let's say it's the only one I know of at the moment.
So take your time and make a lot of money on the platform while it's still up, though am very sure it'll stay for years.
Go ahead, click here to registration page; register and activate your account and start completing tasks and making money.
If you have questions, feel free to let me know in the comment section.
I hope this owodaily review helps you to make money easily right here in Nigeria.