Welcome to my refer.ng review post guys.
You want to make money online fast in Nigeria? I mean like N150,000+ Monthly?

Then Refer and Earn System is one best way to do it, to earn atleast N150k Monthly and withdraw any time of your choice.
I will quickly share with you the Nigeria's first ever website purely focused on Referral Marketing where you can earn and withdraw a minimum of N3,000 at any time you want.

Trust me, this is not a Get Paid to Read News Website, you are guaranteed to earn and withdraw anytime.
But before then;
I want to assure you that referral marketing works super great.
In fact;
I've Made Over N500,000+ from Referral Marketing System
Let no one deceive you, there are actually proofs
It's what I've personally used to make over N600k+ on NNU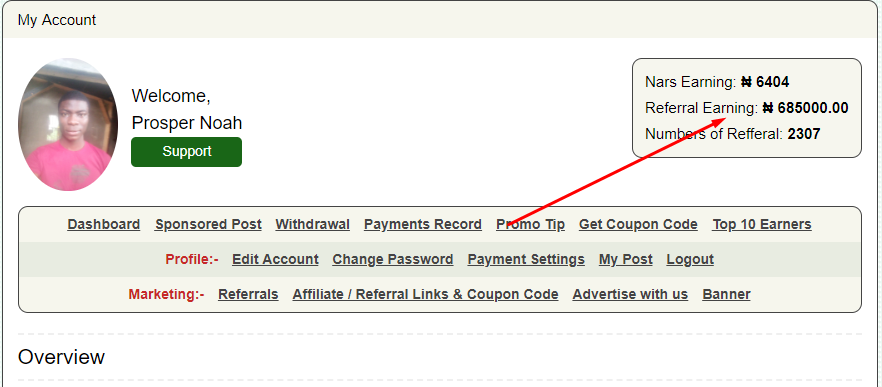 Not Just NNU Referral Program
I've made around N120,000+ from Wakanda Referral Program as well as you can see in the below screenshot.


I have about N36,000 yet to be withdrawn on Wakanda, and around N21,000+ already this month.
Lots More.
That's just to give you a clue of how referral marketing looks like and the potential.
Let me quickly introduce you to the Nigeria's No. 1 Refer and Earn Platform called Refer.ng
I haven't seen such before. This is the first of its kind, a site that's based Purely on Refer and Earn Concept.
Hold on a Bit;
Can you remember when last I shared a site like this?
Well, the truth Is I love you so much and there's nothing you can do about it;
I've been getting a lot of emails from get "paid to read news websites" being launched every day; asking me to review their websites on this blog that they gonna pay.
But guess what?
I rejected them all even though money was involved, People may think its Pride, Its not. I value you my audience a lot, I don't really trust em, below are 3 requests, out of 10s and 20s of them;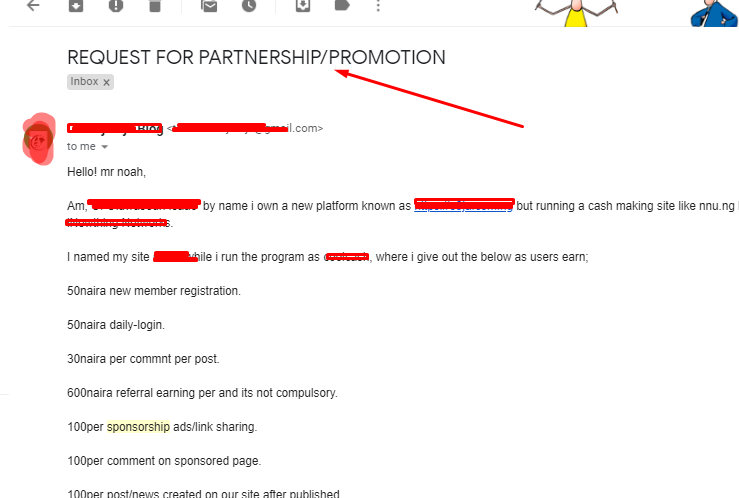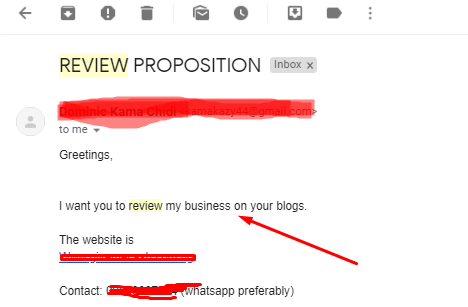 Again, I rejected them all.
But I got to know about Refer.ng earlier and I checked all and I believe they are a different approach entirely so I decided to share them with you.
You are guaranteed to make money there but how?
let's get started, so you can know how to get started and other stuffs.
What is Refer.ng?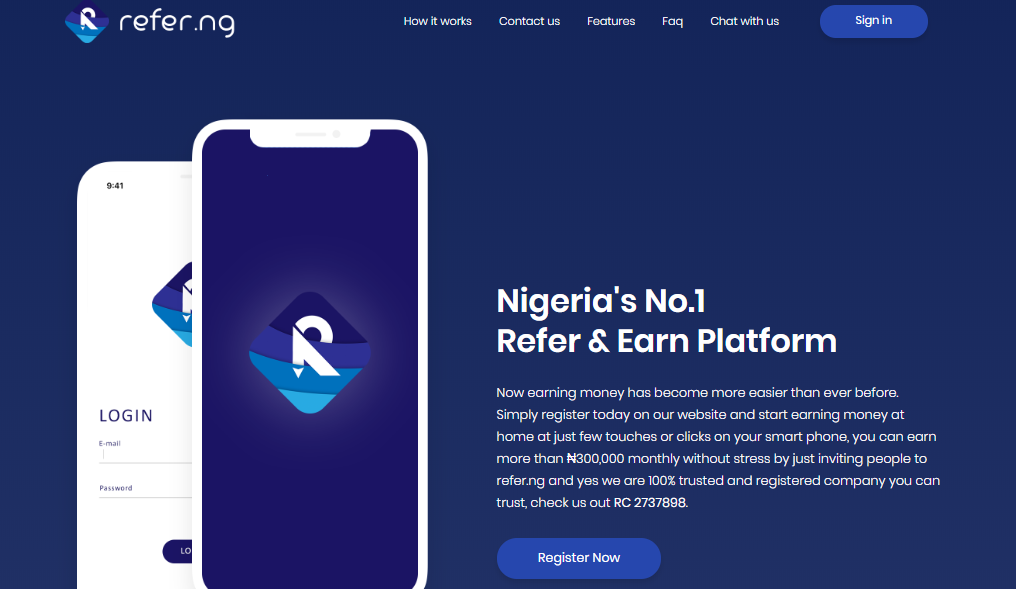 See how Unique that website is? haha, I love everything about them: The Colour, the layout, the refer and earn concept etc.
Enough of the praises, Prosper, tell me what its about.
About Refer.ng – Nigeria's No.1 Refer & Earn Platform or Refer.ng Review
See let me be frank with you; am not God (The All Knowing, lol) so basically what the website is all about will be taken strictly from their FAQS Page.
But I will share everything about them here to make you understand easily and fast, alright.
Refer.ng registered under CAC with reg. no. rc 2737898 is Nigerias No. 1 refer and earn system, the system lets you stay in the comfort of your home, no need to waka upandown hehe.
You refer people and earn money to your Bank Account here in Nigeria easily and fast.
That's all, let me ask you a few questions:
Do you have an android phone?
You have internet connection on it?
Then you have no problems.
How to Make Money on Refer.ng ?
Joining the System is N1,600 One Time.

So How do you actually Earn?
Very simple, below is the straight forward concept.
First things first, you need to click here to register an account
NOTE: Anywhere you see referral code, put prospernoah you will get N100 starter bonus.
Once you have registered an account with your N1,600 and you're approved immediately, that's the first smart step.
You will be welcomed to your Refer.ng Dashboard, like below:

Click on the first one that says "Refer and Earn" and you will be taken to where your referral link is.
Copy it and send to friends who are interested and you will be paid N1,000 Per Friend who registers and pays his or her N1,600.
If your friend uses your link he or she will be credited with N100 starter bonus haha.
Let's do small calculation:
5 Friends daily = N1000 x 5 = N5,000, and N5,000 x 30 days = N150,000 Monthly.
That is just an estimate, you can earn even more than that if you're the serious type.
Forget it, if you can't work you will never earn any money on the internet, it's the harsh truth.
No Lazy Person can make money online.
Now that you know what they are about you may be asking:
How do I register to refer.ng and make payment
It's very easy, just follow the below:
Refer.ng Registration Procedures: How to Register and get Approved Immediately
Step 1: Go to registration Page here and fill in all the necessary details like: Email, Password etc.
Step 2: Make Payment using your Card, you can use your Mastercard, Visa Card, Verve to make payment.
Don't worry about security of your card because its secured, Its not actually refer.ng that is collecting the payment but a trusted company called Paystackdoes it.
So everything is secure, in fact it's the payment gateway used by almost all earning programs in Nigeria including NNU and the others.
Enter your card details as follows:
Card Number – The Long Number on your card
Expiry date
CVV: It's the last 3 digit numbers at the back of your card
After entering those details a verification code may be sent to the phone number linked to that card, so make sure your phone is on
Once you get the code enter it on the payment page and BOOM.
You will get a payment successful message, and that's it.
Login to your refer.ng Dashboard, start referring and earning N1,000 per referred person.
How to withdraw your Referral Commissions from Refer.ng
You need to have atleast N3,000 in your commission before you can withdraw.
and guess what?
You don't need to wait for any end of the month, as soon as you request withdrawal, it will be paid to you as soon as possible.
UPDATE: I requested my first payment on the 17th of January and got credited in less than 2 hours of withdrawal as seen below:
Withdrawal
UPDATE 2:

I withdrew 33,000 naira in February 2020,and was credited within 2 hours as seen below;

Steps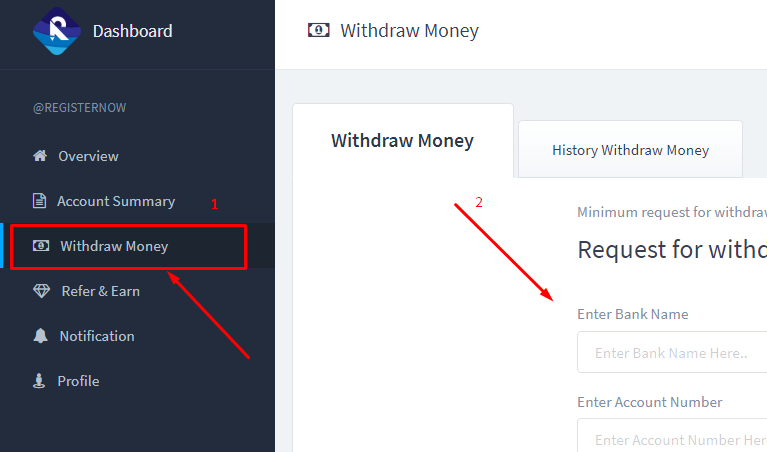 From your dashboard, just click on Withdraw moneyand you'd see a field to enter your bank account details.
If you like enter my own bank account details there and I will receive the money shikena, they will pay to any account details you enter there.
So you can enter yours there, or your friend, family etc, you will get paid.
At the moment, I recommend this as one of the best referral program in Nigeria, it's legit.
I advice you to register now, and go make a killing.
After registering and making payment, I have a bonus for you!
In order to fasten your earnings, below is how to get lots of referrals for stuffs like this:

3 Creative Ways to get Referrals for Beginners
I've shared this countless times but let me quickly share with you again.
Some hidden ways to get lots of referrals
1. Nairaland
Nairaland is a forum and whenever you want to get referrals for any latest program like this, the first place that should come to your mind is Nairaland.
For example: See a guy promoting nnu there to get referrals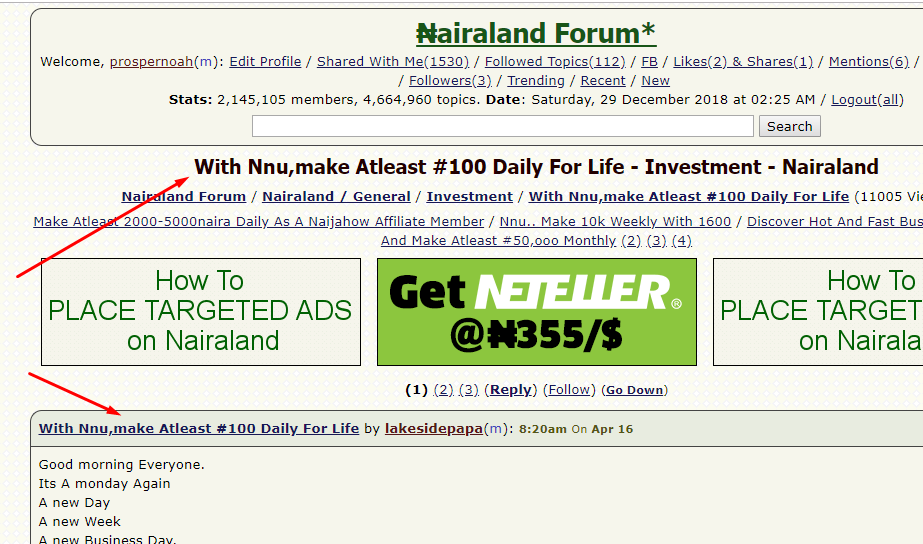 He has made lots of referrals from that post alone.
Ok, see another guy.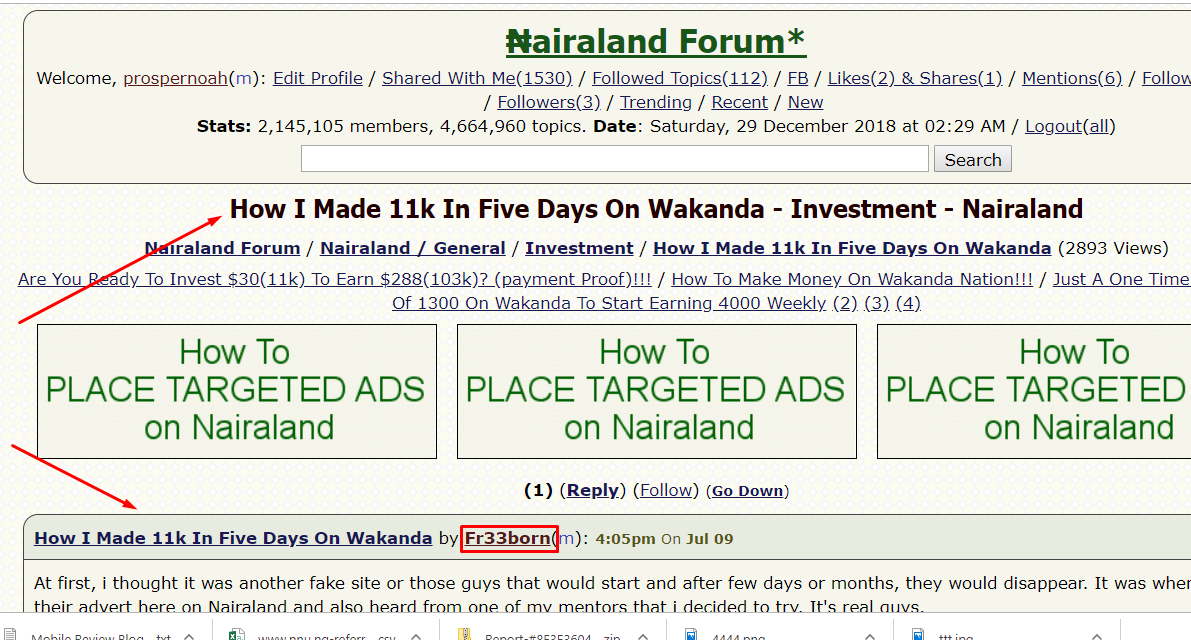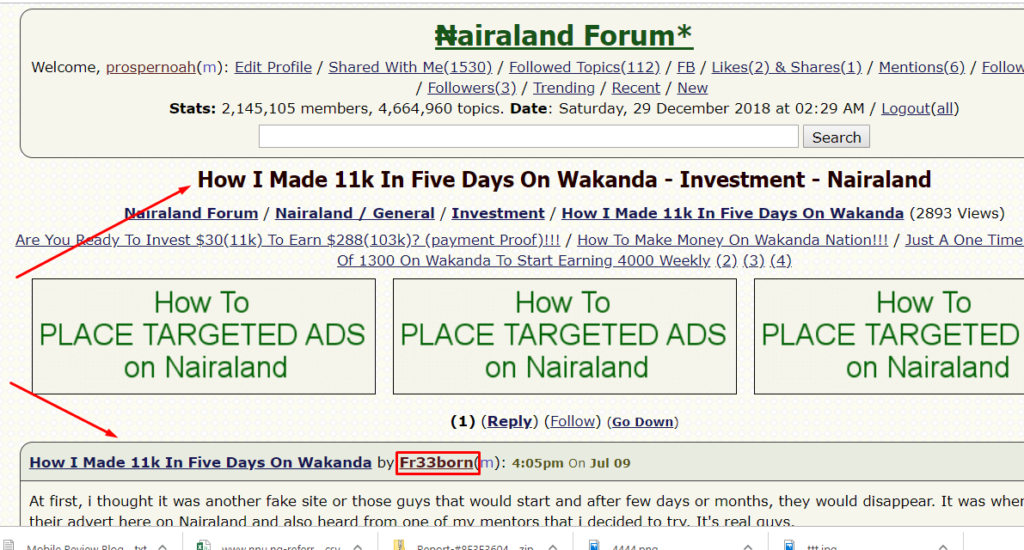 I believe you have an account on Nairaland, if you don't have, you can create free account there.
Do a short post there about Refer.ng and tell them how to earn, how it works etc. You will get lots of referrals
2. Social Media like Facebook, WhatsApp, Telegram, Twitter etc.
What about Facebook?
You are on Facebook and you have some friends, you can post about refer.ng and its benefits, how to register, etc… on your timeline and at the end put your referral link.
People who are interested will ask you for more details and probably register, you earn

Little Secret working 100%
"Create a facebook group, or whatsapp group and then post on your facebook timeline asking people to join to make money online. Once they enter your group, gbam, you don catch them, then explain what refer.ng is all about to them and people will register if interested"
"That's our small little secret o don't share it with anyone o haha"
If they say "oohhhhh…but getting referrals is hard na" Tell them "its very easy", if they ask how … then direct them to this post.
They will learn how to get referrals here, just like you are learning right now.
Simple.

3. Youtube Video – Android Screen Recording
This one is working well as well.
Many people prefer video, so if you can just do a small screen recording on your android phone and explain what refer.ng is all about and how to register, then post on YouTube.
Do small explanation in the video description as well and put your referral link.
The way you can see my description below: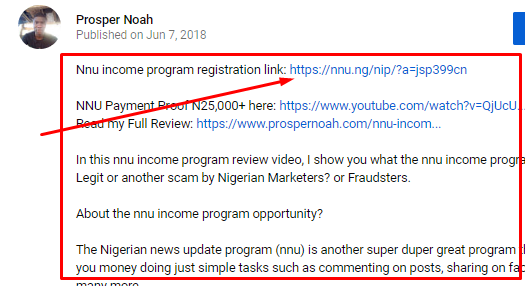 I have made a lot of referrals from YouTube videos, see some videos below:
Your video doesn't have to be perfect, you can just download DU screen recorder from Google Playstore on your android
Lastly;
4. Adverts – Cost Money
This last one costs money but it can be benefiting as well if you run the advert on Big Sites.
For example: If you get your refer.ng referral link and create a banner for it then decide to advertise it on nnu website, you will be charged at least N1000 per day for 10 days = you spend N10,000 on advert.
If your referral link gets about 5,000 clicks and lets say 100 people register using the link; that is N1000 Per referral x 100 people = N100,000
If you remove the money for advert which is N10,000, your profit is N90,000 haha.
You can repeat that same strategy, and make a lot of money on refer.ng
Too much brain, lol, no mind me. In fact, I won't reveal any other secret again hehe.
That's it with running advert, the only thing is you need to start with some budget for ads.
and I almost forgot to mention Cash on Demand System, the best way to get referrals over an over again whenever you want. Let's leave that out for now.
Ok guys, I've come to the end of the post for today.
I highly recommend refer.ng, looks like it's gonna be the best refer and earn platform for Nigerians ever.
Just before I go, there are lots of people looking for a refer.ng review post, so do share this page with them as well.
Hurry up, go register and make money.
Drop your questions if any, and I will reply you ASAP.