On this post today you are going to learn how to build an email list for affiliate marketing and earn lots of commissions promoting products.
>> Access my FREE Training Videos on Affiliate Marketing <<
This post today is a continuation of my last post on how I made $180.44 with warriorplus in 19 days.
So if you are new, then I suggest you go check the post here before reading this.
If you've read the post already, then let's get started on how to build an email list fast and effectively.
But before then;


What is List Building?
This is a way you actually collect the emails of people who are interested in a particular product you want to promote.
Best and usually referred to as email marketing for affiliate marketers.  
For example:
If I am an affiliate of warriorplus, jvzoo, etc and I want to promote a product that teaches people how to make money online, then I have to collect the emails of people who are interested in making money online.
It may range from 1 person to 100 or thousands of people.
This people are actually people who are interested or want to learn how to earn online.
So whenever I discover a good product that will help them make money online, I promote that product to them and when any of them buys the product, I earn commission
If I have a list of 50 subscribers in the MMO (Make Money Online) Niche and I see a product I Want to promote to them, all I just need to do is get my affiliate link, and send these 50 people and email.
In this email I may tell them what the product is all about and how they can make money with it.
and I put my affiliate link in the email message.
Whoever clicks on the link to buy the product, I earn commission
For example:
There was a product called Fiverrlicious that I love so much because it teaches people how to make money on fiverr without actually doing any of the work themselves.
This product was very good so I sent an email to about 75 subscribers in my list.
The next morning, I woke up to 3 sales.
Yea, 3 people bought Fiverrlicious and I earned commission of $8.01 each
That's $24.03 and when converted to Naira, that's N8,650 in just one email that I sent.
The screenshot below was the initial email I sent: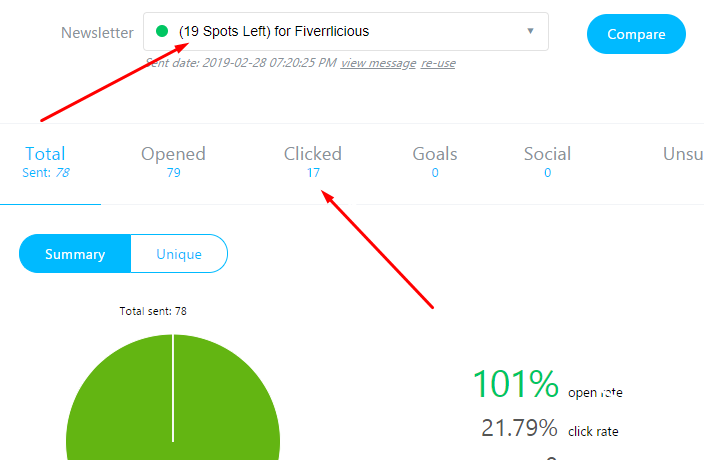 and this week as at the time of writing this post, 2 other people still purchased it and I earned another $16.02
So that's it.
and I can keep promoting other products to that list and yep, they gonna buy and make me commissions for life.
So you see?
Building a list is one best way to make money with affiliate marketing.
So let's get started
How to build an Email List for Affiliate Marketing in 2019
Step 1: Choose a Niche
Before you build a list, you want to know which products you will be promoting
So if you are going to be promoting health products, then you can build a list for that.
If you are going to be promoting internet marketing or MMO (Make Money Online) products, then you have to build a separate list for that.
You can't combine Health and MMO together and start promoting different products to them
For this tutorial, I want to focus mainly on the internet marketing niche also known as the make money online niche
That's the most popular niche because people are looking for ways to make money online everyday and since I will be using warriorplus, its going to be internet marketing for sure.
Warrior Plus deals mainly with Internet marketing products.
So let's say you've decided to go with Internet Marketing Niche.
You will be building a list of people who want to make money online.
2. Signup for an Email Marketing Tool also known as Autoresponder
The second step is to signup with an autoresponder or email marketing tool.
This is the tool that will be storing the emails, enable you to send them emails whenever you want etc.
What is the best Email Marketing tool?
There are lots of them but getresponse is what I use.
Click here to register for getresponse, they will give you 30 days free trial of up to 1000 subscribers.
After the 30 days free trial, you will have to pay every month, depending on the list size, if you have up to 1000 subscribers or less, then you will be paying $15 every month.
If you have more than that, then you will pay more, because there is high chance you will be making more money from your list. everything is on their pricing page.
I personally pay $49 every month as my subscribers have crossed 1000, going to 2000+ soon.
Click here to get free 30 days trial of getresponse
When you signup to getresponse, just create a list and you're ready.
The next thing is is to create a Page where you can collect people's email.
That kind of page is usually called a squeeze page or Optin Page.
Something like below:

Just a headline and a field where you can collect emails.
The page above as you can see is very attractive and people will easily put in their email, and the Page Builder I use for that is Optimizepress.
I bought that page builder at $97 one time fee to use on 3 sites that I own.
It's the best page builder but if you can't afford that for now, you can use the built in Landing Page builder in getresponse, its free.
But i must warn you, if you really must succeed in affiliate marketing, then you need to get the tools I use and recommend.
So when you have your page built up and ready to start getting leads (emails) you are almost done.
and ready for the most important aspect of this tutorial which is driving traffic to your squeeze page to collect emails of people who are interested in the product you gonna promote.
Since the niche is make money online, we are going to target people who are interested in making money online.
So in summary you are going to build a list of MMO subscribers.
How to Get Subscribers to Your List and Make Money
Now the gold mine is to get subscribers to your list.
If you build a list and no one is in that list then who are you going to promote the products to?
So right now you are going to start driving traffic to build your email list.
and there are different ways to build your email list
You can build your email list on Facebook
You can use YouTube for list building
Solo Ads
Bing Ads
Google Ads
Which is the most effective method to build your list?
I've used a lot of this but I want to say Solo Ads is one great way to do it.
Here is how Solo Ads work::
Solo Ads is a process of using someone's list to build your own list.
You just send them a link to your squeeze page and they send an email to their list, those people will click and come to your page then subscribe to your list.
So you can start promoting products to them. 
Below is a video I just made for you on how to create a list in getresponse and how to get warriorplus products to promote to that list. 
>>Register for getresponse here<< 
The main thing right now is for you to drive traffic to your squeeze or optin page and get subscribers to promote products to and earn commission. 
In the upcoming posts I will be sharing a lot of strategies on how to actually drive traffic to get more suscribers using sources like Bing Ads, Google Ads, Facebook, etc.
So stay in touch and leave your comments here just in case you need any help or have questions.
This is how to build an email list for affiliate marketing in 2019 to earn commissions easily.