Do you want to learn what CPA marketing is all about and how you can make money from it?
Then you're in the right post.
NOTE: I wrote this post in 2018, but it's still relevant in 2023 and works pretty well, so read carefully.
On this CPA Marketing in Nigeria post I will fully show you:
What CPA Marketing is all about
How much can you make with cpa marketing?
How to make money with CPA in Nigeria and earn up to $160 Daily
Picking the Best CPA Offers to Promote as a Nigerian
Traffic Sources
Etc
But before then;
You may be asking why I decided to put up this post.
Well; in my official facebook group I promised to show the members how to make money with cpa in Nigeria.
Apart from that;
I noticed a lot of fellow Nigerians searching google for "cpa marketing in nigeria" and then I knew definitely there are lot of guys who want to learn this cpa marketing of a thing.
and since I have the knowledge I decided to put up the post for you to read, learn and start making money with cpa.
So let's get started already.
Note: This is an update on a post I made some time ago on getting paid per click on Facebook.
So take your time and go through this to get a clear understanding.
If you don't understand anything, make sure you ask questions in the comment section.
What is CPA Marketing?
CPA meaning Cost Per Action is a type of marketing online where you get people to take action on a particular offer and then you get paid when they take that action.
Actions like:
Email Submit:
Pin Submit
Free Trial
CC Submit (Credit Card Submit)
Sale
etc..
You can promote an offer on facebook to a particular group of people and you earn from $1.60 to $2+ if they just submit their email.
Below is an example of such offer.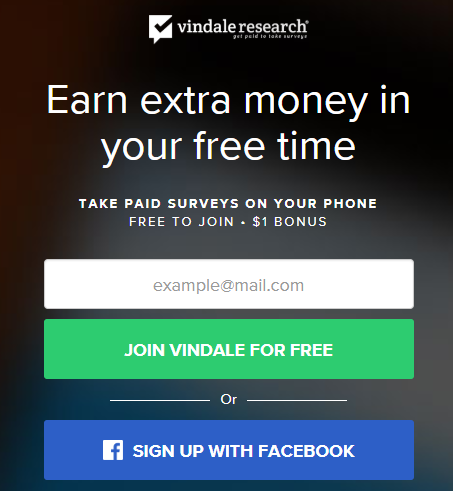 So if these offer pays $1.60, when anyone you promote to enter his or her email and click on the Join free above, you get paid instantly.
Yea, CPA marketing is a type of marketing where you don't necessarily need to make a sale.
Below are some payout rates from a CPA network (how much you earn per free email submit)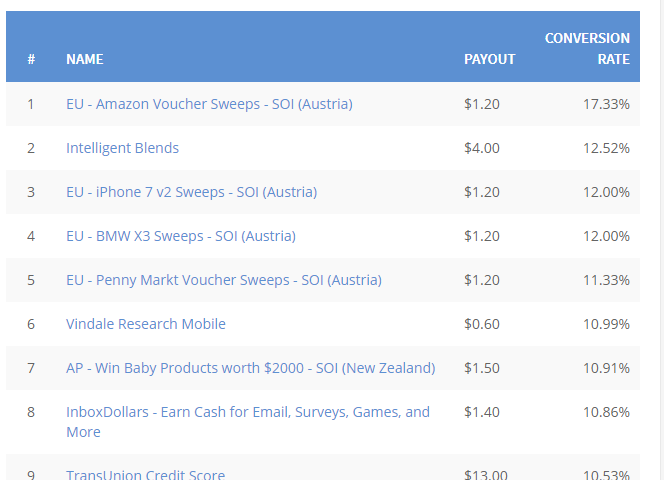 Some offer that pays more up to $50 include Credit Card Submit, Free Trial Offers etc…
But basically for this post, am going to use the email and zip submit offers to explain things to you because they convert more easily compared to credit card submit, trials, zip, etc..
I mean you can get people to take action easily on things that are free right? compared to having them submit their credit card details haha.
In few minutes am going to teach you that using CPA marketing but before then, you should know what CPA network you can get all those kind of offers from.
The Best CPA Network for Nigerians
When it comes to promoting your offers, you don't want to register for crappy sites that may not track and give you commission.
I have come across many of them.
And the two best ones in the right now are Peerfly and Maxbounty.
So when you join any of these network, you will see lots of offers to promote on facebook and make money when people click on your offer link.
Imagine an offer is paying $1.60 per email signup and you get 100 clicks with 50 conversions = $1.60 * 50= $80.
You earn $80 immediately.
In few minutes am going to show you how to get started but let me warn you;
If you are not going to take action by following this post carefully, you will not earn any dime.
Trust Me.
How to make money with CPA Marketing in Nigeria and earn up to $160 Daily
How much can you make with cpa marketing depends on how dedicated you are.
People are making a lot from CPA, below is how to get started, to earning atleast $160 daily.
1. Apply to Peerfly CPA Network or other Similar Network.
The first thing you want to do is apply to a network you are going to be using.
The CPA network am going to use in this article is called Peerfly.
You can apply to become their affiliate here and if you are looking for a way to get approved into their network easily and fast then you just need to be honest in your application.
UPDATE: Peerfly has gone out of service and no longer operating.
It takes 3-5 days for approval.
Whatever way you apply or fill, just make sure when it comes to a field where yocu are required to share how you are going to promote and drive traffic to their offers, you don't talk about email marketing.
They don't accept email marketing.
In field for website or landing page, if you don't have a website or blog you could just put up your Facebook Profile Link.
Lastly you will get a response from peerfly via your email.
When you are signed up and get approved into the network, login to your peerfly account and follow the below strategy.
2. Picking High Converting CPA Offers
There are many offers but I like the email submit offers because they easily convert though you can try other offers as well.
Choose an email submit offer that is high converting.
It's very easy to find high converting offers by logging in to your peerfly account and it's always updated at the right hand side.
As seen below;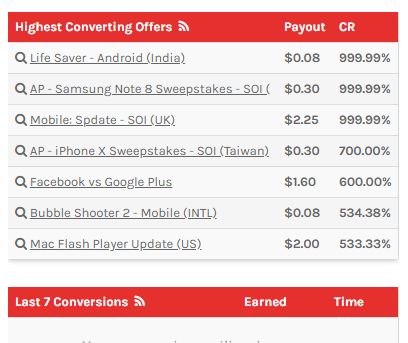 Now click on it go to the place where it's written Allowed traffic methods:
Allowed traffic method are the channels where you are to promote that offer.
Promoting your Links & Traffic Sources/Methods
Before you can make money from CPA, you need to promote your links with some channels known as Traffic Sources.
A few of them include:
Facebook also known as Social Media
Bing Ads
Google Ads formally known as Google Adwords
Banner Ads (This is where you place their banner on your blog for promotion)
But for this Post am going to use the Social Media promotion i.e. Facebook for promotion, while in the upcoming posts I may teach you the other traffic sources.
Using Facebook Traffic for Promotion
You are going to use Facebook for promotion, so make sure there is SOCIAL in the allowed traffic method
Social means you can promote that offer on Facebook, Twitter or YouTube.
Now click on it and copy your affiliate link for promoting on Facebook.
This is my affiliate link for that offer "http://trkur.com/329163/5263?"
You also need to make sure you are only promoting or sharing it with people in the United States, if not you won't get any conversions.
For example: If you are not in the united states right now and you click on my affiliate link, you will be redirected to another thing entirely and not this page below:
Below is what people in the united states will see when they click my affiliate link, and when they put their email and click that submit button I get paid $1.60 easy money.
The offer is meant for United States Residents. If its for Uk, you promote to Uk, if Canada, you promote to Canada only.
So this offer "Facebook vs Google Plus" only pays when people from the United States click on your link and submit their email and that's it.
Grab your Affiliate Link and share to fans in your Facebook Page who leave in the United States or promote on a Facebook page with lots of united states resident.
If you have some good budget/money, I suggest you run Facebook Ads to target United States residents. That way you get faster results compared to sharing on your wall or Facebook Group etc.
Peerfly blog also explains how you can promote links on Facebook without getting blocked because recently Facebook blocked the links, you can check it out here.
CPA marketing is super cool because you actually get paid when people perform simple actions like submitting their email, zip code, registers free etc. in exchange for something the offer is giving.
Unlike affiliate marketing they don't really need to pay before you get commission.
Not many people will buy a product in first attempt because they have to spend money. CPA is actually different, they just have to complete an action for free and then you the affiliate gets paid.
An Email submitted is like a potential customer and the company paying you money for those emails will likely sell thousands of dollars of products to that one email they collect in the future.
So you are actually sending them what we call LEADS in online marketing.
That's it.
If you can get clicks and people put in their email you get paid $1.60 per person.
So Simple right? 100 people who click on your affiliate link and submit their email is equal to $1.60 * 100 = $160 in a day.
Awesome isn't it?
Peerfly Withdrawal Methods: Receiving your Earnings
PayPal – 2% ($20 max) on NET payments, instant
Payoneer – Free, instant
Crypto Currency – Free, instant
My Peerfly Earnings;
I have just around $52+ in my Peerfly account right now as seen in the screenshot as at the time of writing this post.
This is because am working on other projects and not focusing fully on CPA.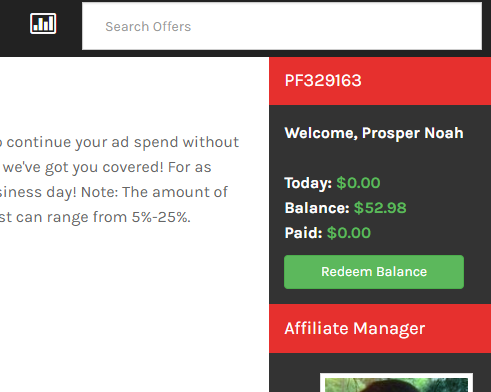 I will need to stop here right now but in the upcoming posts I will share more with you on making money with CPA.
As a complete beginner to CPA, you may want to check out the step by step videos I have personally made; teaching you how to promote the offers using:
Facebook
Bing Ads
Google Adwords
Blogs
Etc..
and Make Money.
What next?
Download Free CPA Marketing eBook
My friend and business partner Abdul (Top CPA Marketer in Nigeria) who made over $4,053 in less than a month from CPA marketing has created a free eBook to show you everything so you can now Discover How To Make $100 to $500 From CPA Marketing Using Your S?martphone.
You should be able to download and read the eBook within 5 minutes if you're interested.
NOTE: This is only available to the first 1,000 people.
All the best.