You can see I haven't updated you in a while now.
Its not intentional.
This is because I've been working on some projects, but there's good news.
I decided to setup a specific page on this blog where I'd be uploading some of my free affiliate marketing training videos for you.
>>Here is link to the training page << 
This will guide you on how to start affiliate marketing as a complete beginner.
at the moment, I've uploaded about 5 videos to help you get started.
and trust me;
You're not paying anything to learn all of these stuffs, its all for you 100% free, offering you all of the materials I use myself so you can copy and paste.
I will try in the mean time to add more videos that will help you.
All you just need to do is to continue taking action on what you learn from the videos because they are of high quality and they contain some of my powerful strategies on affiliate marketing  AKA selling other people's products.
Like I said before, it's free for you to watch and you don't need to pay anything, and also you don't need to Opt-in to access the free training videos.
Wondering what "Opt-in" means? Haha
Well, that's an affiliate marketing term for "submit your email address"
So, you don't need to submit your email address before you access any of the videos
and you're going to learn a lot and get familiar with terms like Optin, Autoresponder, Squeeze page and the others.
They are all on the page waiting for you to consume them and make good success.
How to take full advantage of these Free Affiliate Marketing Training Videos and Make Success

Below is the video #1.
It's very easy to understand.
What you really need to do is watch, follow and implement everything step by step.
20+ Affiliate Marketing terms you can expect to learn, so they won't sound like new stuffs whenever you hear them somewhere
Autoresponder
Open Rate
Click through rate
Landing Page
Squeeze Page or Opt-in page
Thank you page
Bing Ads
Facebook Ads
Google Ads
Commissions
JvZoo
Email marketing
Affiliate links
Buyers List
Email Subscribers
Product Launch
YouTube ads etc
There are lots more terms, so watch out for them in the videos.
In the next posts I'd be sharing some ways I make money online i.e. what I do, how I do them and lots more.
Don't forget to leave your comments if you need any help.
and before I forget, I just made a review video on YouTube
Now that's one way to make money with affiliate marketing;
By Reviewing products and offering potential buyers the decision to buy or not.
and you're going to make a lot of commissions when people watch your videos and clicks through your affiliate link to buy that product.
and you should see that in the free affiliate marketing training videos very soon.
and I just wanted to notify you that I received a payment of N25,000 today being 14th June, from one Local affiliate network called Expertnaire I joined earlier;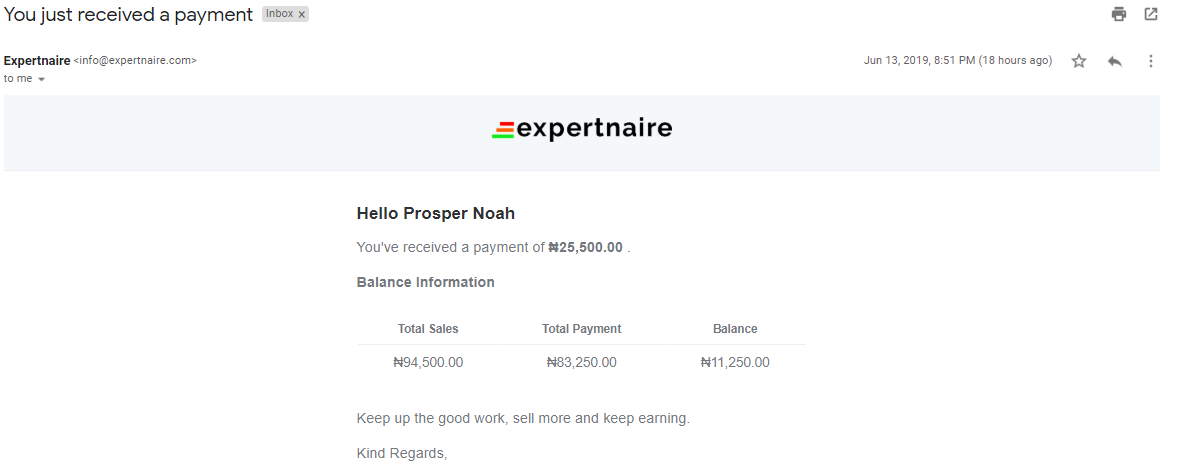 and hey, I received N36,750 from same network last week, June 6th as well;
so for the last two Fridays, I got paid on a consistent basis, selling other people's products (affiliate marketing).
That's N61,750 in 2 weeks.
But we'll talk about that, probably in the next posts.
Just follow the training for now so you can get the basic good knowledge on affiliate marketing.
Have a great time and let me know if you have any questions, I'd reply you.