In this post today am going to show you how to make money on owodaily platform and it's very easy to earn here.
Before I go ahead and do that, let me show you how much I've earned and withdrawn so far from the platform.
In fact, as the time of updating this post in November 2022, my last withdrawal was on the 14th of October, 2022 as seen in the most recent earnings below;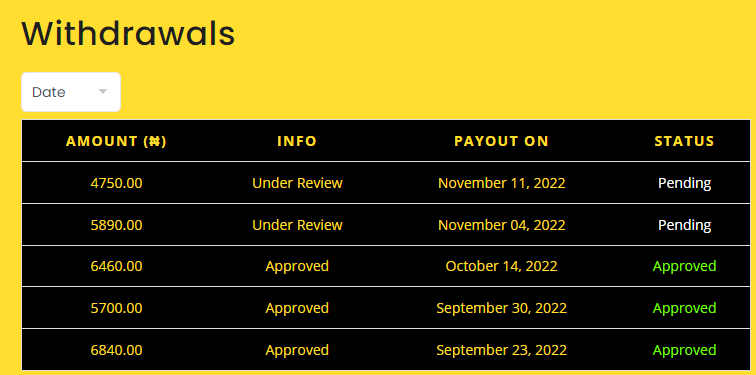 2 are pending which will be paid on Friday 4th and 11th of November as you can see.
Below is some other of the 2022 recent withdrawals I've made (My Owodaily payment proof)


So you see above some of my owodaily earnings withdrawal straight to my bank account here in Nigeria and I'm going to show you how you can start making money on the platform too as soon as possible.
This is 100% legit and paying, I've withdrawn many times already as you can see above. What does this tell you? It works so well and very legitimate.
How to Make Money on Owodaily
Firstly what is owodaily?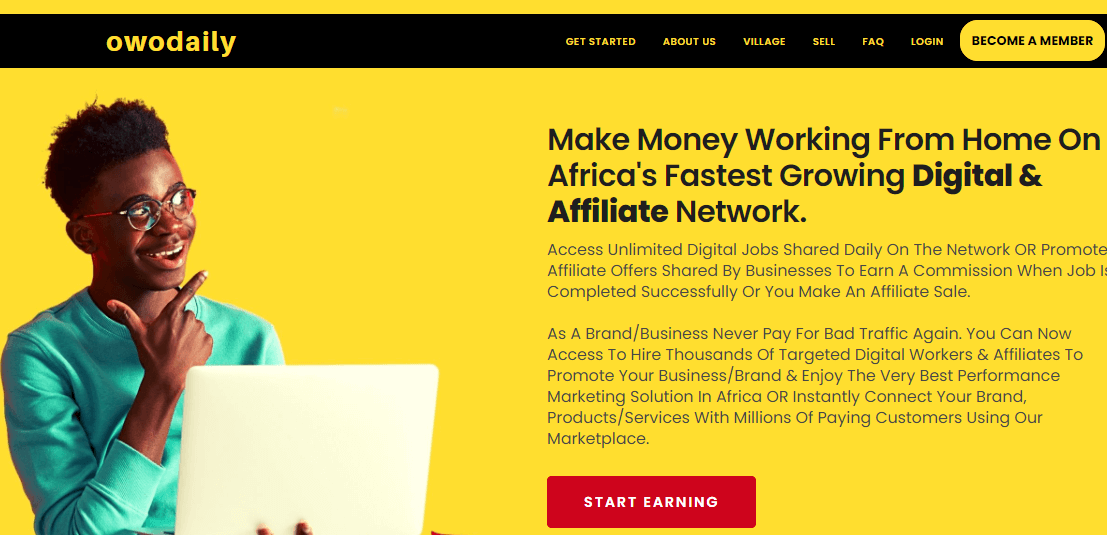 It was launched earlier in 2020 or so, or let's just say I've been with them since then.
1. Make Money Completing Simple Jobs & Tasks
Owodaily is a digital jobs platform based in Nigeria, perfect for anyone who will like to earn extra cash performing simple tasks such as:
Liking a photo on Facebook
Signing up for something
Commenting on an instagram post
following a twitter handle
etc..
You will get paid from N10 up to N2,000 per job you complete like that.
Let me show a screenshot of some of the jobs & tasks and also take note that jobs are added regularly so that you can complete as many of them immediately and get credited.
Below are some of the jobs on the platform, just complete them and get credited when you've made up to N5,000 (minimum withdrawal) you can withdraw and you will get paid to your bank account every Friday.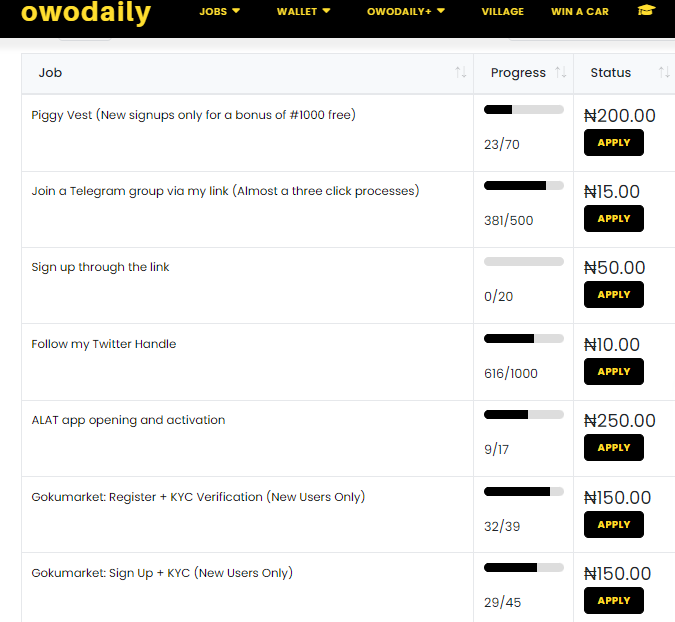 Below are more jobs you're likely to meet on the platform so you can complete them and earn money.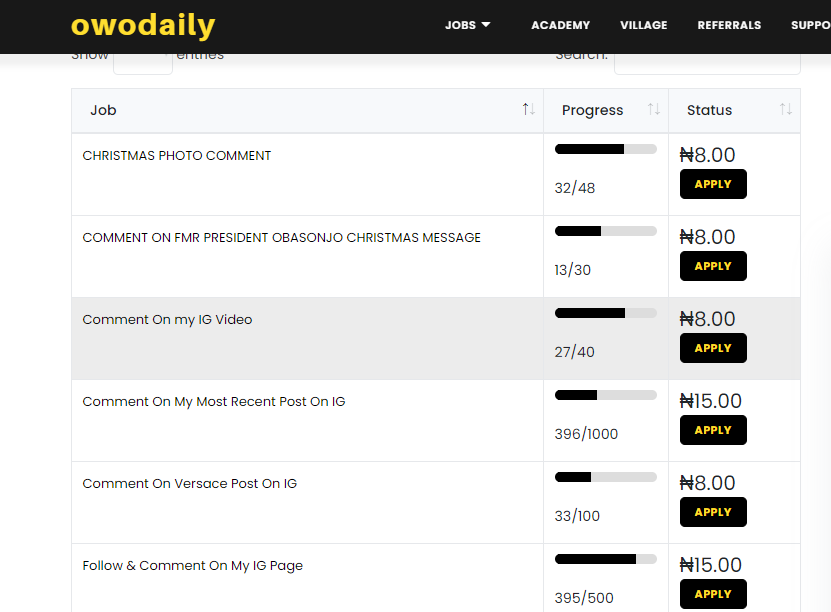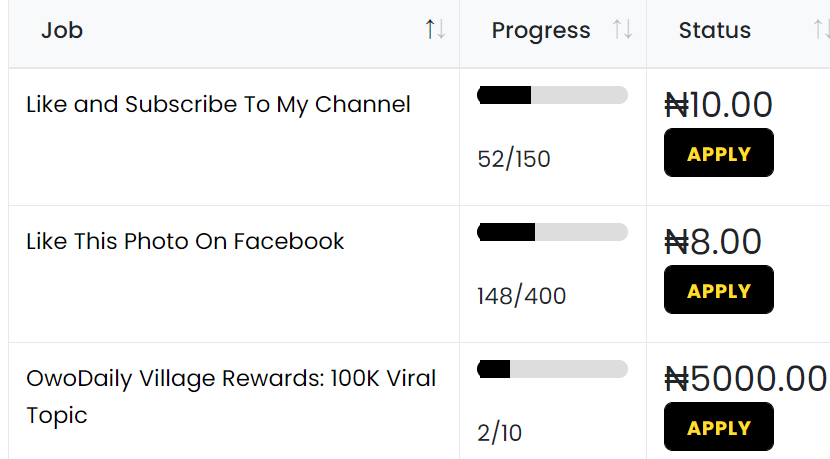 So there are a lot of jobs that will be added on a regular basis, your work is to complete them and it won't even take you more than 2-5 minutes to complete, and you get paid.
The more jobs you complete the more money you earn and remember again, you can withdraw to your bank account once you've earned up to N5,000
This is one way on how to make money on owodaily and it's best for total beginners who do not have much knowledge or skills.
Don't worry few minutes from now I'll show you how to join Before then, there are other ways to make more money.
2. Through Inviting Other Members
Another way to make cool money on Owodaily is through the invite program that pays you N1,600 per anyone you invite to make money on owodaily.
A lot of Nigerians and probably students are looking for ways to make money online so if you tell them about owodaily and send them to register through your invite link, you will make N1,600 each
Am sure you have a lot of friends like that on Facebook or WhatsApp, you can tell them about owodaily and how they can make money there and give them your link.
So if you invite like 10 people, that is literally N1,600 * 10 = N16,000
The more you invite, the more money you earn, just do your calculations. So you see, this is another cool way to make fast money on owodaily.
In fact I have leveraged this myself and have made more money combining completing of jobs and inviting others and I've made a total of N489,200 (that's close to 500k with just a N3,000 one time investment) As seen below;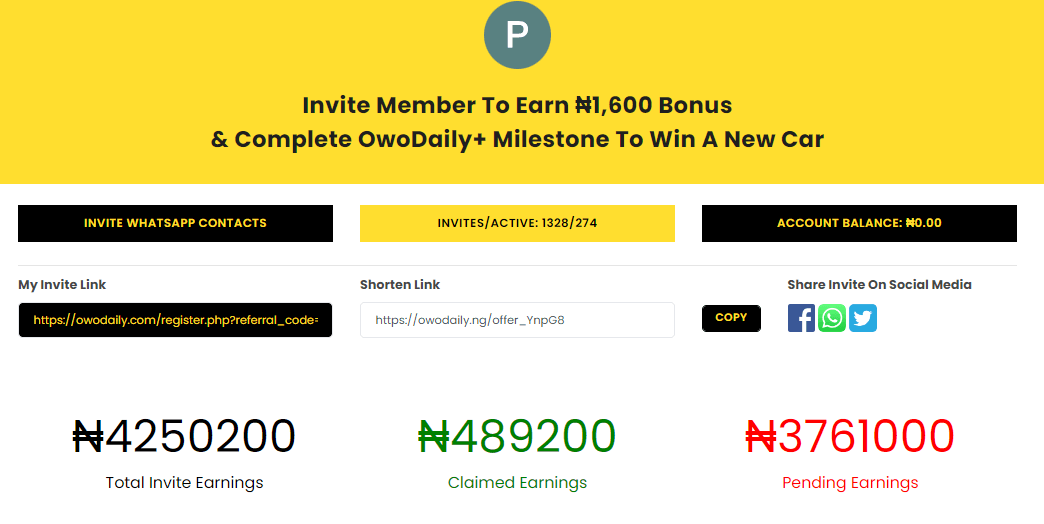 But if you're a complete beginner I advise you to focus on the jobs aspect for now but If you want to combine both jobs and inviting don't worry I will give you my powerful referral marketing tutorial pdf on how to invite others later on in this post So this is a second way to make passive income on owodaily
3. There's also the Owodaily+
Owodaily+ is like an upgraded version of Owodaily.
It just provides another great way to make money on owodaily which is through affiliate marketing (Selling other people's digital products and earning commission)
So on owodaily+ you will be able to promote other people's digital products and earn commission.
Digital Products are:
Video Courses
eBooks PDF
Etc..
For example: If a digital product is selling for N15,000 and is paying 50% commission; it means that if you sell 1, you will earn N7,500 If you make 10 sales = N75,000 and so on.
You get paid up to 50% commission per sale.
Other ways to earn include:
Becoming a reseller;
Tell people that you can get them followers, charge them, then post it as a job on owodaily and get people to do the work, you keep the profit
Let's say you charge N30,000 to get someone 500 Instagram followers.
You go to Owodaily and post it as a job/task and pay members N20 per follow 500 people complete the job.
That means you have just spent N10,000 to get the 500 Instagram followers You pocket N20,000 as profit.
If you can do like 10 of this every month, you can make up to N200k Monthly.
It's all about strategy.
So you see there are quite a good number of ways to make money on Owodaily.
If you are consistent and serious, you can even make 100k-200k monthly from it.
One other way is through posting your own business. If you're a business and you want to make sales, you can post it as a job
and that's it.
You can make as much money as possible on Owodaily platform and get paid every Friday.
Yup! If you don't like stress, just complete simple jobs on the platform and earn If you want to earn even more, you can invite others and earn N1,600 per invite.
You can make even more money on owodaily+ through their affiliate network.
How to Signup on Owodaily and Start Earning
Now to get started, obviously you have to join and the best part is you can start earning immediately you become a member, no need to wait for anything or waste time.
There are about 3 Levels of Registration on Owodaily. As seen below;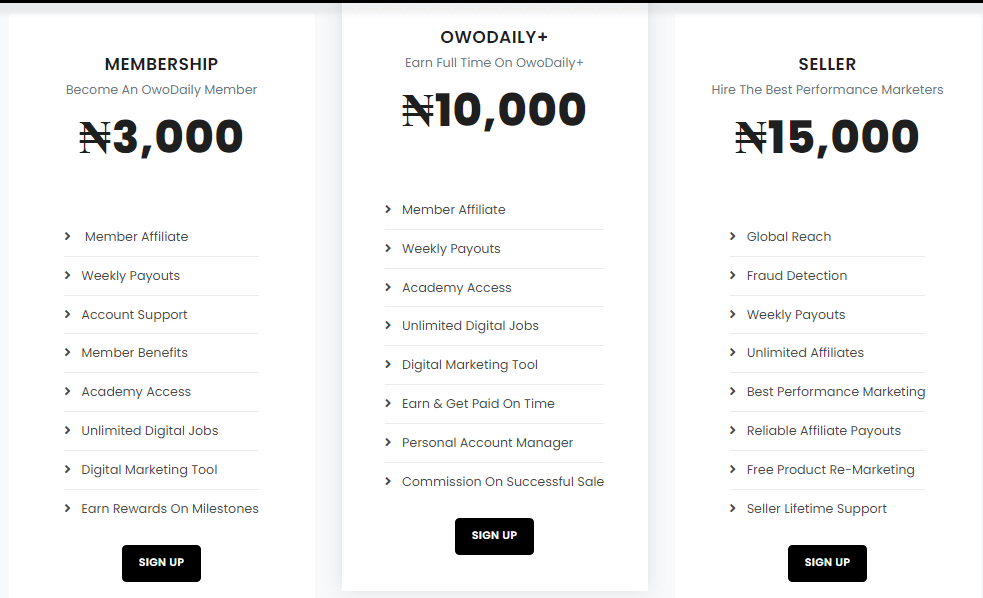 The first one is membership N3,000 which will give you access to become a member for life so you can make money completing jobs, inviting others and also earning some rewards.
The other one is Owodaily+ of N10,000 (This one you will get the benefits of the normal membership of N3,000 and you will also get access to their affiliate network where you can promote digital products and earn commissions)
The third one of N15,000 is for sellers only (For people who just want to sell on owodaily). You may be asking;
Which one is better?
If you ask me, I'll advice you to go with the one of N10,000 (That is only if you wish to join their affiliate network) But for complete beginners who just want to make easy money completing digital jobs & inviting others and also do not have budget of N10k I'll strongly advice you to go with the N3,000 Plan.
Yes. You can start with N3,000 maybe later if you feel like you want to join the affiliate network to promote digital products and earn commission then you can upgrade.
To register, follow the instruction below.
Before then I promised to give out my powerful referral marketing PDF to those who will like to learn how to invite/refer a lot of people.
When you register through the link in this post and activate your account, just send me an email to prospernoah19@gmail.com and request for the pdf. I will send it to you within 24hours.
I'll also be giving you the following bonuses:
BONUS 2: Free 1GB of data
I'll be giving you free 1gb just as a thank you for signing up through my link and am sure this could help you get some task/jobs completed within next 24hours.
BONUS 3: Access To My PDF Report "12 Easy Ways To Earn in Dollars and withdraw to PayPal
In order to help you earn even more, especially to earn in dollars I will also be giving you access to my PDF eBook where I reveal 12 easy ways you can earn in dollars and withdraw to PayPal Account + My PDF that shows how to create a PayPal account to receive your earnings here in Nigeria from these websites/businesse
BONUS 4: Video Guide on How to Complete Tasks successfully on Owodaily
(I have created a step by step video tutorial guide where I show you how you can easily complete these tasks/jobs on Owodaily properly and get credited as a beginner)
Remember, I'm the only one offering you these bonuses and I'll be removing them any moment from now.
So go ahead and register as soon as possible, don't waste time.
When done and you have activated your account, send me an email to prospernoah19@gmail.com to claim all bonuses:
How to Register for OwoDaily
Enter your complete details such as name, bank account, email etc.
Signup
Make Payment
Done
Start Earning
When you've done that then you're well on your way to making lots of cash.
So this is it on how to make money on owodaily and hope this helps you Let me know if you have any questions.