Do you want to learn of this particular affiliate program in Nigeria that has made me over N133,500 so far?
See the screenshot below;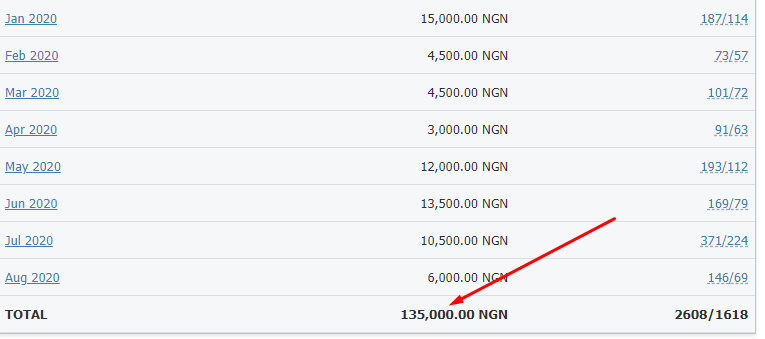 So that you can join too and start making money as soon as possible?
The fact is that I'm not even focusing on it so much but I still made so much money… and truth is that you can even start making money from this program as soon as possible if you're that serious and are ready to take action….
But before then,
What are affiliate programs?
Affiliate programs are the part of a program where you're allowed to promote and you earn a particular commission…
For example: I could decide to launch a training program today and start enrolling students for N5,000
I alone would not be able to get as much students as I want but If I partner and get other people to promote this training program for me, I would get lots of students to enrol..
And in order to this, I launch an affiliate program people can partner with me as affiliates…
In this affiliate program I could say; whoever partners with me as an affiliate and bring students to my training program I will give them 50% commission…
Which means if you apply to become an affiliate, you will be given a special affiliate link, that is the link you will be using to track your sales…
If you promote and get students to register to the training, you will be paid N2,500 per student you bring..
If you are able to bring 10 students in a day that is N25,000
And if you bring about 50 students in a month, that is N2,500 x 50 = N125,000
Example 2: Let's say there is a particular make money online program that is selling for N3,000 and they setup an affiliate program paying 50% commission…
Remember; this program will train people on how to make money online in different areas…
All you need to do is apply to be an affiliate, get your affiliate link and start promoting it to people who are interested in making money online, so you earn N1,500 per person who joins the program…
If you can bring 5 people in a day, that's N7,500 and if you can bring like 20 people in a month that is N60,000
If you focus only on this for a whole month, you could make even up to N100k…
What job will pay you such salary in this country haha… but you can earn this right from the comfort of your home.
That's how an affiliate program works…
Am sure you understand this now…
So all you need to do is join the particular affiliate program, get approved and you'll get your affiliate link so you can start promoting that program to the people that are interested in it, and once they join the program you earn your commission….
That is exactly what I've done here to make N135,000
1. I applied to this program
2. Got approved
3. Got my affiliate links and started bringing people and I earn N1,500 per person that joins the program..
And there are lots of affiliate programs out there for sure but as you already know, I share only what is working for me personally with my readers so that they can follow my path and also succeed…
So what is this particular affiliate program?
Introducing Naira4all, the Best Affiliate Program in Nigeria Right Now for Complete Beginners
You can see I added "for beginners"
This means that this one is for complete beginners online, even students in Nigeria can do this and earn small small cash for the mean time before getting into the advanced affiliate marketing…. So you don't need to create any website, no need for email list, no need to run facebook ads and those other complex stuffs…
About Naira4all Affiliate Program
I've been with this particular affiliate program since 2018 but I'm not really active with them because of other projects am working on… thought it's still bringing me some easy cash due to the fact that I've setup a system that promotes for me automatically…
I've earned N135,000 in total as at the time of writing this post.
All get paid to my bank account automatically…
Like my last  2 affiliate commissions payout was N6,000 in August 3rd, and N3,000 in August 10th..
August 3rd affiliate commissions Payment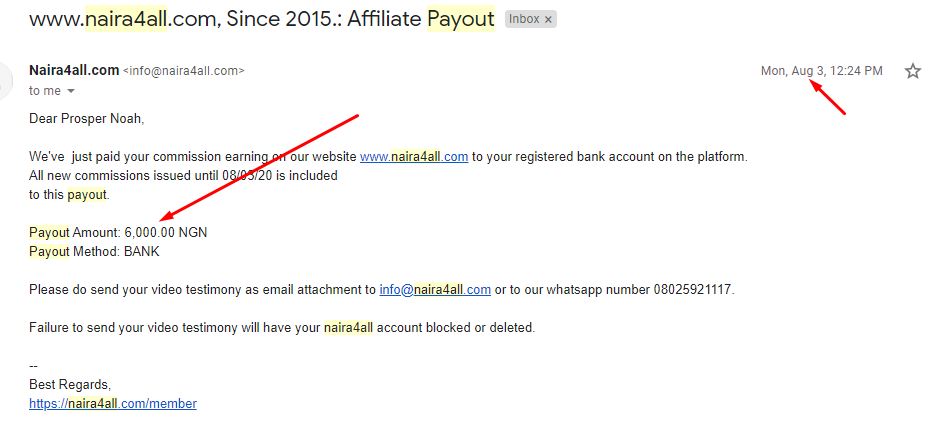 August 10th affiliate commissions Payment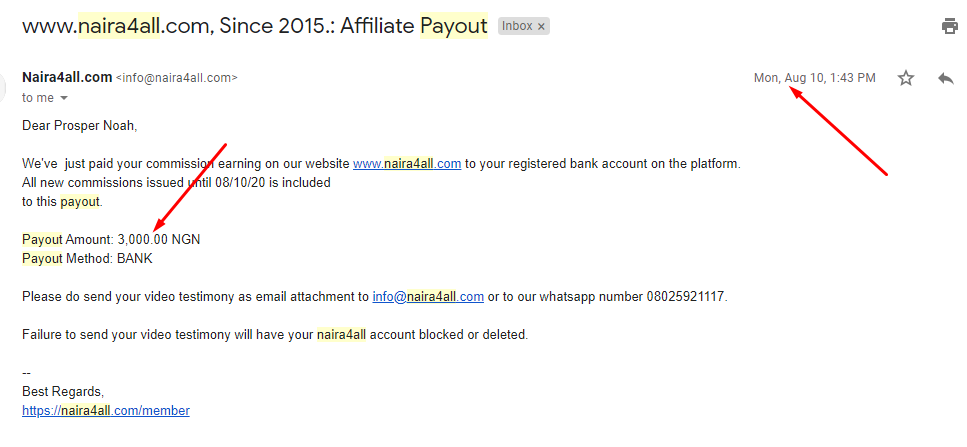 Whenever you earn a commission, they send you an email automatically, as seen below;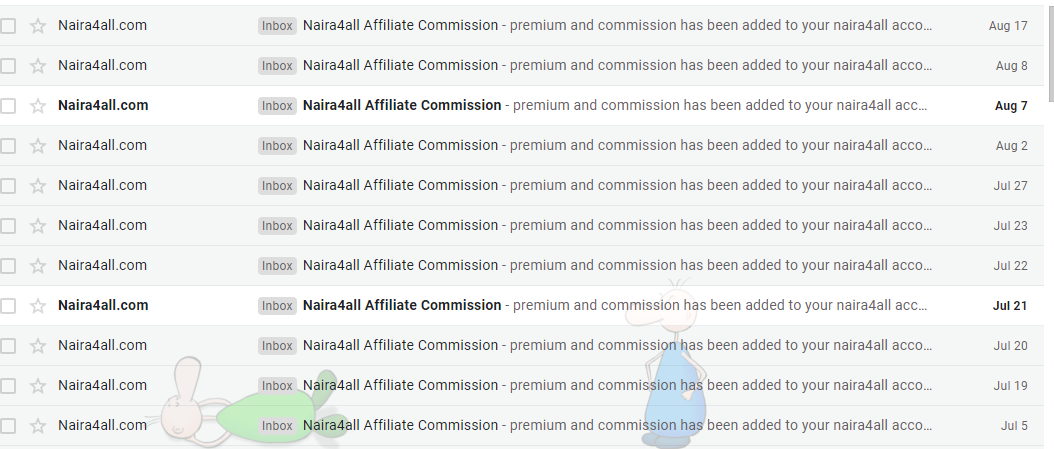 Anyway, so you may be asking "Prosper, how does it work?"
Without wasting much of your time I'll get straight to how you can get started and also provide you with what you need to succeed and start making some cash right away….
How does Naira4all Affiliate Program work?
Before you even think of applying or joining this affiliate program, you need to know what the program itself is all about… if you don't know what it's about how are you going to promote it? What are you going to tell people about it?
So here's what Naira4all is about;
It's a business opportunity program that is designed to train Nigerians on different ways to make money online, the member benefits are below;
They'll learn how to make money online by performing different tasks like taking reliable paid surveys that accepts Nigeria
They'll learn how to share links on the internet and make money
They'll learn how to make money by viewing websites and adverts
They'll learn how to make money with bulk sms business
Information on how to access to Loan without Collateral. Access between N20,000 to 5 million Naira without collateral.
They'll also be shown how they can withdraw this money to their Nigerian Bank Account…
Apart from this,
As a member, they'll also be given over 3700 quality ebooks that they can sell and keep 100% of the profits.
Also if they like to get their own blog, Naira4all will be setting it up for them for free..
They'll also be given their very own bulk sms websites…
And lots more..
That is about Naira4all and what they do…
So if you become their affiliate, you will earn 50% commission…
Meaning, to become a member of Naira4all, members have to pay N3,000 one-time fee and you as an affiliate will earn 50% of it….
In other words, if you promote it you will earn N1,500 per person
That's it.
As you can see, I've made a total of N133,500 so far from them…
And the amazing thing is that a lot of Nigerians want to make money online, so it's your job to share Naira4all opportunity with them and once they join the membership for N3,000 you earn N1,500 commission per person…
If 10 people join through your affiliate link, that is N15,000
And if you 30 people join, that's N45,000
Don't worry about how to promote… few minutes from now am going to give you an eBook that'll show you how to do it and make a lot of sales…
So how do you join naira4all Affiliate Program
In order to join the affiliate program, you have to become a premium member of Naira4all…
And to become, you have to pay N3,000 after registration one-time payment
That is what I paid to join and have earned over N133k….
N3,000 is not something you should complain off considering how much you can earn per month if you're serious… and don't forget, you'll also get all the benefits I mentioned earlier as a member…
And all those money I earned was for free….I didn't spend anything on advert or whatever… like I said, I'll give you an eBook of mine that'll help you especially if you don't know how to promote this kind of program…
So let's go on…
How to register to Naira4all affiliate program?
Follow the below steps:
Remember, the fee is N3,000
2. Register a free account.
3. After registration, get your account ready by upgrading to premium with N3,000
You'll be shown what account you are going to pay into for them to upgrade you within 24-48 hours…
After that is done, you can start promoting Naira4all and making your N1,500 commission… your money will be sent to your Bank account every week…
And you can even promote it on WhatsApp, your Facebook timeline or Group etc…
Now here's what I promised earlier for those who don't know how to promote…
See ehn…to really promote this and make a lot of money, you have to know what to say and how to say it to people, and also you need to find people that are really interested….
So am giving you my Affiliate Program eBook…that'll show you how to get a lot of people online that'll join through you…
I've used the promotional strategies in this eBook to make lots of money from this kind of easy affiliate programs…
I used it to make over N700,0000 in the NNU affiliate program as seen below;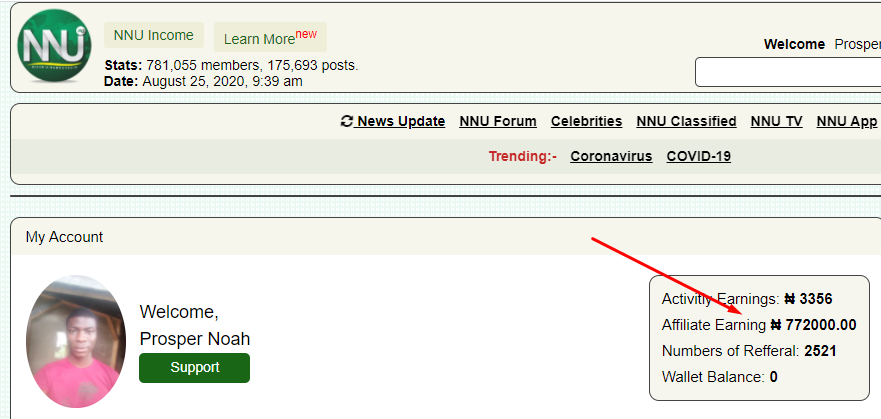 I used it to make N300k+ on wakanda affiliate program… N95,000+  on Hiwap affiliate program, as well as other small easy commissions affiliate programs I've worked with..
And earlier this month a follower of mine I got a testimony from a follower of mine who also used it to make over 3 Million Naira from a network marketing business he's into.
As seen below;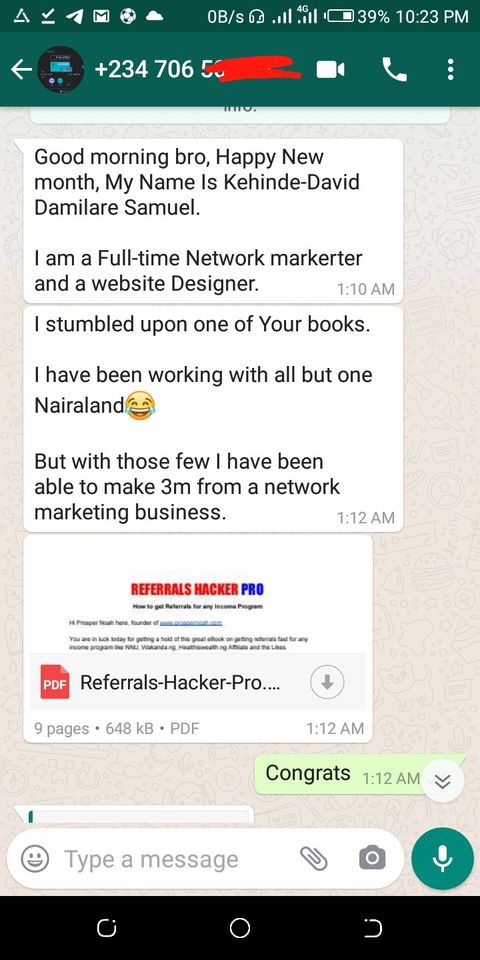 So am sure this is going to work well for you if you'll be serious.
It's all up to you now to start making money as soon as possible… and trust me, you can even make your first N1,500 as early as this week….
How am I sure of that? Because one of my email subscribers who I introduced this affiliate program to made her first N1,500 commission in this first week just promoting it on her WhatsApp….haha!
Very easy stuff if you put your mind to it…
Anyway, you should get started asap..
Again, click here to register and then upgrade your account with N3,000 that is when you'll be able to get started.
When done, send me an email to prospernoah19@gmail.com so that I can forward you the eBook I promised then you get to work.
I'll really like you to get onboard….
If you search google, you'll notice blogs talking about jumia affiliate program or konga, payporte, vconnect etc… but the issue is most of them don't even use those affiliate programs themselves…  They only see it on other blogs and start telling you to sign up to them and make money, how can someone who's not made money with a particular program teach you how to make money with it? haha..
I don't want my readers to waste their time on those kind of things… that's why I test everyone and if it works for me and makes money, I share it with my readers so they can follow my steps and make money too.
Afterall, if it's working for me, it will definitely work for you tooo..
So it's left for you now to take action.
If you want to get started right away, the instructions is above already, but below is summary of what to do.
1. Click Here to Signup to Naira4all for free and then Upgrade your account with N3,000
2. When you've made payment and they've upgraded your account for you to start making money, then you can start promoting… and also; as regards the eBook I promised you earlier, just email me as instructed above to get it…
I've come to the end of this post and I'm believing this to be the best affiliate program in Nigeria right now that can help beginners start making small small money online easily…
Do you have any questions? Let me know in the comment section.