You're welcome to my 72ig implementation program review.
If you're here then it definitely means you've heard of this program either from a youtube video, webinar or even WhatsApp groups asking you to buy and stuff like that.
So you want to confirm;
Is 72ig legit
Does it really work?
etc..
I mean, does this really worth your N60k investment?
This is a huge amount of money for heaven's sake.
Can't just throw it into something, just like that.
Right?
You're in the right place.
I know how hard it is to spend your hard earned money on something you don't know if works or not, I've been there myself.
Since 2016 that I started this internet marketing journey, I've spent millions purchasing a lot of online video courses, not everyone deliver what they promise.
At the end of the day you just notice your money was wasted.
It's the reason I do a lot of in-dept reviews here on the blog to show what works and what doesn't.
Anyway, In this post am going to go ahead and do a full review of this popular affiliate marketing training in Nigeria called the 72ig implementation program by Toyin Omotosho of Expertnaire affiliate network.
Who Am I to Review the 72ig Implementation Program?
If this is your first time, I'm Prosper Noah and I own this blog you're currently reading right now.
For the past 4 years I've been studying every area of income to find out what works (and what doesn't) for making money online here in Nigeria.
I've done some good number of reviews here on the blog ranging from nnu program where I made over N700k+, affnaija, wakanda, naira4all, expertnaire where I've done over N500k+ in affiliate commissions recently, etc…
I do these reviews from time to time to help people make the right decision.
Figured out a lot of training programs are launching these days and to be fair with you, there are scams online and you wouldn't want to become a victim.
You need someone who has actually invested in the program to tell you what to expect, how it works, it's worth, etc.
I got the 72ig implementation program myself.
In fact I was among the early buyers back then in 2020
I've gone through everything in the dashboard, all of the training videos, documents, templates etc… implemented most of the things there.
How I found the 72ig Program?
You see, I've been into affiliate marketing for years and it's what actually pay my bills and earn me a living, I was desperately looking for an affiliate network that is based on the Nigerian market and I found it back then through recommendation from one of my support groups.
It's expertnaire.
So I signed up and noticed there was a lot of products one could promote and earn commission, I saw 72ig as one of those products and decided to promote it.
I had to buy the course myself to see exactly what I'm recommending to people.
I got it around February 2020
It gets updated regularly with new strategies, methods and stuff.
72ig Implementation Program Review 2022: Is the expertnaire 72ig worth it?
Really good question, but before I go ahead to answer that;
What is 72IG implementation program all about?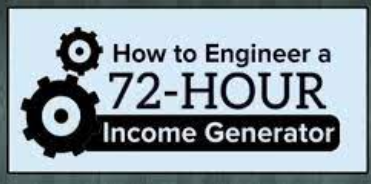 72IG in full means "72 hour income generator"
The 72IG implementation program is a step-by-step video training course that'll teach you how to create a full affiliate marketing business that's able to generate you anywhere between N750k+ per month.
Put it simply; you'll be able to learn how to make money with affiliate marketing; promoting other people's digital products and earning commissions.
In affiliate marketing what you do is recommend digital products and get paid per sale
So let's say a product is selling for N25,000 and pays 50% commission.
If you promote this product and generate a sale, you are paid N12,500 each
At the end of the day if you are able to generate 10 sales, you've just earned yourself N125,000
The more sales you generate, the more money you make.
The training is designed to show you how to actually promote the proper way and make sales.
The course was created by Toyin Omotoso, one of the most respected internet marketers in Nigeria and just incase you don't know, he's also the founder of the Nigerian Top affiliate network Expertnaire
Yes, Expertnaire is the No. 1 right now when it comes to the best affiliate networks in the Nigerian market.
The 72ig program is designed to turn complete beginners who do not even have knowledge of selling into affiliate marketers who are able to pull in up to N750k+ or more per month.
Benefits and Contents of the 72ig implementation Program or What's Included when You Get it:
What do you stand to benefit when you get the 72ig implementation program so you can start your affiliate marketing journey and make money.
1: Part 1 – 72ig Whatsapp Income Generator
First thing obviously, is the video training modules that explain what you're to do.
The first part is the whatsapp income generator training for total newbies who do not even have money to spend, the knowledge you'll garner here will help you start making money with affiliate marketing without spending additional money.
You'll learn in the video series how to use whatsapp to make affiliate sales.
There's step by step videos here to follow and if you face any issue you can go back to watch the video again to understand, if you still are confused, you will need to attend the 72ig coaching class by 7pm every Wednesday.
The WhatsApp income generator is the training that's helped many newbies to go from zero to N200k a month
This is a very good one considering the fact that one can do it using their mobile phone WhatsApp.
You're provided with the training videos, some templates, documents etc… to get started asap.
Wanna take a sneak peak?
Videos here include:
Introduction
Understanding the Expertnaire affiliate system
Picking a product to promote, understanding the audience and potential buyer
Introduction to WhatsApp sales funnel
How to pickup fast easy money by promoting to contacts you already have
How N1600 started me on the road to 25m a year
How to make money promoting to people who don't know you
How to use WhatsApp status to share content with your list, followup and promote to them
How to create WhatsApp links
Etc..
+ Some already made templates, pdf documents, and many more that will help you make affiliate sales fast using WhatsApp.
2: Part 2 – The 72ig implementation program 2.0
This is the main training the big boys use to make millions of Naira monthly, combining email marketing with paid traffic to promote affiliate products.
This is the one that fuels a 750k+ a month affiliate marketing business
You can move to this one straight away but if you're a complete beginner I always recommend you start with the whatsapp income generator but it wouldn't hurt to get started with this one too.
It contains about 12+ practical videos including:
Setting your foundation
Tips on how to be productive
Picking a promising product to promote
Product & market research
Kick-starting your sales process and funnels
Engineering your lead magnet, optin page and thank you page
Getting domain and hosting + installing wordpress
Designing your pages
Setting up Email Autoresponder + Creating promotional emails
Running Ads
And more
There is a lot here; bonuses, templates, documents etc.. to help you succeed.
This is the model I personally use to generate lots of affiliate sales
3: 1-Year Free Expertnaire Account
This is the third benefit.
You'll be given access to a 1 year expertnaire account for free, so you can use the affiliate marketing knowledge to promote expertnaire products and make money.
4. All the Bonuses Promised on the Sales Page
All of the bonuses promised on the 72ig sales page is delivered, so you can download.
5. FREE Coaching Call
Every Wednesday, Toyin Omotoso himself the creator of 72ig course & founder of expertnaire and other senior students hold a coaching call to provide support to affiliates and help them succeed.
So here you'll be able to get all pressing questions you may have, answered.
This is very good considering the fact that many course creators do not even have time for their customers, but coaching call every Wednesday?
Really good stuff and there's even the 72ig telegram group where you can connect with other affiliates, share ideas, ask question, etc.
So is the 72ig Implementation Program worth your N60,000 Investment?
You've seen all of the benefits.
Is this worth your money?
I'll go ahead and list some pros and cons of this program after about 2 years of being a customer myself.
Pros or Good Sides
One can get started making money without spending extra money (using the whatsapp income blueprint/ generator)
You're getting a free Expertnaire account for 1 year
Training videos are easy to understand and digest
The students who enrolled for the program are really making money
The program is beginner friendly, anyone can make success with it provided you're serious
Cons or Bad Sides
Not for lazy people who are unserious with their life and finance
I haven't really faced issue yet with the training program; support is good, videos are updated regularly, so far so good.
Even though I was doing a bit well with affiliate marketing before getting the program, I've learned a lot from it and I apply what I learned almost every day in my journey to make even more sales as an affiliate marketer.
Yes, it's worth it.
Imagine, investing N60k on a program that's capable of making you N750k+ Per Month is no child's play.
Business is all about investing, you need to put money in to get money out.
My Results Using the 72ig Implementation Program
As said earlier on, even before getting the program I had a bit of knowledge doing affiliate marketing but from what I've implemented so far, the results are really cool
I've used the strategies from the program and have been able to pull in over N550k+ promoting on the expertnaire network in a short while as seen below;

You may be saying "wow, that's really cool, but Prosper, why haven't you done millions yet?"
Well the thing is I didn't really focus on expertnaire for a long time since I promote on other affiliate networks as well, like on WarriorPlus affiliate network, I've been able to make over N2m+ ($5,000+)
As well as some other networks.
But trust me, focus on expertnaire alone, and am sure you'll do millions of Naira on there using what you learn in the 72ig.
and as you already know, the 72ig affiliate marketing training focuses mainly on promoting on expertnaire so you're in good hands.
Everything goes perfectly well together.
and honestly, this is guaranteed to make you money.
Am not joking mehn.
You just need to do your own part which is go through carefully and implement, if you are confused anywhere ask questions.
That is how to learn and get results from almost any good training program you enroll in.
So is 72ig Legit and Should you now go ahead & Get it?
Simple answer! Yes!
It works and will work for you as well.
The people getting results from the training program do not have two heads.
Go for it.
But before you go ahead and get it, I have 3 free bonuses for you if you decide to get the program through me.
I have a unique way of taking care of my subscribers and make sure they succeed with whatever product I recommend.
If you get it through the link in this post I'll be giving you access to 3 bonuses
Take a look at them below;
BONUS #1: Over N125,000 on Expertnaire without Spending any Money on Ads
As the first bonus for those who buy through my link, I have taken my time and created a 40-minutes video-training showing you step-by-step exactly how I was able to make my first N125,000 in affiliate commissions on expertnaire without spending any money on running adverts..
Am not a big fan of running ads because the free traffic sources I use work really well for me and theyll work for me.
So am revealing the 3 traffic sources to you step by step so you can start using them and making money promoting affiliate products 100% free, youre not spending any Kobo on Ads.
I use these 3 traffic sources to make money directly and In fact; the third traffic source pulled me over 1000 email list subscribers and made me around over ?770,000 in affiliate commissions inside and outside Expertnaire.(dont worry youll see everything in the 40mins video)
This is a bonus youll regret ever missing.
and this is what I have never revealed to anyone online before, youre getting it as soon as you purchase the 72ig implementation program through the link in this post.
I can decide to sell it but No, Id be giving it to you 100% free if you decide to purchase the 72 hour income generator implementation program through my link.
Fortunately am the only one offering you such huge value just as a thank you.
So if youre a type that dont really have money to spend on Facebook Ads this will really help get you started pulling some affiliate commissions on Expertnaire platform.
Don't get me wrong, there is already a training in the 72ig WhatsApp income generator to help you make sales without spending any extra money, but it wouldn't hurt to know some other cool ways right?
Atleast you'll be able to combine the knowledge and earn even more.
BONUS #2: Video Training: How to Create a Blog in Nigeria under 30 Minutes
This is best for those who want to start blogging and also succeed.
In this bonus, is a video I made showing you how to create a blog within 30 minutes in Nigeria (Youll watch me Live: Buying a new domain name and hosting, getting the login details and finally bringing the blog live and you will even be able to visit the blog after the video along with the strategy I used to bank over N905,000+ in affiliate sales with the help of Blogging, I mean 100% Free.
So if youre the type who has been looking to start blogging for a long time now, then this bonus is what you ever need to succeed because am revealing to you in the video training exactly the hosting company I personally use for all of my blogs, the domain registrar and how you can create the blog within 30 Minutes and how you can succeed doing it.
Blogging is what I do for a living so you know youre getting lots of value in that bonus as I show you everything needed.
In fact, Ive decided to add a third bonus.
BONUS #3: Ill assist you in Setting Up Everything
Yes, in this third bonus, am literally going to sacrifice my time and assist you in setting up everything including running your ads, setting up your email list, building your landing page, etc with me by your side, youll not go wrong at all and anytime you need my help, Ill always be there on Telegram.
(Because I have noticed the main reason most people dont succeed after getting a training program is due to the fact that they have no one by their side to guide them, and once there is no one, they struggle, struggle and struggle and finally quit.
It's why I created this bonus 3 to take care of that, Ill be there to guide you always I love to take care of my own and see them successful)
It's one of the things that have kept me going online.
So the above 3 bonuses will be all yours for free as soon as you get the 72ig through my link.
This is like a thank you for trusting my recommendation.
How to Claim the Bonuses
Step 1:Click Here to the 72ig Sales Page
Step 2: Order/make your purchase
Step 3: Send me an email to prospernoah19@gmail.com to claim your bonuses
I'll give you access in 24 hours.
Alternatively, if you want to reach me faster, you can call me or WhatsApp on 09066407180
and that's it.
I look forward to seeing you succeed too with affiliate marketing
Hope this 72ig implementation program review helps you make the right decision and if you have questions feel free to let me know in the comment section