Hey guys I'd be making an affnaija review today. A legitimate online business in Nigeria where you can make atleast N700 daily doing just few task such as posting a status on Facebook.
---
ALERT: Affnaija is no Longer Paying as they run out of budget earlier January 2018.
But wait…
The latest 100% paying is nnu income program, click here to register.
Also See: Affiliate Programs in Nigeria to Make N1,000 Every Minute
UPDATE: Payment Received [Affnaija Payment Proof] Keep Reading Below.
The Procedure is very simple, Create an Account with Affnaija, Subscribe to a Plan, Share Products from your dashboard and get paid straight into your Bteeank Account.
But before then I'd like to make it clear to you:
?There?s never food for a Lazy Man, Except you plan on scamming people which I?m not gonna be including in this post?
If you are the type that don't like much investment you can checkout the post on how to make money online in Nigeria without spending a dime and without scamming.
And Hey:
Do not be deceived that:
you can make money online doing nothing. Whoever tells you that only wants your money and nothing else.
DISCLAIMER: I have tested the program and is working; however you should know everything about making money online is Risk, If you can't take risk then don't read further.
Checkout:How to Make Money Online in Nigeria 2018 Without Spending a Dime [Without Scamming]
Now on this post I want to show you a new investment opportunity you can use to make money online in Nigeria. You canearn up to ?10,000 monthly just by promoting products on facebook.
Introducing to you Affnaija Program, below you will see the review of this legitimate business and how you can make money with it.
Honest Affnaija Review
So whats up with the Affnaija Program?
Don't be mistaken:
This is not Ponzi Scheme or some other programs that requires you to make a sale and lots of other stuffs…
Affnaija is affiliated with Jumia the large marketplace in Nigeria where you buy things and get delivered to your doorstep upon payment.
Jumia needs more people and websites to promote their products and so affnaija is in a good position to help jumia promote these products to get them some sales.
So they pay Affnaija some amount of money to get this Done.
But here is the Big Problem:
Affnaija are not able to do this all by themselves, they need people like you and I, to help promote the products further.
Also Read:How to Make N10,000+ with GTbank Affiliate Program in Nigeria
The Amazing Thing is this:
As a result, they are looking for you to help them promote this products. If you join the program right now, you will earn from as high as N700 – N4,200 every day just by sharing those products with your friends on Facebook.
For Example:
If you have up to 300 Friends on facebook and you share the link, your friends if not all but atleast 50-1oo of them will see these products and may end up buying it.
That's how Jumia make their money too. Your own is just to share the products on facebook and you get paid up to N700-N4200.
So How to Make Money with Affnaija
Note: I just opted in for this Program and earned N1,400 already as at the time of writing this post and when I cashout I will surely drop a second review for you to see. So you either decide to Join now with me or Later.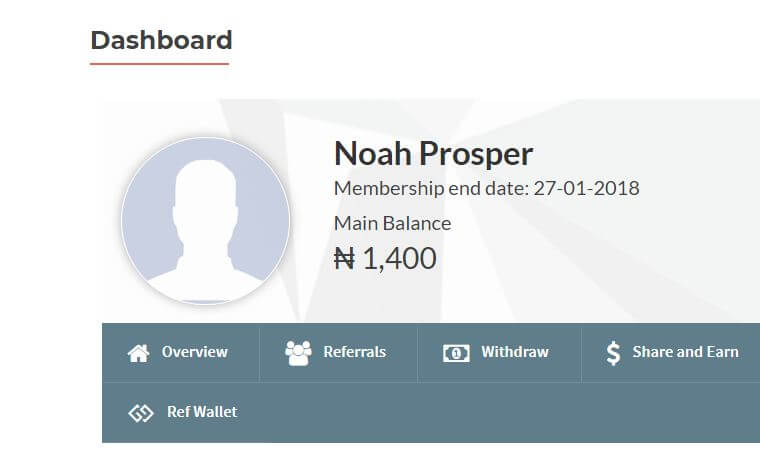 UPDATE: I received my First Payment from Affnaija
Affnaija Payment Proof
Below is my first payment received from Affnaija just incase you want to still know how legit this is, as at the time of writing this Post.

As seen above, I just withdrew N12,500 from Affnaija and the Top N700 is a payment for another sharing on Facebook.
I will keep you posted once I receive my second payment. So follow the steps to make money with aff naija
The steps are very simple here.
All you need to get started is:
Step 1: Click here to Create an Account with Affnaija
Click on Registeror Learn More to register and fill in the correct details where you see "website url" just put your facebook profile url there.
Step 2:
Select any of the available Plan as seen below and click Subscribe to fund your account.


BASIC PLAN ??1000
You earn?100 daily on a product you share on your facebook wall
You earn?250 per referral
?2000 minimum withdrawal
No withdrawal charges
30 days validity
You renew your subscription from your earnings
PREMIUM PLAN ??4000
You earn?400 daily on a product you share on your facebook wall
You earn?1000 per referral
?8000 minimum withdrawal
No withdrawal charges
30 days validity
You renew your subscription from your earnings
ULTIMATE PLAN ??7000
You earn?700 daily on a product you share on your facebook wall
You earn?1,500 per referral
?14,000 minimum withdrawal
No withdrawal charges
30 days validity
You renew your subscription from your earnings
VETERAN PLAN ??10,000
You earn?1000 daily on a product you share on your facebook wall
You earn?2,000 per referral
?20,000 minimum withdrawal
No withdrawal charges
30 days validity
You renew your subscription from your earnings
You can either pay with your bank debit card e.g. Mastercard, Verve, Visa Card etc..
You can as well make payments to their bank account without debit cards. All instructions of how to pay will be in the dashboard right away.
Alternatively and to make things easy;
You can Contact and pay to their agent below and they will fund your Wallet Immediately; so you can use it to purchase a Plan.
Agent Emmanuel:08185842266
Agent idris: 08168902800
Agent Lizzy:0706545119
You should Whatsapp or Call them.
Note: Wherever it requests for sponsor's username am your sponsor, just put inworkwithnoahin the box. That's how you will help me for sharing this wonderful business opportunity in Nigeria with you.
When you've made your payment, follow the below to start making money.
Step 3:
This is the money making part, Share an Earn. Now that you have paid, you will be taken straight to your dashboard where you can start sharing links on Facebook and Earn on Autopilot.
See also:5 Easy Way to Make Money Online for Teenagers [It Still Works]
Everything is simple from the dashboard.
Let me Explain them below to get you started right away
Overview
This is where your entire earnings easily showing both paid and unpaid earnings.
Share and Earn Tab
This is where you click whenever you want to share a product on facebook to earn. Just click on it and you'd be redirected to the product, just click on the share to facebook button when done your account will be credited immediately.
Withdraw Tab
You should know what this is already about. This is where you withdraw your earnings whenever it reaches threshold.
Marketing Tab
On this tab you can earn even more when you refer people to Affnaija. Just grab your link and share with them whenever they signup you as well earn more.
It?s time to get started!
Sign Up Now,CLICK HERE TO REGISTER AN ACCOUNT
One Big thing to Note:
Minimum withdrawal amount(your main balance + referral current balance) is ?2,000 for basic members, ?8000 for premium members and ?14,000 for ultimate members
Your bank account name must correlate with the name on your dashboard
You can request for Withdrawal any day of the week. Wait till you get alert before requesting for another withdrawal.
They shall be verifying your referrals (if applicable) and the merchant products on your Facebook wall, so, processing of withdrawals can take up to 24hrs but not more than 72hrs.
Make sure the form finished submitting and you get a successful response before leaving the page.
Declaration of false amount in withdrawal and submission of withdrawal request multiple times is a serious offence, they take it that you?re trying to cheat. It can lead to ban for some days or for lifetime.
Now that you know what this wonderful program is all about, I don't want you to miss the opportunity. I hope this detailed affnaija review and payment proof will get you going, making money online in Nigeria easily.
Also Checkout:How to Open Bitcoin Account in Nigeria, Create Wallet and Make Money