If you are an internet marketer like me; maybe you are into dropshipping, run Google Ads, or generally pay for stuff online, etc. you know that it's not easy to pay with your card especially if you come from a country like Nigeria.
Limitations like the $20 on debit cards, failed transactions and so much more.
It could be a different situation for you;
Maybe you just need a virtual dollar card to use for online shopping on international websites.
I have been using virtual cards for international payments since 2016. Tried many of them like Getbarter (which is no longer available) and now the ones I'll recommend in this post shortly.
Recently I came across a post on Twitter where a friend was looking for recommendations on the best platform for creating virtual dollar cards for online payment.
As seen below;

I dropped a nice recommendation there on the one I currently use of course, LOL
Plus also took inspiration from other commenters.
So if you're looking for very good platforms that allow you to create a virtual dollar card for international payments, you're definitely in the right place.
I'll recommend 6 reliable ones in this article.
Not some random platforms but ones THAT ACTUALLY WORK (According to reviews from a lot of people and from my own experience)
Let's quickly jump to the list.
FXKudi Virtual Dollar Card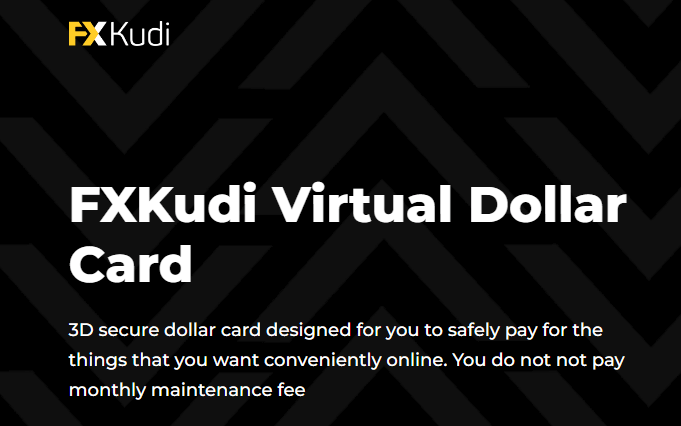 I like to recommend at the top, what I personally know.
So this one's going on top of the list.
Fxkudi is a platform I've known for years. I have a friend who partners with them.
They are originally a platform that allows you to transfer money within Africa with ease but guess what?
They just launched their virtual dollar card feature which allows you to create a card that can be used for international payments.
In fact, there is no monthly maintenance fee on these cards.
You can use it to purchase things on international websites; renew your Netflix, pay for Google Ads, etc.
In short, it works wherever Visa card is accepted.
The platform is reliable.
Here's even a review on FxKudi being the cheapest virtual dollar card provider in Africa if you want more details.
So go give them a try; signup, fund your account and start using your card for payments.
PSTNET Virtual Payment Card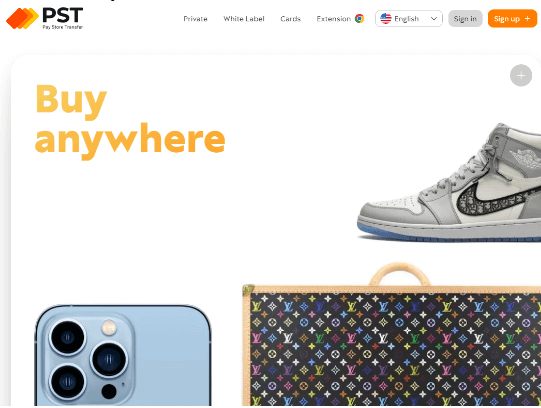 PSTNET's virtual cards are an excellent solution for making payments for goods, services, and advertising campaigns worldwide. These Visa and Mastercard cards are available in USD and EURO denominations. The registration process for a personal account is quick and straightforward. The first card doesn't require documentation (verification is needed for issuing subsequent cards and removing spending limits).
The service offers low top-up fees starting from 2%. Funding can be done using cryptocurrency USDT TRC-20/BTC, bank cards, SEPA/SWIFT transfers. Platforms like Aliexpress, Steam, Spotify, Netflix, Patreon, Unity 3D, as well as online marketplaces like Google Store, Apple App Store, Microsoft Store, PlayStation Store, Epic Games Store, and others, can be easily paid for using PSTNET cards.
It's worth noting the presence of BIN (25+) from US and European banks, cards with 3DS protection (codes sent to the personal account or Telegram bot), which reduces the risk of payment rejection and ensures the security of your purchases.
Additionally, for those involved in advertising, the PST Private program is currently available for teams and individuals with significant turnovers (up to 100 cards free, then cards for $1 and a 2% top-up fee). Many users have shared their reviews about PSTNET, expressing their complete satisfaction.
ChipperCash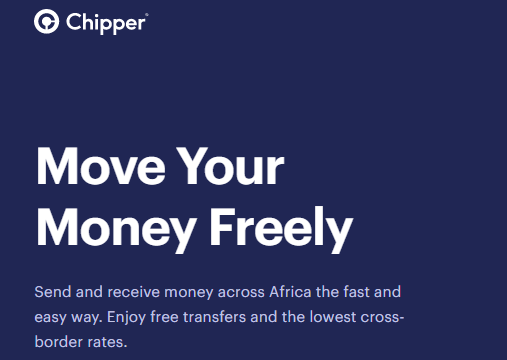 Chippercash is another platform you can use to create virtual dollar cards.
This is the one I'm currently using.
I used Getbarter for a long time and due to one reason or the other they stopped working.
Had to move to Chippercash as it was recommended by a friend.
No issues with them so far, the only downside is rates can be expensive.
Chipper is also a platform where you can send and receive money easily across Africa
Not sure why they don't state it on their website homepage but they offer virtual dollar cards.
When you download their App and sign up, there is an option to create a dollar card that you can use to pay for things online.
Ofcourse, you have to go through some necessary and time consuming steps like verification which could take some time.
But when that's done, your card will be up and running and you can pay for almost anything internationally.
Great platform you want to check out no doubt.
Klasha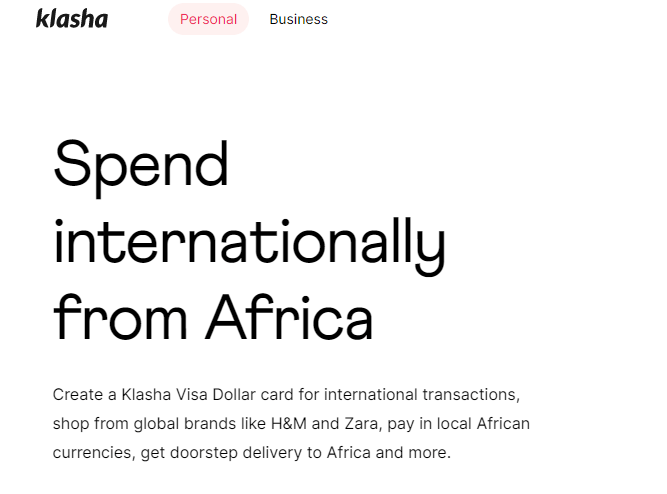 Klasha, Klasha, Klasha.
If you've been following me for a long time, you know about 90% of my audience are bloggers or lets say internet marketers.
So what does this even have to do with this post? you may be asking, haha.
Well, we do different online businesses; crypto, blogging, and the likes.
These guys post about what works for them from time to time.
And so I've been hearing about Klasha for a long time too, but didn't really check it out.
They are another platform you can use to create virtual cards for your dollar payments.
Also, a lot of people (majority) recommended it in the recent Twitter post I was talking about.
This means that it is working really well and very reliable.
If I were you I'd give it a go too.
Klasha is strictly a virtual dollar card provider for international transactions.
From what I'm currently seeing it's what majority of Nigerians are using to create virtual dollar cards after Chipper and the others.
Payday App.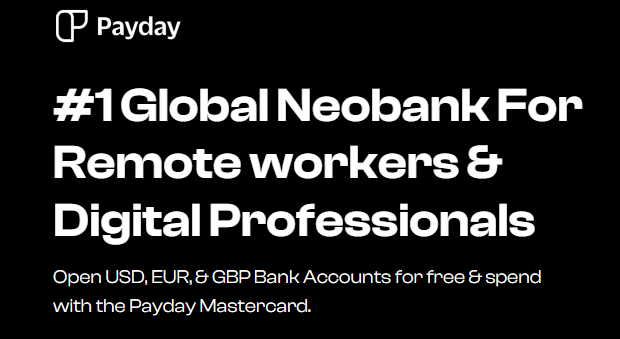 Payday App is another interesting platform that's getting some traction.
Honestly, I don't have much experience on this one, I've only heard about the name on some occasions.
However, lots of people are recommending them so basically they are worth a mention.
I like to list only something that's worked for me, or for others.
If people are using them, obviously they are reliable.
So what is Payday App about?
You can use Payday to transfer and receive money and also own multiple bank accounts in your name.
Most importantly you can use it to create virtual dollar cards for international payments.
(Not forgetting an option for a physical mastercard).
Cool platform for sure.
Geegpay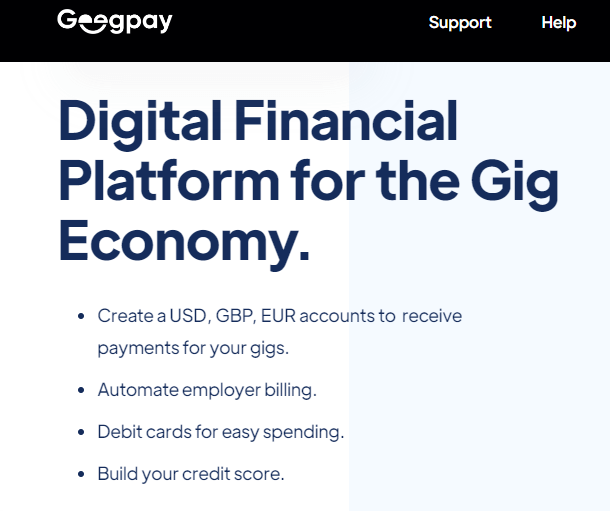 Geegpay is last on the list.
Don't misquote me. It's not actually because it's unreliable.
The best is always saved for the last.
That is not the case also.
The reason I've placed it in the last is because it's the first time I've heard of them.
Turns out they are a platform similar to Grey.co (for creating virtual bank accounts).
With Geegpay you can create virtual dollar bank accounts online in your name for receiving payments.
They also give you an option to create a virtual card for online purchase.
If you are looking for a platform that allows you to create such cards and also an ability to own a bank account in USD or GBP, Geegpay is a perfect fit.
All-in-all, give it a try and see how it goes for you.
And that wraps this list
Final Thoughts
Don't forget to check other big names like Grey.co. They offer you something similar as well.
I have carefully researched these platforms and recommended what I think is the top 6 when it comes to creating virtual cards.
It's all up to you now to pick anyone whose features you like and run with it.
You can always try alternatives when the one you're using stops working or something.
Hope this helps for your online purchasing experience.
So are you going to try any of these platforms to create your virtual dollar card for international payments? Have more suggestions? Please let me know in the comments section.