There are many ways to earn free money on the internet and one of them is with the Fair money Referral Program.
This program works the same way just like every other referral program otherwise called affiliate marketing.
You must have read this article that talks about apps that pay you to refer to your friends and probably didn't know that fairmoney as one of the best loan Apps in Nigeria also has a referral program which enables you to earn money just by telling your friends, colleagues and family members about fairmoney.
In this article, I'll show you everything you need to know about Fairmoney and how to earn money with the Fair money Referral program without a website with your smartphone and internet connection.
What is Fair Money Referral Program All About?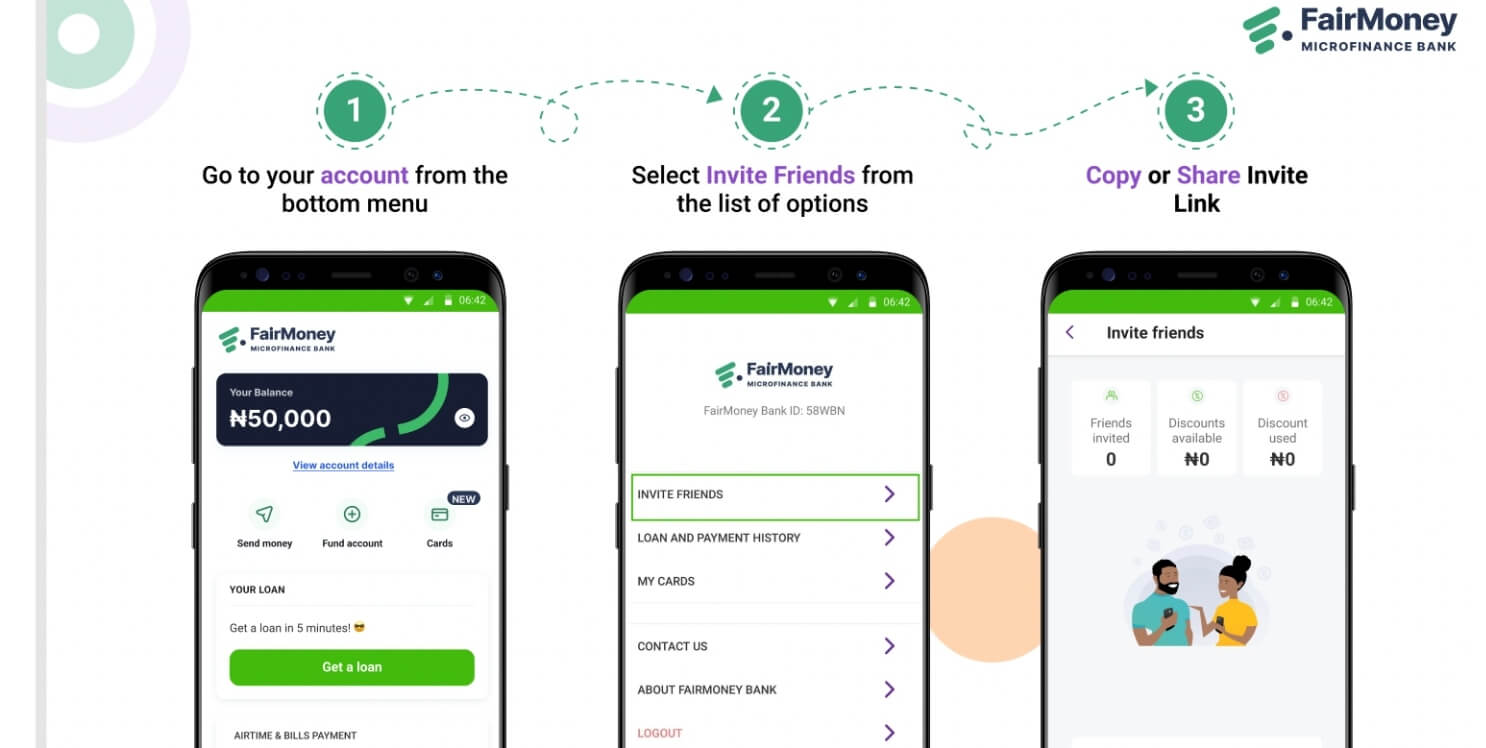 Just like every other affiliate program, Fairmoney referral program is the program launched by the company to reward anyone who refer another members to the company to take a loan.
This program is available to new and existing members. However, the person you are refering has to be a new member on the Fairmoney loan app in order for you to get the offer right.
The Fairmoney referral program kind of work differently however as compared to other referral programs on the internet. This is in such a way that they are not giving you an actual cash that you can withdraw but a discount is applied to your existing or new loan amount so that you end up paying lesser than you should have paid.
For example, when you take a loan of N20,000 and you refer John Doe as a new customer who registers on Fairmoney app using your referral code and take a loan amount of any amount, you are rewarded with a discount.
This discount is usually very low as compared to other referral programs that would pay you around N1000 cash for referring others. But what they simply do is reduce your loan repayment amount and the amount is pretty very low as they deduct only N500 from your loan amount.
That means that when you refer 5 people who takes a loan from Fairmoney, and you have an existing loan amount of N10000, then N2500 would be deducted from your total loan amount and you will be required to repay with N7500 only.
This might not be much but assuming you are able to get 10 people to join the company, then you've already paid back your N10,000 loan without paying back anything from your account.
How much does FairMoney pay per referral?
Like earlier explained, Fairmoney do not pay any money to your bank account for referring others but they simply deduct N500 from your loan amount. That means that every referral you send to the loan company, they are paying you N500 per referral.
The amount you get in the end depends on how many people you refer to the loan company and how many of them actually signed up using your code and actually taking a loan from them. You will only be rewarded when the referred takes a loan amount in any amount.
How do I get a referral code for FairMoney app?
Below are the steps to get your referral code from Fairmoney app.
Step 1: Open your app and login
Step 2: Click on "Invite Friends" at the footer of the app
Step 3: Click on share to either copy or share your code on social media
Step 4: Share your code with your friends
After this, your friends and families need to click on the link you shared and the referral code would be entered automatically when they try to sign up. If it doesn't, they can also enter your referral code mannually to ensure you get the bonus.
Now, anytime the referred get a loan from the company, you'll get a N500 discount on your existing loan amount and that is pretty much all about the Fair money referral program and how to make money from it.
Is Fairmoney Loan Legit?
Yes, Fairmoney loan is very legit. It is one of the best loan apps in Nigeria that you can take urgent loan from. The app was launched years ago and now it's gradually becoming a digital bank to save, invest and access loan products from the company.
The app is legally recognized by the federal government of Nigeria and operating with full license. Unlike other fake loan apps, Fairmoney is approved by the government and regulated by state and federal laws for quality assurance and compliance purposes.
What is the meaning of referral code?
I understand that as a newbie to internet terms, one might be asking what referral code means. Not to worry, it is not something you should stress yourself about but if you must here is the meaning.
A referral code is a unique code that contains a unique ID which basically used for identification and tracking purposes. For example, when you sign up for an affiliate program, you are assigned with a unique referral code which is in form of a URL (Uniform Resource Location) in essence that when another person clicks and join the program, you earn a commission automatically.
The referral code can be for any purpose either tracking or identification purposes.
Do I need to Be a customer to join Fairmoney Referral Program?
The short answer is yes. You need to be a customer with an account on the Fairmoney loan app in order to get your unique referral code and start referring others to join the program.
If you don't have an account, you can simply sign up now and get your account, apply for a loan and start referring others to the Fairmoney loan app.
In summary
Fairmoney loan app is a very great loan app in Nigeria. The app offer both personal and business loan. You can get a loan starting from N1000 to as high as N2 million. And the app is one of the best loan app in Nigeria so you don't have to worry about them sending defamatory messages to your contacts.